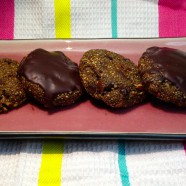 So I have been experimenting with making my own chia bars lately. I love having healthy and nutritious snacks on hand that I can take with me to work, or grab after a workout or between meals. When I had an open can of pumpkin purée from my pumpkin cooking extravaganza, I thought why not try some pumpkin spice chia bars too? They turned out better than I even dared!
For this recipe I combined chia seeds, pumpkin purée, cinnamon, nutmeg and allspice, maple syrup, walnuts and mini chocolate chips into a delightful and extremely satisfying treat. They were a bit sticky, so I put them in the dehydrator for an hour to firm up a bit; but you could also just let them air dry for a while too. I had some melted chocolate left over from some chocolates I had made earlier in the day, so dabbed a bit of that on top of some of them, which turned them from being amazing, to being just over-the-top good!
And as an added bonus, these are the simplest things in the world to make.
Pumpkin Spice Chia Bars
2013-10-29 21:59:40
Ingredients
1 cup pumpkin purée
10 medjool dates (Soak in hot water for 10 mins if not already soft)
2 tbsps maple syrup (or to taste)
1 cup chia seeds
1 tsp cinnamon
¼ tsp nutmeg
¼ tsp salt
2 tbsps mini chocolate chips (optional)
¼ cup pecans (optional)
Instructions
Add pumpkin purée, dates and maple syrup to a food processor or blender and process or blend until smooth.
Transfer to a mixing bowl and add the chia seeds, chocolate chips, walnuts, and spices and stir to combine.
Let sit for 5 minutes to allow the chia seeds to absorb some of the moisture and the mixture to firm up.
Using a cookie scoop, scoop out mixture and shape as desired.
Dehydrate for about an hour (my dehydrator doesn't have a temperature gauge) or let them air dry for a while to firm up even more.
Store in the fridge.
Vegan Sweet and Simple http://vegansweetandsimple.com/
Read More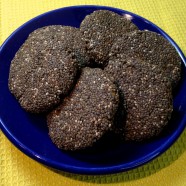 A few months ago I tried a Chia Warrior bar, which I really enjoyed. But when I looked at the ingredients and saw the high sugar content, I knew I had to try to recreate a healthier version at home. This was my first attempt.
These healthy, naturally sweet treats are packed with fiber, omega-3 fatty acids, and antioxidants, as well as calcium, phosphorous, magnesium and manganese. Plus, the combination of protein and fiber will help you feel satisfied for hours afterwards. You could eat more than one, but you won't want to! And as an added bonus, chia seeds (like all seeds and nuts), help to regulate blood sugar and can help lower bad LDL cholesterol and tricglycerides.
Chocolate Banana Chia Bars
2013-10-16 20:14:35
Serves 20
Ingredients
1 medium banana, ripe
10 dates (soaked in hot water for 10 minutes if not already soft)
2 tbsps raw cacao powder
1½ tsps vanilla extract
¼ tsp salt
1½ cups chia seeds
Instructions
Place banana, dates, cacao powder, salt and vanilla extract in food processor or blender and process until smooth.
Add chia seeds and pulse a few times until combined.
Using a small cookie scoop, scoop out mixture and flatten into rounds or squares, or any other shape you desire.
Store in the refrigerator.
Notes
The mixture may seem too wet at first, but within minutes the chia seeds will absorb the moisture and you'll be left with a very firm "dough." Work quickly to scoop up and shape the bars.
Vegan Sweet and Simple http://vegansweetandsimple.com/
They are not overly sweet, and my partner wanted more chocolatey flavor, but I loved them. You could always add some stevia or other sweetener and some additional cacao powder, or even toss in some cacao nibs or chocolate chips. Or, you could do as I did to some of them and drizzle some melted chocolate on top. Yum!
Read More