So I have been experimenting with making my own chia bars lately. I love having healthy and nutritious snacks on hand that I can take with me to work, or grab after a workout or between meals. When I had an open can of pumpkin purée from my pumpkin cooking extravaganza, I thought why not try some pumpkin spice chia bars too? They turned out better than I even dared!
Continue reading...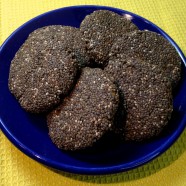 A few months ago I tried a Chia Warrior bar, which I really enjoyed. But when I looked at the ingredients and saw the high sugar content, I knew I had to try to recreate a healthier version at home. This was my first attempt.
These healthy, naturally sweet treats are packed with fiber, omega-3 fatty acids, and antioxidants, as well as calcium, phosphorous, magnesium and manganese. Plus, the combination of protein and fiber will help you feel satisfied for hours afterwards.
Continue reading...