Once upon a time we used to eat Chinese takeout at least once a week and sesame tofu was always our go to. Who can resist deep fried tofu smothered in a sweet sauce and sesame seeds? So delicious, but oh so unhealthy. I can't remember the last time we had Chinese takeout, but I still get a hankering for it on occasion. So I decided to try to make a healthier version of that old favorite. It's every bit as tasty but so much better for me and you!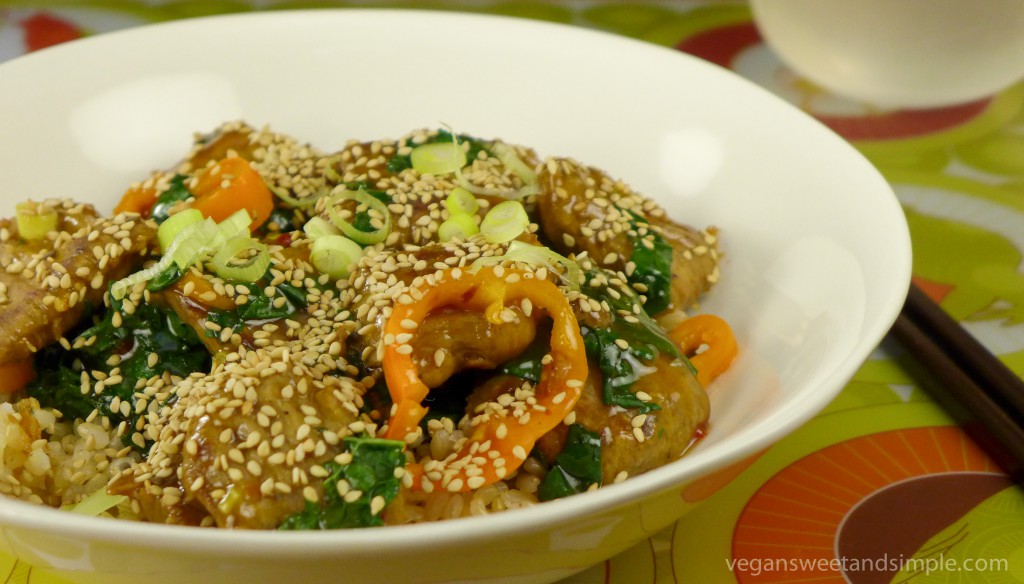 On Manhattan's lower east side is a little gem of a shop called May Wah Vegetarian Market. It produces and sells a mind boggling array of yummy vegan mock valium online no prescription australia meats that end up on the menus of many restaurants here in NY and across the country. And the best thing is that a lot of it is gluten free. Their products can be found in many Asian super markets and you can also buy them through their online store. I used their vegan, gluten-free mock beef in this recipe and it was great. However, you could use any number of meat substitutes like Gardein beefless tips, Beyond Meat chicken, or Butler soy curls or good old tofu!
Healthier Sesame "Beef" or "Chicken"
2015-11-07 14:23:02
Serves 2
Ingredients
1 tsp sambal oelek (or other chili paste)
2 tbsps coconut palm sugar
1 tbsp arrowroot powder or cornstarch
1 cup vegetable broth
1 tsp minced ginger
1 clove roughly chopped garlic
2-3 servings of vegan "beef" or "chicken"
3 small sweet peppers or 1 small bell pepper, sliced
4 tuscan kale leaves, chopped
1 large spring onion, chopped
Grapeseed oil for sautéing
1 tsp roasted sesame oil
1 tbsp sesame seeds, toasted
Instructions
In a small bowl, mix together the coconut palm sugar and vegetable broth until the sugar dissolves.
Add samba oelek and cornstarch, stir to combine and set aside.
Heat about two teaspoons of grapeseed oil in a pan over medium-high heat.
When hot, add garlic and ginger and cook for about thirty seconds or until fragrant.
Add vegan "beef" or "chicken" and cook until they start to brown.
Add roasted sesame oil and peppers and cook for about a minute.
Stir broth mixture and add it to the pan. It should begin to boil and thicken almost immediately.
Fold in kale and 3/4 of the green onion and turn off the heat.
Serve over brown rice or another grain of your choice.
Sprinkle toasted sesame seeds on top and garnish with remaining scallions.
Vegan Sweet and Simple http://vegansweetandsimple.com/
So there you have it! Great tasting and healthier sesame "beef" in less time than it will take you to go and pick up Chinese take out.