Today, dear friends, I'm bringing you a recipe for an ultra special raspberry cupcake topped with vanilla butter cream. This cupcake is bursting with tart raspberry flavor, which is complemented beautifully by the sweet vanilla frosting. It's exactly the type of cupcake you'll be dreaming about for weeks afterwards!

As someone who loves gluten-free, vegan baking I'm constantly on the quest to find the best gluten-free flour mixes. I often make my own, but sometimes I want to skip that step and use something that is ready to go. For this recipe, I decided to use the new Bob's Red Mill Gluten Free 1 to 1 baking flour and I have to admit that I was impressed. It's a mix of white and brown antabuse online uk rice flours, sorghum flour, tapioca and potato starches and xanthan gum. It tastes great. And best of all, you can use it cup for cup in any traditional recipe. In this recipe it worked perfectly!
So how do I get that great raspberry flavor? My secret ingredient is freeze-dried raspberry powder. To make it I take freeze-dried raspberries, crush them into a fine powder using a mortar and pestle and then sift it through a sieve to remove the seeds. It is all natural, intensely flavorful and incredibly yummy.
Raspberry Cupcakes with Vanilla Butter Cream
2015-10-16 11:39:45
Raspberry Cupcakes
1/2 cup raspberry powder (from 2oz of freeze-dried raspberries)
1 cup gluten-free baking mix
1 tsp baking powder
1 tsp baking soda
1/4 tsp salt
1/4 cup coconut palm sugar
1/2 cup maple syrup
3/4 cup vegan milk
1 tsp apple cider vinegar
1/3 cup olive oil
Vanilla Butter Cream
2 cups powdered sugar (aka icing sugar)
2 tsps corn starch
1 vanilla bean or 2 tsps vanilla extract
1/2 cup vegan butter at room temperature (I used Earth Balance buttery spread)
2-4 tbsps vegan vanilla creamer (or vegan milk)
Raspberry Cupcakes
Preheat oven to 350 degrees Fahrenheit/180 degrees Celsius.
Prepare a cupcake tin with liners, or lightly grease.
Sift together dry ingredients.
Mix together the wet ingredients.
Add the wet ingredients to the dry, and using a chopping motion mix to combine until all large lumps are gone. Be careful not to over-mix: it will make your cupcakes gummy.
Fill your cupcake holders until they are about 3/4 full.
Bake for 14-16 minutes for mini cupcakes or 20-22 minutes for regular cupcakes, or until a toothpick inserted into the center comes out clean or with just a few large crumbs.
Remove from the oven and allow them to cool on a baking rack completely before frosting.
Vanilla Butter Cream
Add the powdered sugar and cornstarch to a mixing bowl stir to combine.
Carefully cut open your vanilla bean and using a teaspoon, scrape out the seeds and add them to the powdered sugar mixture.
Add vegan butter to the mixture in chunks, along with soy creamer 1 tbsp at a time.
Mix together with a rubber spatula until smooth and creamy.
Vegan Sweet and Simple http://vegansweetandsimple.com/
Serve them with fresh raspberries for an extra delicious treat!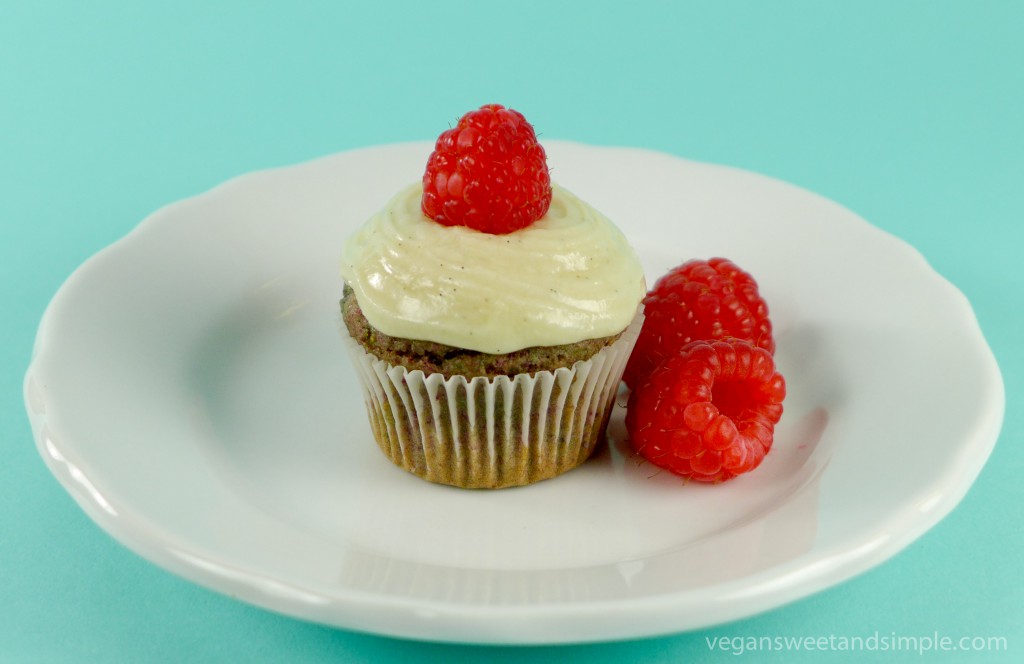 I guarantee they will be gone before you know it!