Roasted potato salad with Thai basil pesto: wow that's a mouthful. But a truly delicious one! At the moment I have a bountiful supply of Thai basil growing in my kitchen. Not wanting to let any of it go to waste, I've been making batch after batch of thai basil pesto, putting it on just about everything (and freezing the rest for later). It's amazing paired with avocado and tomatoes on toast. And it's especially yum in this roasted potato salad recipe.
This potato salad is anything but traditional. In fact, the combination of flavors here is highly unlikely, but that's what makes it so great. The roasted potato give it a satisfying bite as well as that beautiful roasted flavor. And the thai basil pesto adds a spicy, umami kick. It's so good, it's almost addictive: I kept going back for more and more!
Roasted Potato Salad with Thai Basil Pesto
2015-11-20 22:12:25
Serves 4
Thai Basil Pesto
1 cup packed thai basil leaves
1/2 cup raw cashews
1 tbsp roasted sesame oil
1 tbsp lime juice
1-2 tbsps tamari (to taste)
1 tbsp olive oil
2 birds eye chili peppers (fresh or dried, more or less to taste)
Potato Salad
4 large red norland potatoes, cubed (peeling optional)
Olive oil
Salt, to taste
2 large kale leaves, shredded
1 spring onion, chopped
2 tsps black sesame seeds (optional)
2 or more tbsps thai basil pesto, to taste
Thai Basil Pesto
Combine all pesto ingredients in a food processor and process until cashews have been broken up into small pieces (about 30 seconds to 1 minute)
Potato Salad
Preheat oven to 375 degrees fahrenheit and prepare a baking sheet by lining it with parchment paper.
Place diced potatoes in a large bowl and add just enough olive oil to lightly coat them.
Season with a little salt.
Spread potatoes in a single layer on the baking sheet and bake for 40-50 minutes, until golden brown.
Place cooked potatoes in a large bowl.
Add 2 tablespoons of pesto and stir to coat the potatoes. Add more pesto to taste.
Add shredded kale, black sesame seeds and three quarters of the spring onion to the bowl and stir to combine.
To serve, garnish with remaining spring onion and black sesame seeds.
Vegan Sweet and Simple http://vegansweetandsimple.com/
I made this potato salad with roasted potatoes that had been refrigerated overnight. However, this potato salad could be made warm with roasted potatoes fresh out of the oven too!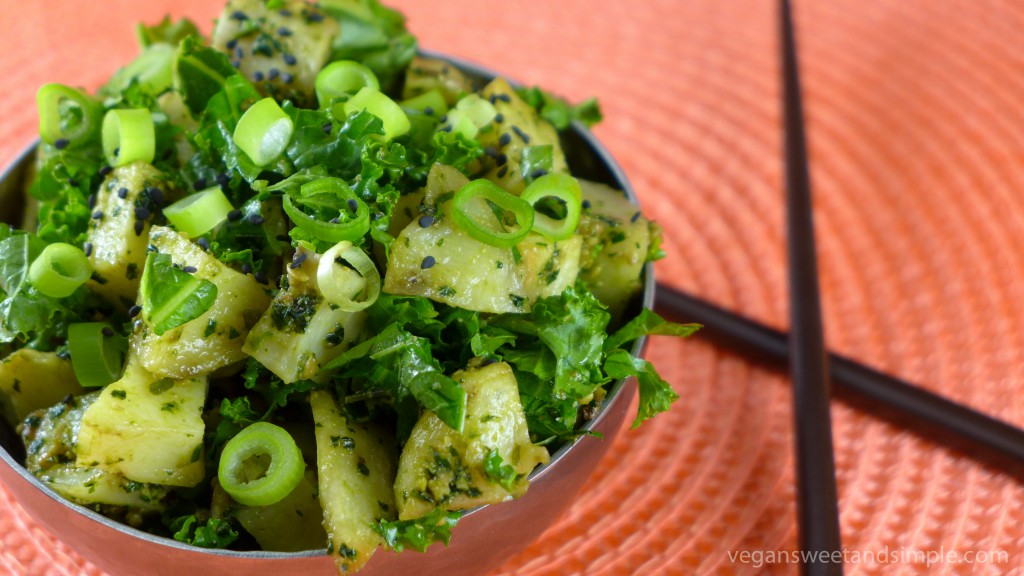 It may just be an excellent way to use up roasted potatoes that you may have leftover from certain holidays coming up.