If there was one vegetable that I'd eat three times a day every day if I could, it would be potatoes. Because I'm so addicted, I try to limit myself to the occasional treat. And one of the things that I treat myself with is potato salad. Growing up and still, there was no potato salad that compared to my grandma's. But I've been trying to expand my horizons a little, and this potato salad comes very, very close!
Continue reading...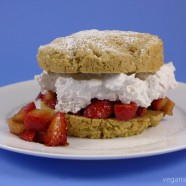 So today is national strawberry shortcake day! And dear readers, I have a beautiful vegan and gluten-free strawberry shortcake recipe for you!
I love this time of year when fresh, organic and locally grown strawberries are everywhere. Last weekend we picked up this gorgeous punnet of little, sweet New York strawberries at one of our favorite eateries and went through them in a matter of minutes.
Continue reading...