Good morning! Today on VeganMoFo we head to Latin America, the Caribbean and maybe North America. We start in the largest and most populous country of the region: Brazil.
I've only been to Brazil once, but it was enough to whet my appetite. I spent some time in Sao Paulo, where they have an amazing vegan scene, and then I headed north to the quieter coastal city of Recife and stunning Olinda, a UNESCO world heritage site.
Sao Paulo is a thriving city with an incredible energy and creativity. I was lucky to be there for Sao Paulo Pride, reputed to be among the world's largest pride parade. Despite the fact that it was rainy and a little cool, thousands of people thronged the streets, celebrating diversity and love. That day I was invited to a private party on a balcony overlooking the parade, which was organized by a local group working to address HIV. The price of entry was a bag of rice. It felt like we were on a secret mission of sorts. I remember searching for a grocery store in the middle of downtown Sao Paulo with a friend, buying my bag of rice, and lugging it with me through the streets of the city to the party. It took us a while to find the right door to the closed mall above which the party was taking place, and then we had to show our wares to get in. The party was fun, but it felt a bit removed from the energy below, and so we lingered a while and then went downstairs to explore.
There are a good number of vegan and vegetarian restaurants in Sao Paulo, which probably shouldn't be a surprise, but it was to me. There was one place I ate at twice that served a completely vegan buffet packed with Brazilian cuisine, like feijoada. Oh my! It was pretty amazing. It also had a neat store attached, which sold cans of vegan dulce de leche, among other goods. But some of its vegetarian restaurants weren't so vegan friendly. One night I went to a restaurant called Banana Verde, which had only a few vegan options at the time. When I asked for recommendations, the waitress suggested pupunha. So I ordered it. It was actually a complete piece of a palm: I had to cut through the tough outer edge to get to the soft heart! I love hearts of palm, but this was the strangest, albeit most natural presentation I could valium online usa imagine.
Recife is a much quieter city, and although I was there for almost as long as I was in Sao Paulo, I can't really say I got much of a feel for it. The beaches were gorgeous, pristine. But it was rainy and cold much of my visit there and everything is pretty spread out.
Olinda, on the other hand, was gorgeously stunning. I spent a day there walking through its curvy, narrow, hilly streets.
I adored its colorful buildings, old churches and the art that is absolutely everywhere you turn. It's definitely a wonderful place to spend a day, or two, or more.
I wasn't sure what to make for Brazil, but when I started researching the cuisine, this Brazilian style "chicken" pie kept popping out at me again and again.
It's like a potpie, but with just a little gravy. Some make it with a crumb topping (I have); others top it with additional pastry.
I knew that with the fabulous Beyond Meat, which shreds nicely when warm, I could get a texture and taste that would be scarily close to the original, and so I had to try my hand at making one.
From start to finish, this is the quickest savory pie I have ever made. And it is delicious!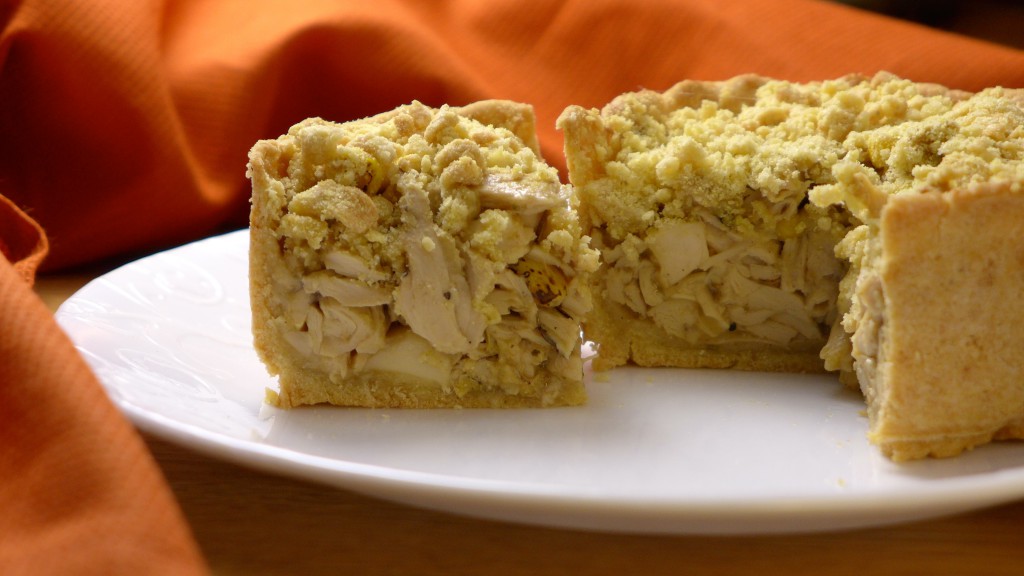 Empadão Sem Frango
2014-09-22 15:27:41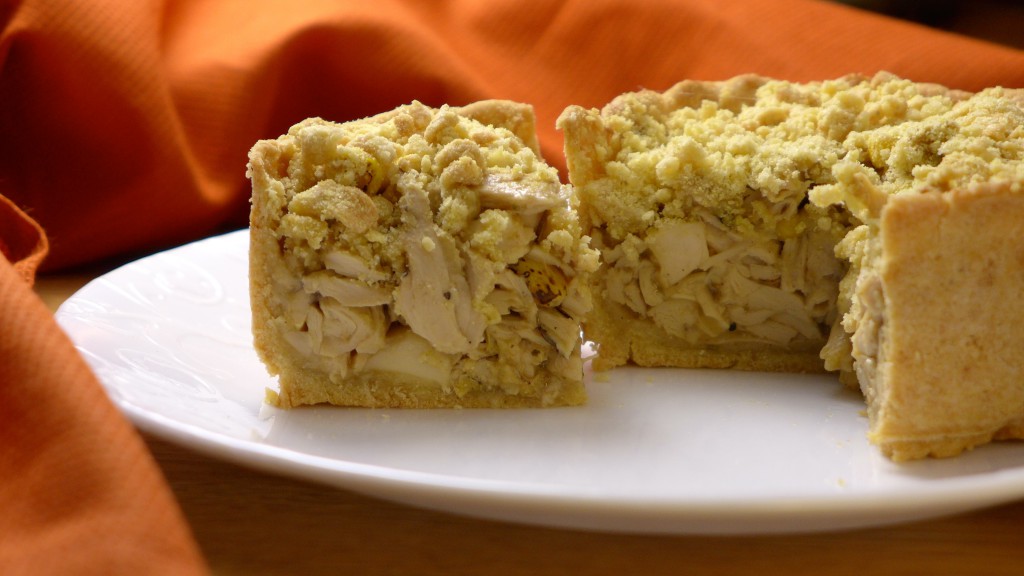 Dough
2 cups gluten-free flour mix
½ cup cornmeal, divided
2 tsps coconut palm sugar
1 tsp salt
½ tsp baking powder
½ cup cold earth balance buttery sticks or vegetable shortening
½ - ¾ cups ice cold water
2 tsps apple cider vinegar
Filling
1 package of Beyond Meat Chicken-Free Strips
½ medium onion, diced
1 tsp dried rosemary
2 cups vegetable broth
1 tbsp arrowroot powder or cornstarch
¼ cup fresh or frozen peas
¼ cup fresh or frozen corn kernels
½ cup hearts of palm, sliced
Salt and pepper to taste
Grapeseed oil for sautéing
Dough
Mix together flour, a ¼ cup of cornmeal, sugar, salt and baking powder.
Using the paddle attachment on your mixer or a pastry cutter, mix in earth balance a little at a time until the dough becomes crumbly.
Mix together vinegar and ½ cup of the ice cold water.
Add to the dough a little at a time until it holds together well between your fingers. You may need to add up to ¼ cup of additional water, especially since gluten-free flours tend to be drier, but be careful not to add too much.
Press into a ball, wrap in plastic wrap, and let the dough rest in the fridge for half an hour.
Filling
Preheat your oven to 375 degrees Fahrenheit.
Put a little grapeseed oil in a pan, and when hot add the beyond meat strips.
Cook for 1-2 minutes on each side, until they soften and begin to brown.
Turn off the heat and using your fingers (or a fork, though that didn't work so well for me), shred the strips. You should have a bit over two cups of shredded "chicken" by the end of it.
Turn your pan on again and add a little more grapeseed oil, if needed.
Add the onion to the pan along with the rosemary and sauté until the onion is soft and rosemary fragrant, about 3-5 minutes.
Add the shredded strips back to the pan.
Mix the vegetable broth with the arrowroot powder and pour into the pan.
Add corn, peas and hearts of palm.
Once the sauce thickens, turn off the heat.
Finishing it off
Take the dough out of the fridge and divide into 4 if using 4-inch spring-form pans, or leave whole if using a 10-inch spring form pan. Regardless of what you use, you want a deep dish for this pie.
Take ¾ of each piece of dough and press it into the bottom and sides of the pan until it covers the pan evenly, about 1/8 to ¼ inch thick.
Take the remaining dough and add a couple of tablespoons and up to a ¼ cup of the remaining cornmeal to make a crumble.
Ladle the pie filling into the pan until it is almost full.
Top with the crumble.
Bake for 40 minutes until the crust is a nice, golden brown.
Vegan Sweet and Simple http://vegansweetandsimple.com/
I can see myself making this pie again and again because it is so quick and easy (compared to a potpie) and tastes so good. What a treat! I served it with a delicious, but simple salad, with avocado and lemon-massaged kale, cherry tomatoes, and hearts of palm, topped with a little salt and pepper.
This is pretty much the definition of comfort food!