Growing up in Australia I took passionfruit for granted. They grew abundantly and fresh passionfruit were almost always available. And if there were no fresh ones, we could always pick up some canned passionfruit pulp in a pinch. In the US, it's a different story. Fresh passionfruit are only occasionally available in supermarkets and when they are they are ridiculously expensive. So I was over the moon when I recently stumbled across frozen passionfruit pulp by Goya. And what better to do with it than make a passionfruit cream pie?
There is nothing quite like passionfruit: it has a distinctive sweet but tart flavor and is beautifully aromatic. I love it. And with it's yellow pulp and black seeds, it's really quite striking too.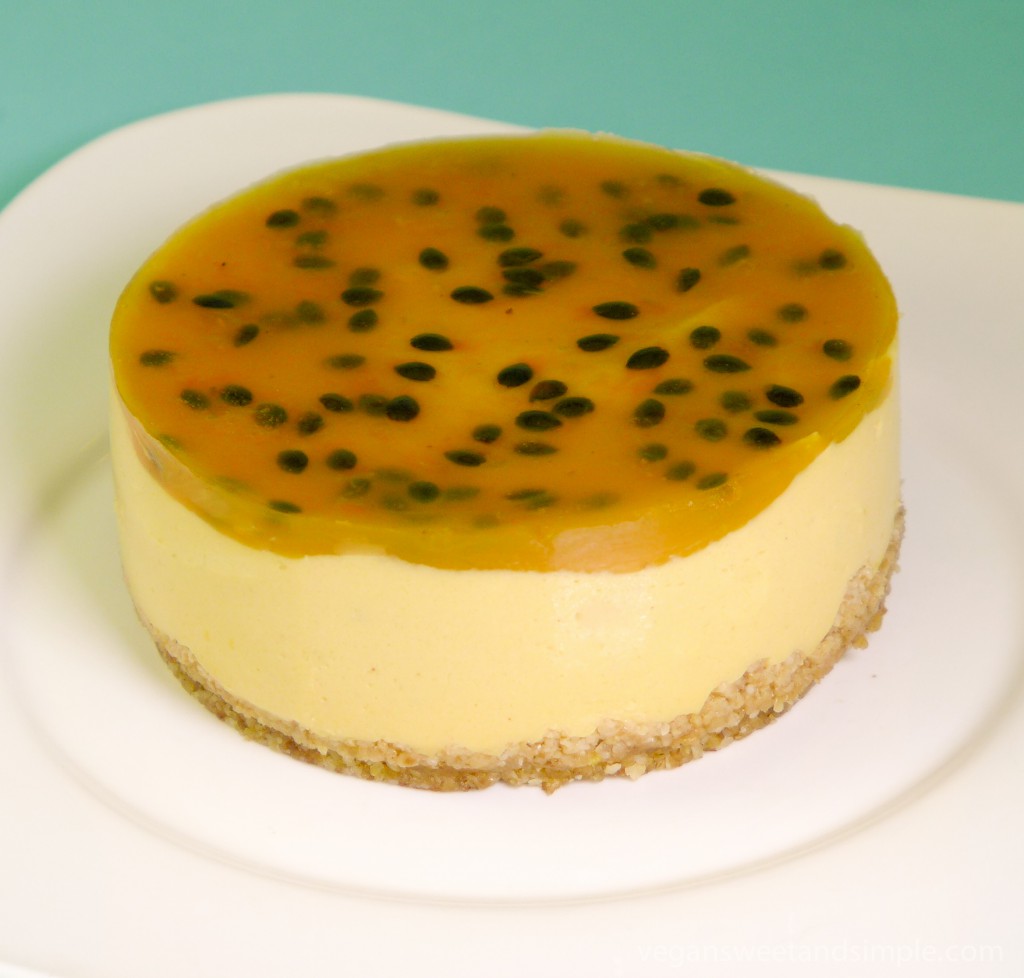 The passionfruit pulp from Goya does not contain seeds and is perfect for the creamy filling of this pie. You can also use it for the passionfruit jelly topping, but I think it's worth getting some fresh passionfruit or tracking down a can of passionfruit pulp with seeds just because it looks so pretty and provides some nice contrast.
In the crust I use raw macadamia nuts in another nod to my homeland (did you know macadamia nuts are indigenous to Australia?). Their mild, creamy flavor is the perfect complement to passionfruit. And I use agar agar powder in this recipe to set the filling and the topping. Agar agar is great stuff: it is a natural gelling agent that is made from seaweed and is very easy to use. It's the perfect replacement for gelatin (which is both cruel and downright nasty!)
Passionfruit Cream Pie
2015-11-15 11:41:08
Serves 8
Crust
2/3 cup of oats
1/3 cup macadamia nuts
10 pitted dates (about 1/2 cup)
1/8 tsp salt
1 tsp vanilla extract
Filling
1 cup cashews, soaked 4-6 hours
3/4 cup passionfruit pulp (thawed if using frozen)
1/4 cup maple syrup
1 packet of stevia (optional)
1/2 tsp agar agar powder (not flakes)
1/4 tsp guar gum
1/8 tsp salt
Topping
1 cup passionfruit pulp
1 tbsp maple syrup
1/2 tsp agar agar powder (not flakes)
Instructions
Prepare two 4-inch spring-form pans or one 6-8 inch pan by placing a round of parchment paper on the bottom.
Crust
Place all ingredients in a food processor and process just until the crust holds together when pinched between your fingers.
Press into the bottom of your pan(s).
Filling
Place all ingredients in your blender and blend on high speed until creamy and smooth.
To activate the agar agar, it will need to be heated. If you have a high-speed blender, like a vitamix, continue to blend on high until the mixture boils. If not, transfer it to a medium saucepan and heat on your stovetop on medium heat until it just starts to boil.
Quickly pour filling over the crust and refrigerate while the topping is prepared.
Topping
Combine passionfruit pulp, maple syrup and agar agar powder in a saucepan.
Heat over medium heat until it begins to boil.
Spoon over filling and refrigerate for 2 hours or until the filling and topping has set.
Vegan Sweet and Simple http://vegansweetandsimple.com/
Just one bite of this pie and you'll see why I love passionfruit so!
I hope you enjoy it as much as I do!