I don't know about you but I always buy bananas with the intention of eating them quickly. Somehow I never manage to finish a bunch before they start to get overly ripe. When that happens I do one of two things: freeze them so that I can use them in smoothies or bake muffins or bread. So in honor of over-ripe bananas, here's a recipe for a flavor-packed banana bread with raisins and pecans.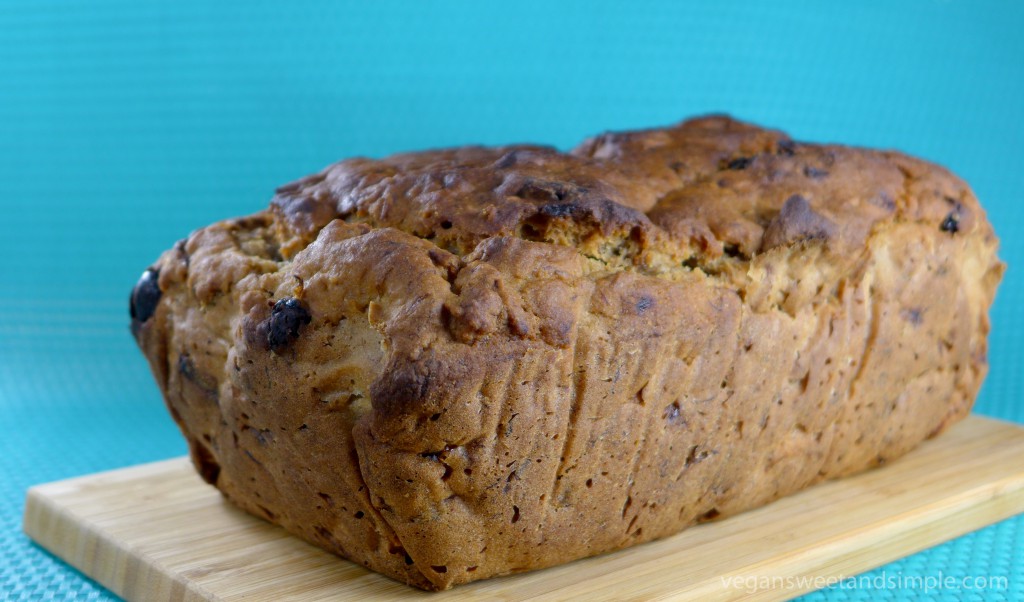 It should go without saying that this bread is vegan and gluten free. I use a gluten free mix of millet and oat flours, along with tapioca powder and arrowroot starches, which works wonders for sweet baked goods. To sweeten it I use coconut palm sugar and a little maple syrup. The great thing about this bread is that it's lovely and soft. It will not get impossibly hard the next day like some gluten-free breads can. In fact, this will be delicious up to five days after you bake it.
So without further ado, here's the recipe!
Banana Bread with Pecans and Raisins
2015-11-10 22:08:29
Ingredients
3/4 cup millet flour
3/4 cup oat flour
1/4 cup brown rice flour
1/2 cup arrowroot powder
1/4 cup tapioca starch
2 tsps cinnamon
1/2 tsp salt
1 tsp xanthan gum
1 tbsp baking powder
1/4 cup coconut palm sugar
1 1/4 cups mashed bananas (from 3 medium bananas)
1 cup water
1/4 cup pecan oil (or olive oil)
1/4 cup maple syrup
1 tsp vanilla extract
1 tsp lemon juice
1/2 cup raisins
1/4 cup chopped pecans
Instructions
Preheat oven to 425 degrees Fahrenheit.
Prepare a loaf pan by lightly greasing it or lining it with parchment paper.
Add the dry ingredients to a large mixing bowl and stir with a whisk to ensure they are well combined.
In a small bowl combine the mashed bananas, water, maple syrup, vanilla extract and lemon juice and whisk together.
Add to the dry ingredients and stir with a spatula until well combined. The dough should be quite wet.
Fold in raisins and pecans.
Pour the dough into the loaf pan.
Use wet hands or a spatula to even out the top.
Bake at 425 degrees Fahrenheit for 45 minutes.
Then, turn your oven down to 375 degrees Fahrenheit and bake for another 30-35 minutes, until the bread is golden brown and a skewer inserted into the bread comes out with a few big crumbs.
Remove from the oven and the pan and allow to cool before slicing.
Vegan Sweet and Simple http://vegansweetandsimple.com/
I have found that with gluten-free baked goods you do need to be careful not to overcook them. Take it out of the oven as soon as your skewer comes out with a few large moist crumbs attached to it.
Doesn't it look delectable?
And it's great for breakfast or for afternoon tea!