On one of my recent trips to Thailand I was introduced to the wonder that is spicy pomelo salad and knew that when I got home I would have to try to recreate it. This is my attempt and I think it is pretty close!
Pomelo (also known as pummelo, pommelo, or shaddock) is now in season in the US and readily available in most grocery stores, so it's the perfect time for it!
Pomelos are a type of grapefruit, originally from southeast Asia. It's the largest of the citrus family and can get as big as 4 pounds. Some are green and have nice white flesh; however, the pomelo I have found in New York is yellow with pink flesh. It's much milder in taste than most grapefruit, with none of the bitterness. However, the membrane itself is pretty nasty, so that should not be eaten. It's pretty easy to remove however.
The salad itself is quintessentially Thai: sweet, spicy and sour all at once. Play around with the amount of chili to get the desired order xanax online no prescription how level of heat. I like mine hot and spicy, and two very hot, red bird's eye chilies was all that I needed. If you like it milder, you'll need less. But don't leave it out altogether, it's an essential element of this delicious salad. You can also play around with the amount of garlic; I used two cloves, but you might like it less garlicky than I do! Start with one clove, and add more to taste.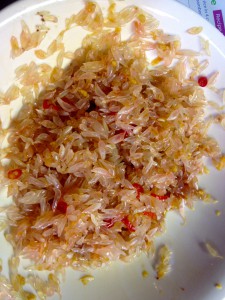 Spicy Pomelo Salad
2013-10-26 22:52:30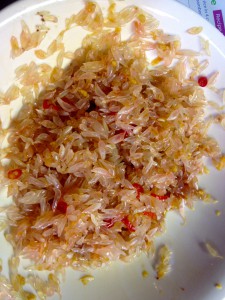 Serves 2
Ingredients
1 ½ cups of pomelo flesh
1-2 red birds eye chilies
1 tbsp tamari
1 tsp coconut palm sugar
1-2 cloves garlic, minced
Sesame seeds to top
Instructions
Peel your pomelo, then peel and discard the membrane from 4-5 segments of the fruit.
Carefully break up the pomelo into small bite-size pieces.
Finely dice chilies and add them to the salad, along with the diced garlic, tamari and coconut palm sugar.
Stir to combine.
Top with black and white sesame seeds.
Notes
You could also add julienned carrots and chopped scallions to the salad to make it a bit more substantial, but that is not necessary. I've had it in Thailand just like this and with a few extra veggies added and all were great.
Vegan Sweet and Simple http://vegansweetandsimple.com/
I served the salad with some peanut satay for a complete and satisfying meal. To make that, I dry-fried tofu (you don't need oil to get a nice, crunchy brown fried tofu) and topped it with some amazingly delicious peanut sauce that I made from scratch using a recipe I learned while I was in Bangkok a few months ago.
So good! I hope you love it as much as I do.
I'm also posting this recipe on Ricki Heller's Wellness Weekend.