Before I go on a trip I cook up a lot of food to make sure my partner is eating well while I am on the road. This time I made Jamaican soy patties, Georgian lobiani, and Australian "meat" pies.
My partner used to live in Brooklyn in Crown Heights North, an area with a strong Caribbean community. The great thing about it was all of the vegan ital restaurants and bakeries in the neighborhood. We could walk down the block and have our pick of really great and inexpensive vegan Caribbean food, like vegan Jamaican patties filled with soy, or callaloo, or other vegetables; vegan Trinidadian doubles, delicious sautéed greens. You name it and a delicious vegan version of it was probably there.
Jamaican soy patties are one of my partner's favorite foods. Since moving out of the neighborhood, he doesn't get to eat them very often anymore. So when I bought Allyson Kramer's Great Gluten Free and Vegan Eats from around the World, we were pretty excited to see the recipe for Jamaican jackfruit patties there! I loved them; he liked them but really craved more of a traditional patty. This time I decided to use textured soy protein and more typical Jamaican seasonings to recreate the soy patties we so loved in Crown Heights.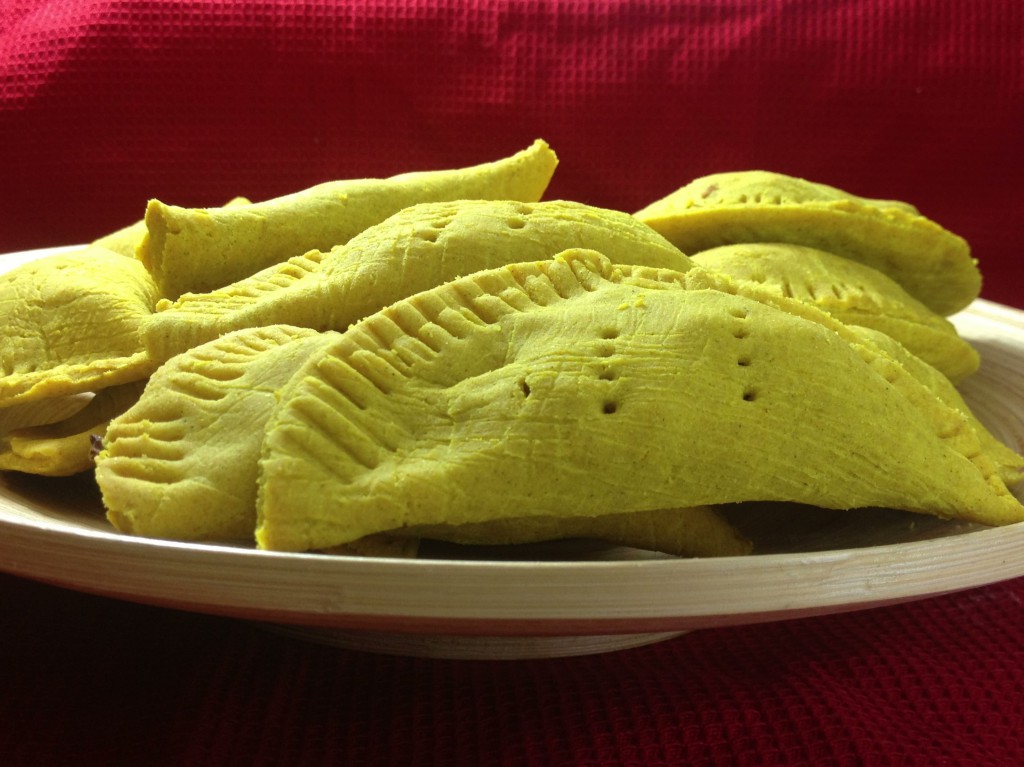 Jamaican Soy Patties
2013-09-16 00:21:11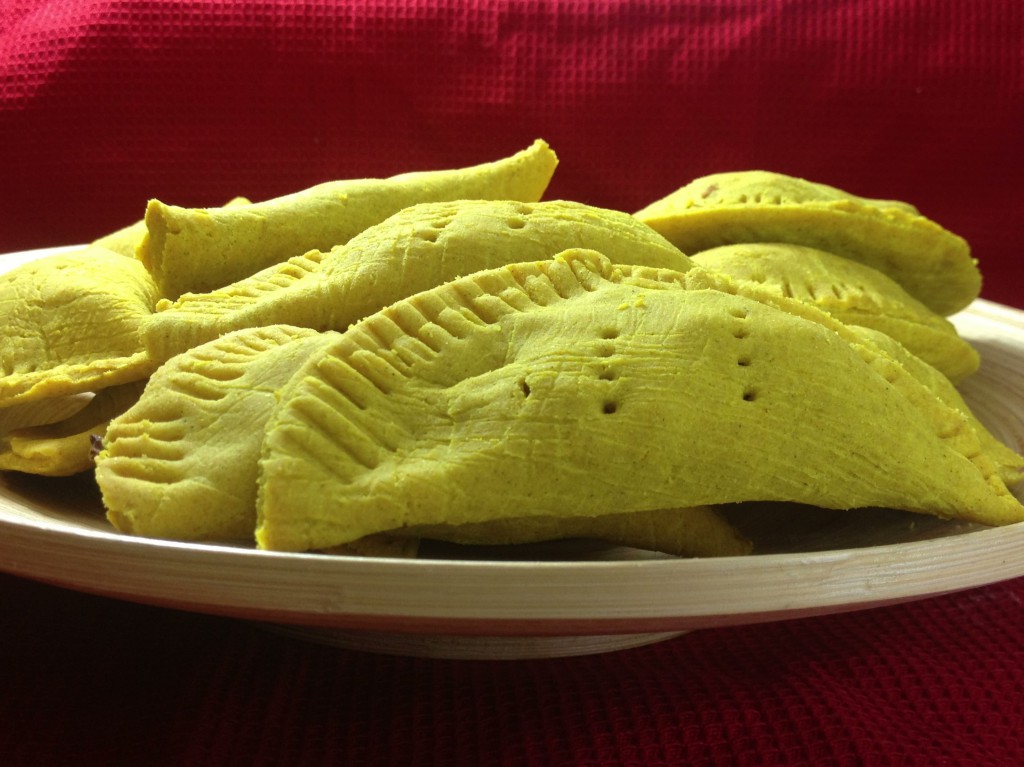 Serves 16
Crust
1 cup brown rice flour
1 cup sorghum flour
½ cup potato starch
¼ cup sweet rice flour
1 tsp xanthan gum
1 tsp salt
2 tsps turmeric
½ cup cold, hard vegan butter or margarine (I used 1 earth balance buttery stick).
¾ cup ice water
Filling
1½ cups of dry textured vegetable protein
2 tsps of vegetable bouillon (I used better than… )
1 cup hot water
1 medium brown onion, chopped
1 scotch bonnet pepper, finely chopped
½ tsp curry powder
½ tsp dried thyme
½ tsp allspice
½ tsp salt
¼ cup gluten-free bread crumbs
½ cup water
Crust
In a mixing bowl, mix together the dry ingredients so that they are well combined.
Add the butter a little at a time and mix using a pastry cutter on your stand mixer or by hand using a fork.
Once the butter has been evenly incorporated into the mixture and it appears crumbly, make a well in the middle and add the ice water.
Mix with a fork until you have a nice dough, but don't overwork it!
Pat dough together with your hands and then turn it out onto a sheet of plastic wrap.
Completely cover the dough with the plastic wrap and refrigerate for at least 30 minutes.
While the dough is chilling, prepare the filling
Put 1½ cups of dry textured soy protein in a medium bowl and cover with hot water.
Add 2 tsps of bouillon to the soy protein, mix and allow it to absorb the water and flavors until it is soft (10-15 minutes).
Heat a pan with enough oil to lightly coat the bottom for a few minutes on medium-high heat until hot.
Add the brown onion and scotch bonnet pepper to the pan and sauté until the onion is soft and translucent.
Add the textured soy protein and sauté for 3-5 minutes more until it begins to brown.
Add all other ingredients and stir to combine.
Allow the mixture to simmer for about 10 minutes more to allow the flavors to incorporate. You may need to add a few tablespoons of additional water here to prevent it from drying out too much.
Remove from the heat.
Putting it all together
Turn your oven to 350 degrees Fahrenheit or 180 degrees Celsius.
Line two cookie sheets with parchment paper, or lightly grease and flour them to prevent the patties from sticking.
Separate the dough into two pieces, roll into balls using your hands and set one aside. I find the dough easier to work in smaller quantities!
Place one piece of chilled dough between two sheets of plastic wrap and using a rolling pin, roll out the dough until it is about ¼ inch thick.
Using a small bowl about 3-inches in diameter, cut out as many rounds as you can. Remove excess dough and set aside.
Place about a tablespoon of the filling on one side of the round and then carefully fold the other side of the round over the filling.
Press the two sides of the pastry together using your fingertips and then a fork to ensure they are well sealed. Poke some holes in the top of the patty to give the filling some breathing room and prevent blow-outs.
Carefully move the patty to the cookie sheet.
Repeat until all of the dough and filling has been used. I got 16 patties out of this recipe and had a bit of dough left over!
Bake in the oven for 20-25 or so minutes until the patties begin to brown.
Remove from the oven and let cool for five minutes before eating.
Notes
If you're not going to eat them all within 5 days, freeze them for later!
Vegan Sweet and Simple http://vegansweetandsimple.com/
These patties taste amazing. They are so delicious hot, but they are also good cold. I took some of these with me on my flight to Bangkok and they were a really great snack to have on hand. Hope you like them as much as we did!