I'm heading back to New York from DC on a Friday evening and so of course, I'm thinking about food. More specifically, I'm thinking about what to make for this weekend's brunch.
On Sundays after I've been to the gym, my partner and I usually enjoy a great brunch. Most of the time it's pancakes or tofu scramble. But on occasion I'll try something new. This particular recipe was inspired by something I saw on a cooking show, but I have made it very much my own.
It resembles a dosa, but is a bit different. It does take a bit of effort, but it really is worth it! In fact, it is definitely something you might consider putting in your weekend brunch recipe rotation!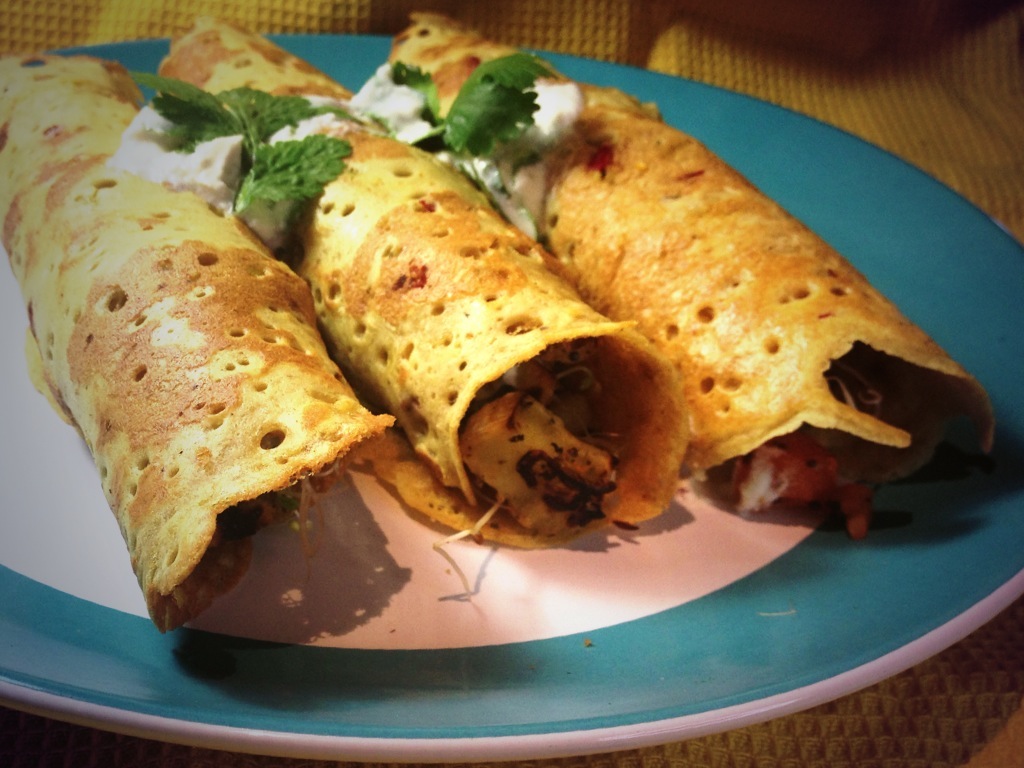 Spicy Pancakes with Sweet Potatoes & Cilantro Yoghurt
2014-05-02 17:26:26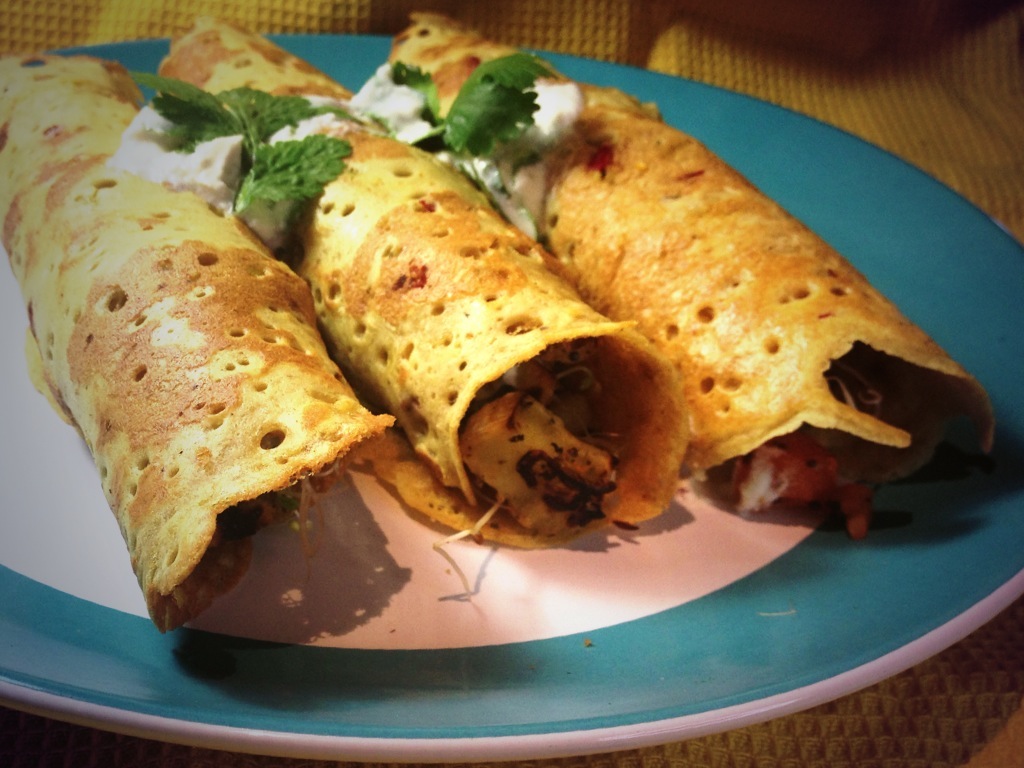 Serves 4
Spicy Pancakes
1 medium yellow onion, finely diced
1 red jalapeño or other hot chili pepper, finely diced
2 cloves garlic, finely chopped
1 tsp cumin seeds
1 tsp olive oil, plus additional for pancakes
3/4 cup garbanzo/besan flour
1/4 cup arrowroot starch
1 tsp salt
1/8 tsp xanthan gum
1 tsp baking soda
1 tsp baking powder
1 tbsp lemon juice
1 1/4 cups almond milk
Sweet Potato Filling
2 cups sweet potatoes, diced into 1/4-inch cubes
1 shallot, finely sliced
1 clove of garlic, roughly chopped
1 tsp mustard seeds
Zest of 1 lemon
2 tsps lemon juice
salt & pepper
1 1/2 tsps olive oil
Cilantro Yoghurt
1/2 cup plain, vegan yoghurt
1/4 cup fresh cilantro, chopped
Squeeze of lemon juice (about 1 tsp)
Salt & pepper to taste
2 cups sprouts
Spicy Pancakes
In a hot pan, dry roast the cumin seeds until they become fragrant and begin to brown.
Add 1 tsp of olive oil, onion, pepper and garlic and sauté for 3-5 minutes over medium heat until soft.
Turn off heat and set aside.
Add garbanzo flour, arrowroot starch, baking soda, baking powder, xanthan gum and salt to a mixing bowl or jug and whisk to combine.
Add lemon juice and almond milk and give it a vigorous stir.
Fold in cumin, onion, garlic & chili pepper and set mixture aside for about 10 minutes.
Heat a skillet over high heat. Once hot, turn down to low-medium and add a tiny touch of oil.
Add 1/4 cup of the batter and pick up skillet to rotate to spread out the batter.
Cook until the edges brown and begin to lift up at the edges.
Flip the pancake and cook for another minute or so, until browned.
Repeat until all the batter has been used. This recipe should make 8 pancakes.
Sweet Potato Filling
Heat a pan and once hot, add mustard seeds. Toast for about a minute, until fragrant.
Add olive oil, shallot and sweet potatoes and sauté on medium heat for about 15 minutes, until the sweet potatoes are soft and browned.
Add the lemon zest and lemon juice to deglaze the pan.
Season with salt and pepper to taste.
Cilantro Yoghurt
In a small bowl, combine the yoghurt, cilantro, and lemon juice and stir to combine.
Season with salt and pepper to taste.
To assemble the pancakes add about 1/4 cup of the sweet potato filling to one side of the pancake, a blob of the yoghurt, and a handful of sprouts. Roll pancake up, and repeat.
Add some more yoghurt to the top of the pancakes and garnish with some fresh cilantro.
Notes
If you have some leftover roasted sweet potatoes on hand, you can dice them up and cut down the cooking time significantly!
Vegan Sweet and Simple http://vegansweetandsimple.com/
Don't they look tasty? I used a combination of white and orange sweet potatoes and they tasted so good and looked pretty to boot!