Wow. Life has been a whirlwind the past couple of days. As I'm writing this I am about to leave on another work trip. This time to Bangkok, where the vegan eating is always better than good! Of course, I am bringing along a big stash of travel snacks, so I'll never be starving.
Between catching up on life, work, unpacking and repacking, there hasn't been too much time for blogging. However, cooking is always a necessity, so I wanted to share some of the things I've pulled together for meals over the past couple of days, including a few quick recipes.
I finally caved and bought myself a spiralizer, after using a really great julienne peeler for the longest time, and I wanted to test it out. So on Sunday night for dinner I made this beautiful rainbow pad thai, inspired by this recipe on Angela Liddon's blog, Oh She Glows. I modified the dressing to add a traditional Thai ingredient, tamarind, and to lighten it up. It was scrumptious!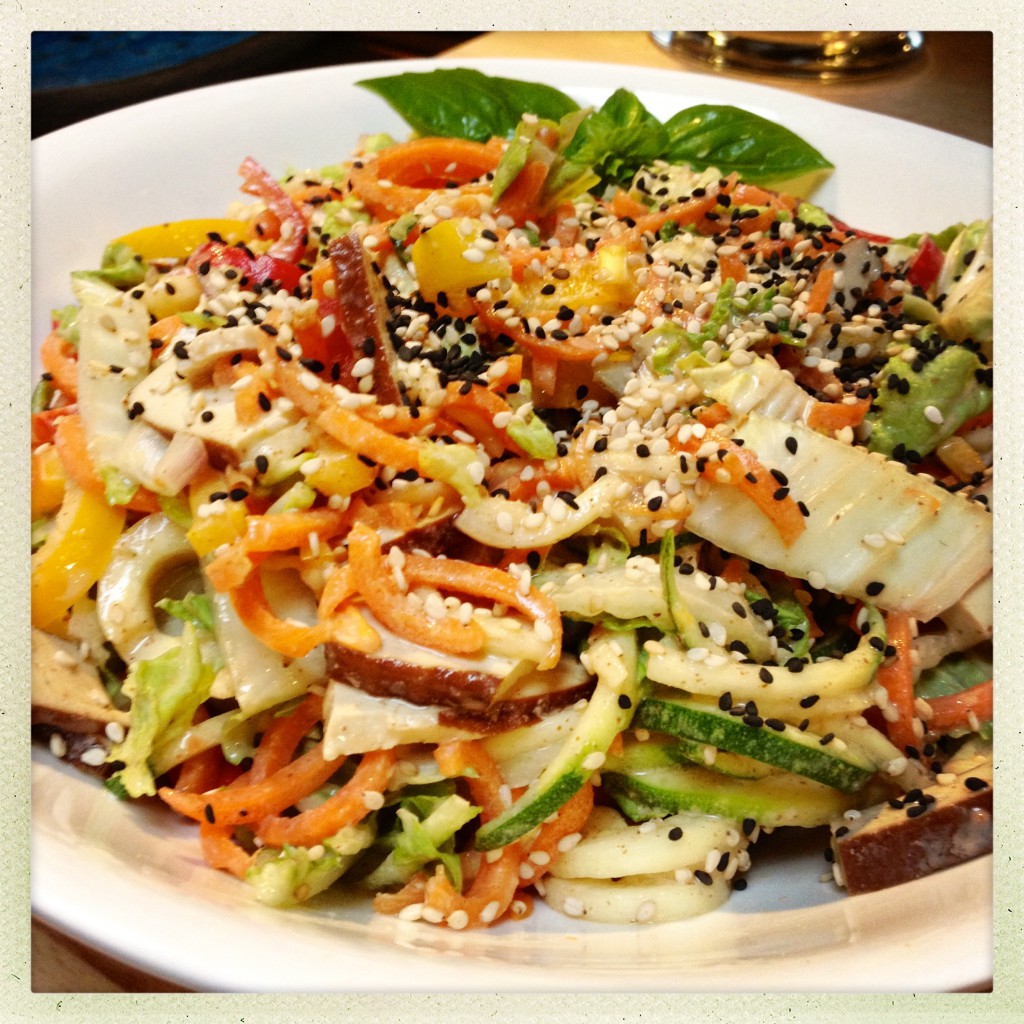 Raw Pad Thai Sauce
2013-08-21 09:05:52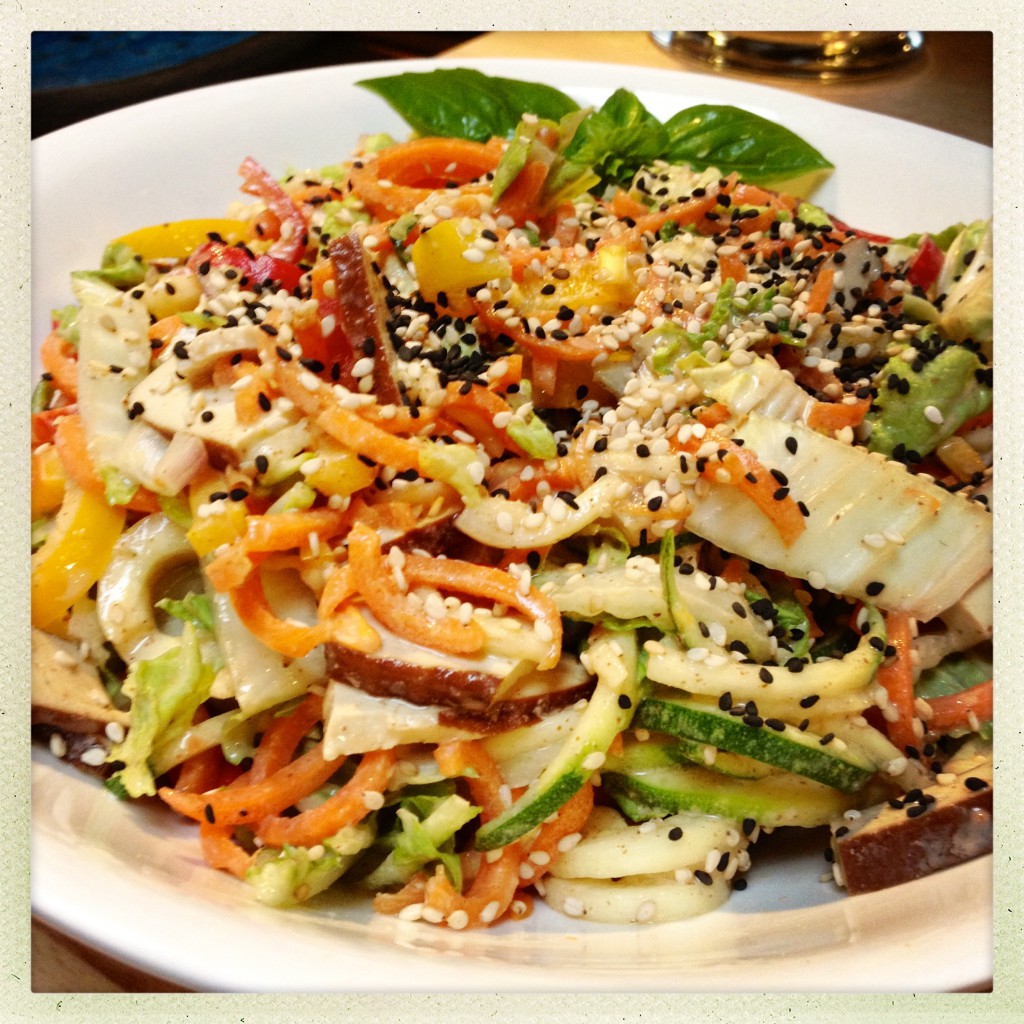 Serves 4
A non-traditional, but delicious raw pad thai salad.
Ingredients
¼ cup almond butter
1 tsp Tamarind Concentrate
2 tsps Maple Syrup
½ tsp Sesame Oil
1 Clove Garlic
1 tsp Ginger
2 tbsps Tamari
2 tbsps Lime Juice
2 tbsps Water
Instructions
Blend all ingredients together until creamy and smooth. I used a handheld blender, which I find perfect for blending dressings.
Vegan Sweet and Simple http://vegansweetandsimple.com/
On Monday for dinner I whipped together some tacos, with soy chorizo, spinach, my smoky chipotle guacamole, and cashew sour cream (so good!). The guacamole is a bit of a non-recipe, but it's tasty, so I thought I would share it.
Smoky Chipotle Guacamole
2013-08-21 09:10:00
Serves 4
Ingredients
1 ripe avocado, mashed
1 small tomato
1 tbsp lime juice
2 chipotle chilies in adobo sauce
1 tbsp cilantro (optional)
Salt and pepper, to taste
Instructions
Mash avocado.
Dice tomatoes and and finely chop chilies, and add them and lime juice and cilantro to avocado and mix until combined.
Add salt and pepper to taste.
Gobble it up!
Notes
I didn't have cilantro on hand when I made this and it was really yummy anyway!
Vegan Sweet and Simple http://vegansweetandsimple.com/
There was some guacamole left over, so for my partner's lunch the next day, I whipped together this beautiful rainbow Mexican-inspired salad, with a creamy avocado and roasted red pepper dressing. I thought the dressing was great and my partner reports that the whole thing was really good.
Mexican Salad with Avocado and Roasted Red Pepper Dressing
2013-08-21 09:15:15
Serves 1
Salad
2 cups spinach
½ cup black beans
1/3 cup corn (raw, or frozen and thawed)
6 cherry tomatoes
3 mini bell peppers, sliced and halved (I used one yellow, orange and red!)
½ cup extra firm tofu (optional)
Avocado and Roasted Red Pepper Dressing (2 servings)
½ Avocado
1 Roasted Red Pepper (marinated in brine, or make your own)
1 Tbsp Lime Juice
2 Tbsps brine from jar of roasted red peppers, or red wine vinegar
1-2 Tbsps water
Dash of crushed red pepper
Pinch of salt
Instructions
For the dressing, blend all ingredients until creamy and smooth.
Drizzle dressing on salad and top with guacamole and enjoy!
Vegan Sweet and Simple http://vegansweetandsimple.com/
Finally, before I leave on a trip I always bake or cook a few things for my partner to enjoy when I'm gone. This time he asked for pot pies. I modified the amazing almost-all American Pot Pie recipe in
Veganomicon
to be gluten free by subbing Butler Soy Curls for the Seitan and Bob's Red Mill All-Purpose Gluten Free Flour Mix and 1½ tsps of Xanthan Gum for the all-purpose flour for the crust. I also used a stick of earth balance butter instead of the vegetable shortening. I didn't sample the final product, but I did sample all of the component parts, and all I can say is yum!
Finally, I also baked a loaf of the Soft Millet Sandwich Bread from Jennifer Katzinger's Gluten Free and Vegan Bread: Artisanal Recipes to Make From Home. I changed a few ingredients in the recipe: I only had ½ cup of arrowroot, so I added ½ cup potato starch. The directions said to cook for 2 ½ hours, again, in my oven at 325 degrees, it was nicely cooked at 45 minutes.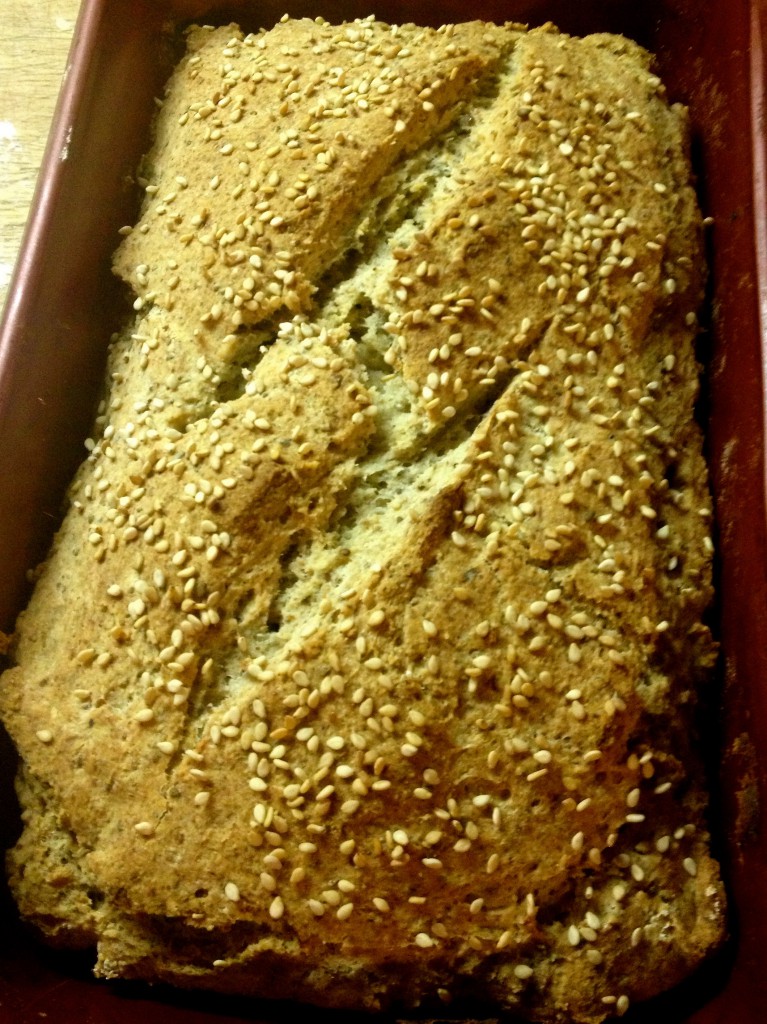 I also made a few other things, but they will get their own posts, with a bit of time. Now, to run and board my flight!