I had been dreaming up this salad for days before I made it for Thanksgiving. What could be better than a salad that combines many of my favorite foods? Brussel sprouts, avocado, butternut squash, kale, portobello mushrooms… check, check, check, check and check!
There are quite a few steps to this salad: baking, sautéing, slicing, massaging… But, it is definitely klonopintabs.com worth taking the time to prepare it. It's delicious!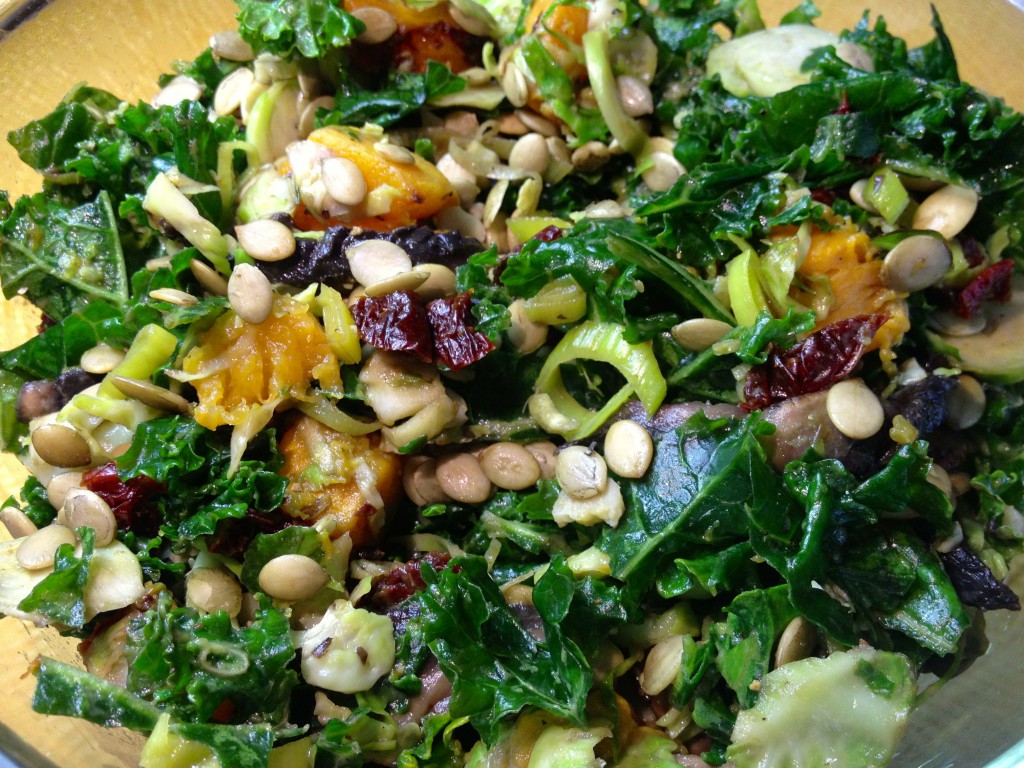 My favorite kale salad
2013-11-28 22:46:42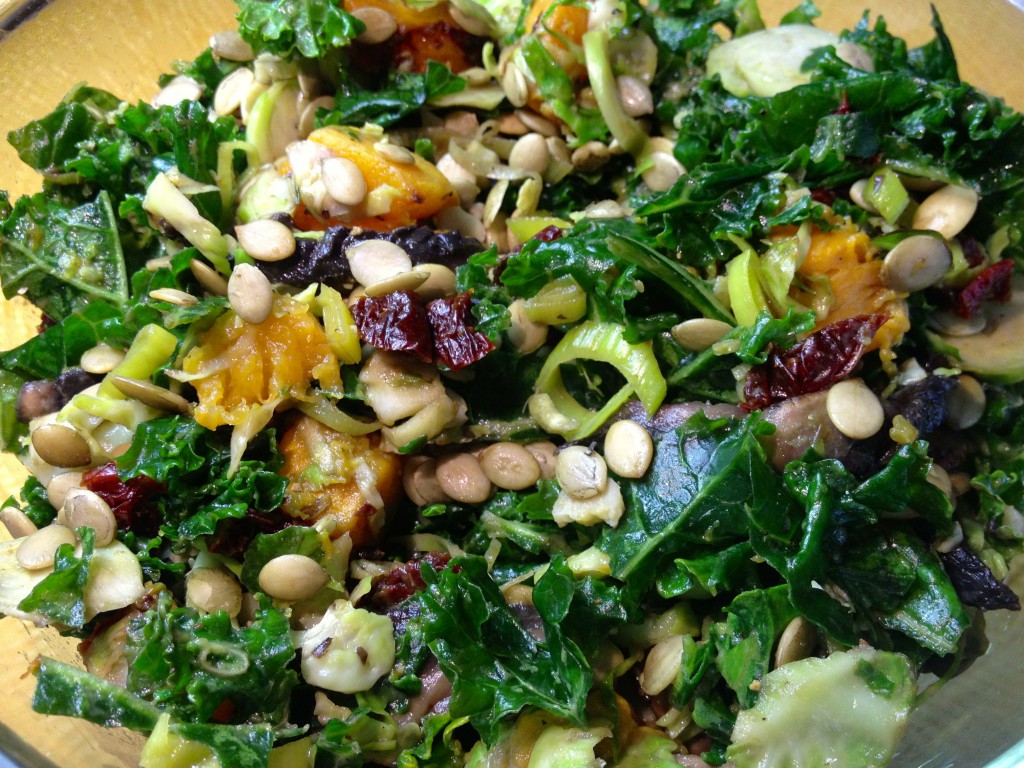 Serves 6
Ingredients
3 cups kale, chopped with stems removed
20 brussel sprouts
½ leek
6 sundried tomatoes
1 ½ cups butternut squash cubes
2 portobello mushrooms
½ avocado
2 tbsps lemon juice
Salt and pepper to taste
2 tbsps Pumpkin Seeds
Pomegranate arils (optional)
Extra Virgin Olive Oil for sautéing
Instructions
Preheat an oven to 350 degrees Fahrenheit/180 degrees Celsius and prepare a baking sheet by lining it with parchment paper or a light coating of olive oil.
Peel and chop butternut squash into 1-inch cubes
Lightly coat 1½ cups of the butternut squash cubes with olive oil and bake for 15 minutes. After 15 minutes stir and return to the oven to bake for another 5 minutes, or until fully cooked and easily pierced with a fork.
While the squash is roasting, brush or wipe down portobello mushroom caps with a paper towel to remove any dirt.
Slice mushrooms.
Heat a pan with a drop of olive oil and sauté over medium heat, stirring occasionally, until cooked. Once cooked, remove from the heat and set aside.
Cut about an 1/8 inch off the bottom of each brussel sprouts to easily remove the outer layers.
Use the slicing disc on your food processor or a grater to shave your brussel sprouts.
Remove the two outer layers of your leek (use the white part only).
Use the slicing disc on your food processor to thinly slice the leek, or thinly slice it with a knife.
Heat a ½ tbsp of olive oil in a pan on medium heat. Add the brussel sprouts and leeks and sauté for about 5-8 minutes, until cooked.
Put the chopped kale in a large bowl.
Add the avocado and massage it into the kale. Don't be afraid to massage the kale aggressively, this will help it softens.
Slice the sundried tomatoes and add them to the bowl, along with the butternut squash, mushrooms, brussel sprouts, leek and pumpkin seeds.
Add lemon juice and stir.
Season with salt and pepper to taste.
If you like, top with pomegranate arils.
Vegan Sweet and Simple http://vegansweetandsimple.com/
I topped the salad with some pomegranate arils for a bit of extra flavor. Plus, they look really pretty!
I hope you love this as much as I do!
I'm also posting this to Ricki Heller's Wellness Weekend.