One thing I love about this time of year is pomegranates! I first fell in love with pomegranates when I spent time in the Caucasus where they are both a staple part of the cuisine and the culture. In Armenia, for example, pomegranates symbolize good luck and fertility and they feature in Armenian art, crafts and literature. I even picked up some beautiful pomegranate silver earrings there!
Continue reading...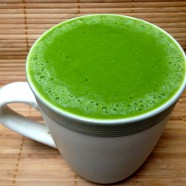 It must be obvious by now that I love green smoothies. When I'm home I will have one, two or sometimes even three a day. I like to experiment, but I have a few favorites that all seem to have either raw cacao or powdered peanut butter, or both!
When I was in Bangkok I had a very delicious banana and ginger smoothie, which I had to try to recreate. The ginger adds a nice spicy kick and helps to aid digestion, plus it tastes awesome.
Continue reading...