This hummus recipe has a delightful mix of flavors, smokiness from the adobo sauce, heat from the chipotle peppers and, of course, chickpeas. I've used hemp seeds in this recipe to make it extra creamy and delicious.
I don't know about you, but I find that when I open a can of chipotle peppers in adobo sauce it takes me forever to get through it. If you have one open, this is a great way to use the peppers up!
Did I say how good it was? This hummus got devoured in a matter of days!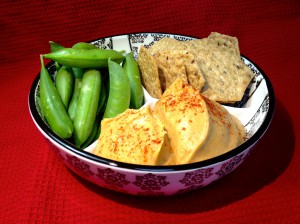 Smoky Chipotle Hummus
2013-11-09 14:42:36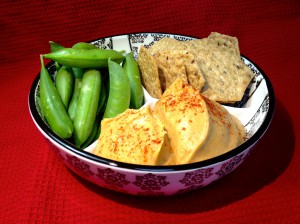 Serves 48
Ingredients
2 15oz cans of chickpeas, one drained, one with liquid OR 3 cups of cooked chickpeas and 3/4 cup of reserved liquid from the water the chickpeas were cooked in.
¼ cup hemp seeds
¼ cup lemon juice
1 clove garlic
1 tsp cumin
2 chipotle peppers in adobo sauce (leave them liberally coated in adobo sauce to give the hummus a lovely smoky flavor).
Salt, to taste
Instructions
Place all ingredients in a blender or food processor and blend on high or process until smooth.
Vegan Sweet and Simple http://vegansweetandsimple.com/