My mum used to make a variation of this recipe often when I was growing up, but with minced beef instead of lentils. I've taken the basics and updated it to make it vegan and add a bit more flavor. This meal is incredibly simple, quick and delicious. To me, it's comfort food: the type of good, wholesome, nourishing meal that I need after a long busy day at work.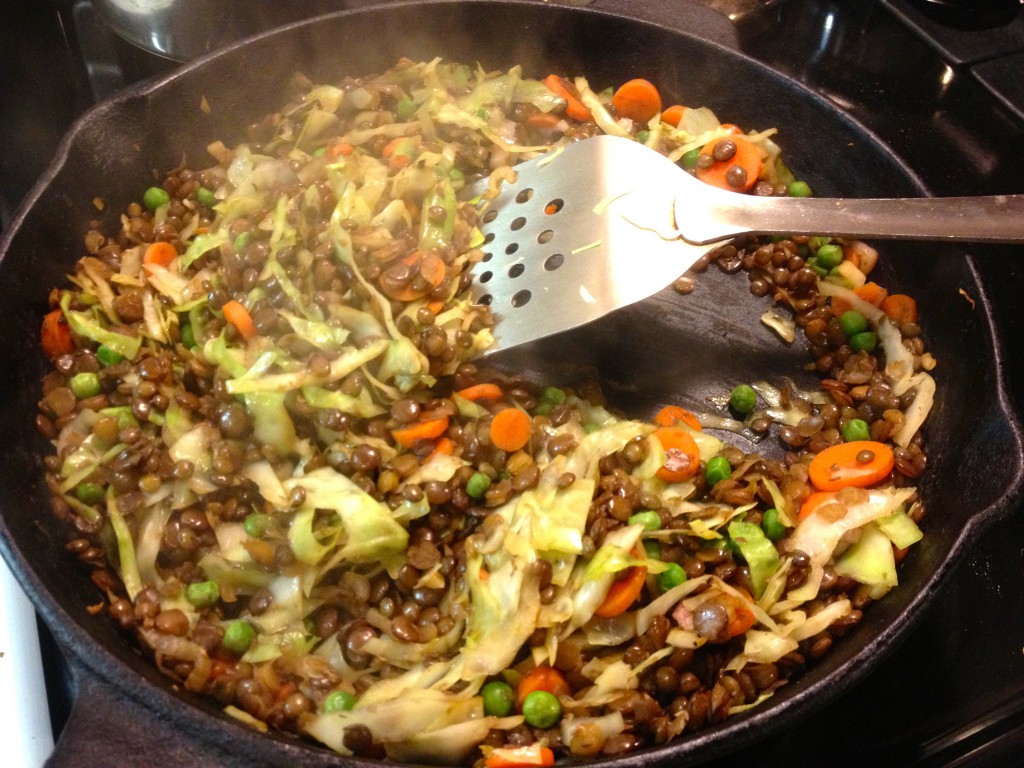 Comfort Food Lentils
2013-10-14 20:05:08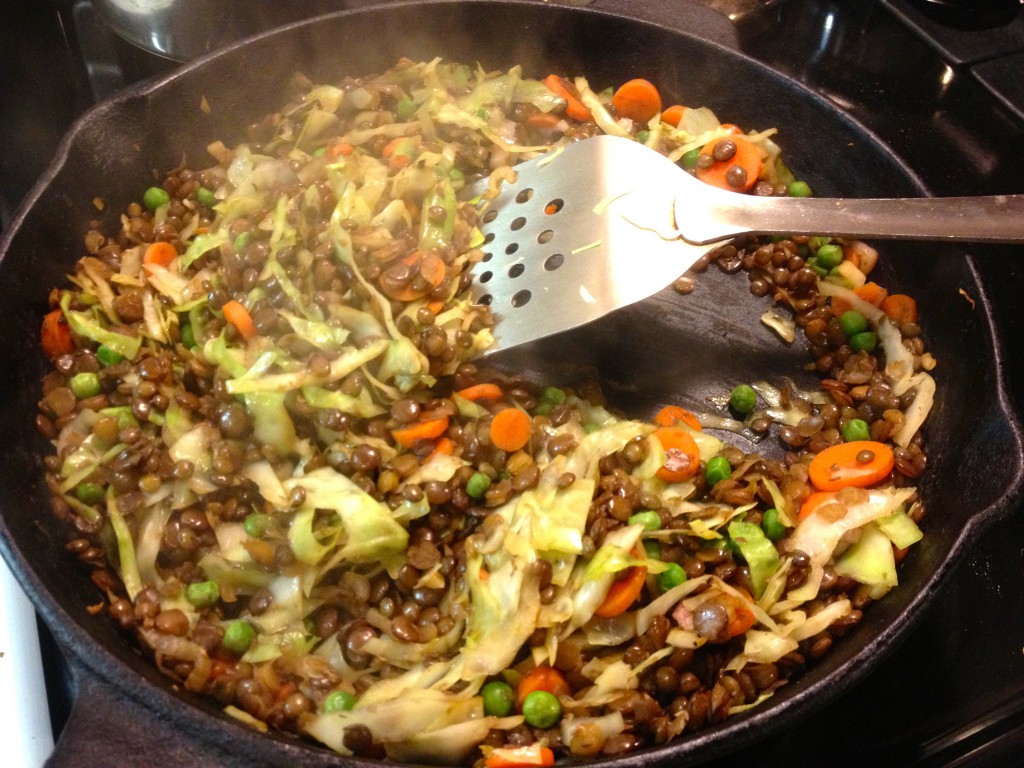 Serves 3
Ingredients
1 cup green lentils
2 1/4 cups vegetable broth
1 tsp thyme
1 large shallot, chopped
1 large clove or 2 small cloves garlic, roughly chopped
1 medium carrot, sliced
1 cup green cabbage, shredded
1/3 cup peas, fresh or frozen
1 tbsp tamari (or more to taste)
Black pepper to taste
½ tbsp olive oil
Instructions
Add the lentils, ½ tsp of the thyme, and vegetable broth in a saucepan on medium-high heat.
Bring to a boil.
Turn the heat down to low and let simmer until most of the broth has been absorbed and the lentils are soft.
Prepare the vegetables, as directed.
When the lentils are close to done, add the olive oil to a pan and heat on medium.
Add the shallots and sauté until soft.
Add the garlic and sauté for one minute more.
Add the carrots and sauté for another two minutes, then the cabbage and peas for another two.
Add the other ½ tsp of thyme, black pepper and then the cooked lentils. Stir to combine.
Taste and add tamari as needed.
Vegan Sweet and Simple http://vegansweetandsimple.com/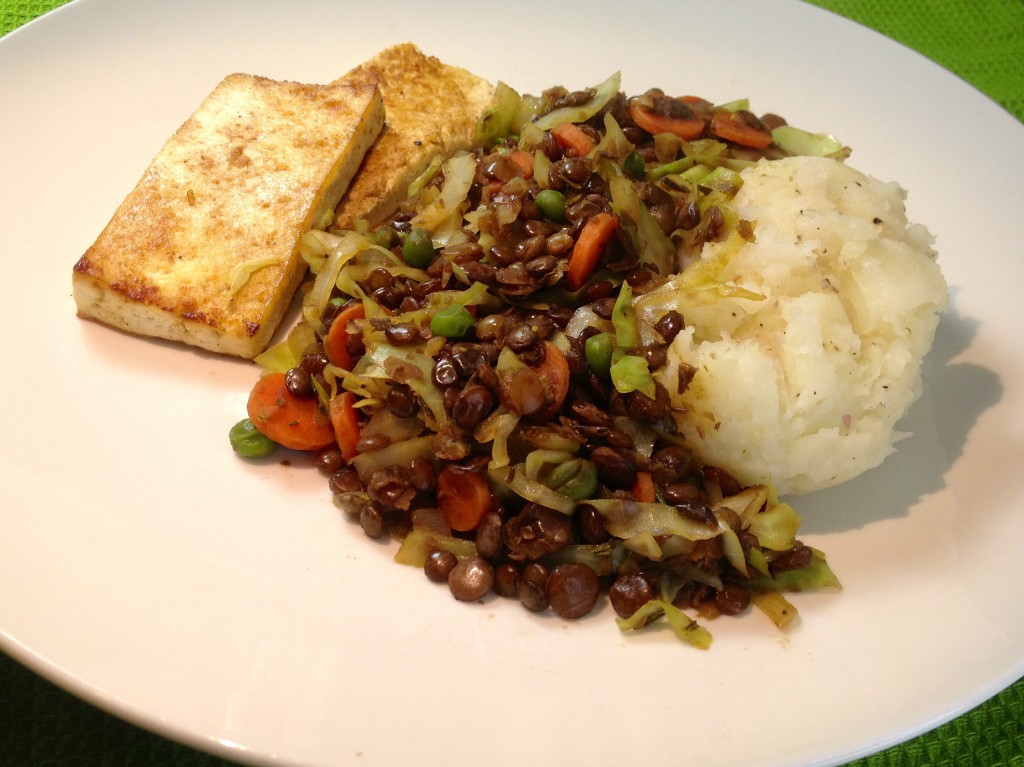 Smashed Potatoes
2013-10-14 20:07:15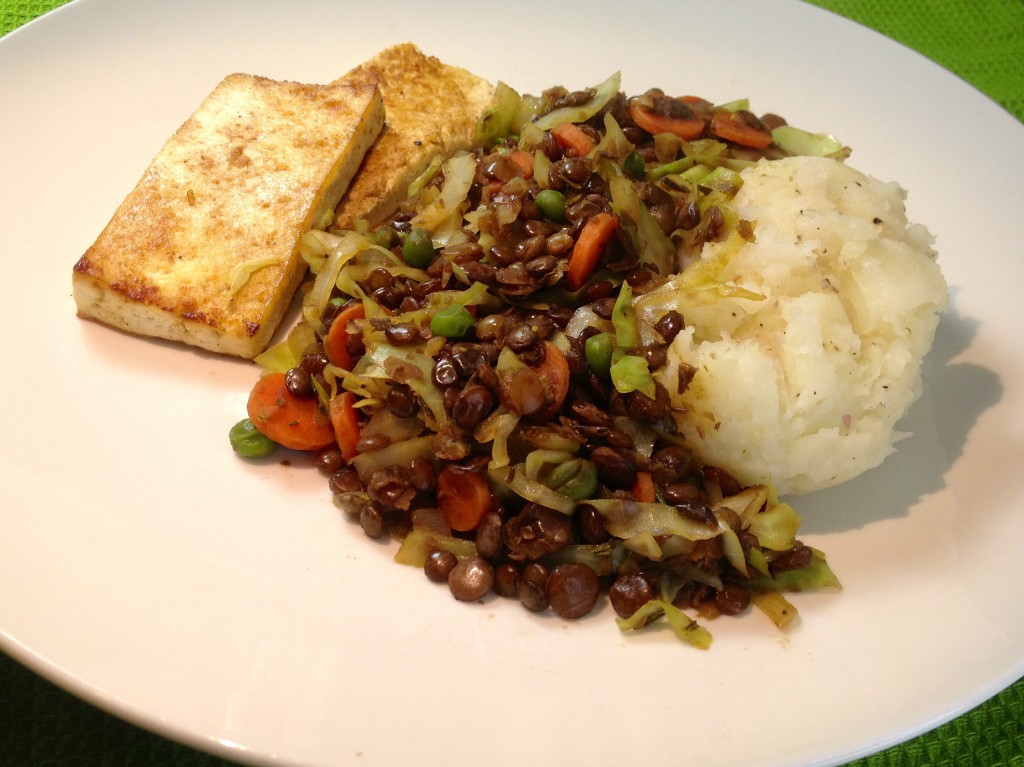 Serves 2
Ingredients
½ pound red potatoes
1 tsp earth balance or olive oil
A dash of salt and freshly ground pepper
Instructions
Boil water (enough to fully cover the potatoes) in a small pot on medium heat.
Peel and chop the potatoes into ½ inch chunks.
When the water reaches a rolling boil, add a dash of salt to the water and the potatoes.
Turn down heat to low and let simmer until the potatoes are easily pierced with a fork.
Remove from heat, drain, and place potatoes back in the pot.
Add earth balance, salt and pepper, and smash the potatoes with a potato masher or a fork, until you get your desired consistency. I like them a little bit chunky.
Vegan Sweet and Simple http://vegansweetandsimple.com/
My partner doesn't consider a meal complete unless there is tofu, so I served these with some simple sautéed tofu with a dash of coconut aminoes. But it is definitely not necessary! The lentils alone are a complete and satisfying meal. I hope you love them as much as I do!
What do you consider comfort food?