These delicious bites are just bursting with naturally sweet, tart cranberries and raw pecans: the perfect flavor combination for fall. And they are so good for you too! At less than 35 calories per bite, with no added sugar, you can snack on them all day long!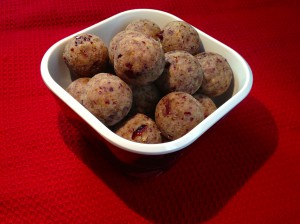 Cranberry Pecan Bites
2013-10-12 09:30:02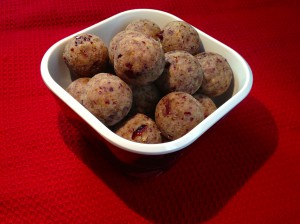 Serves 37
Ingredients
10 medjool dates
½ cup + 2 tbsps dried cranberries
½ cup raw pecans
Almond pulp, leftover from making almond milk, about ½ cup or ½ cup almond meal
¼ tsp salt
½ tsp cinnamon
Instructions
Place dates, ½ cup of cranberries & pecans in food processor and process until the mixture holds together when you squeeze it.
Add almond pulp, salt and cinnamon and process until just combined. If you are using almond meal, you may need to add some water a little at a time until you get a consistency where the mixture holds together nicely.
Add final 2 tbsps of cranberries and pulse once or twice, just enough to slightly break cranberries up & combine. Don't over-process; you want nice chunks of cranberries!
Using a cookie scoop or measuring spoon, spoon out mixture and roll into balls.
Store in the refrigerator.
Notes
I used a ½ tbsp measuring spoon and made 37 bites.
Vegan Sweet and Simple http://vegansweetandsimple.com/
I'm also posting this at Ricki Heller's
Wellness Weekend
link up event!