Hummus is definitely a food group unto itself!
This is another variation of my very quick and easy hummus recipe, this time using grilled and marinated asparagus. It takes just minutes to pull together and is really very, very yummy. Low fat, full of protein, such a healthy snack!
Give it a try!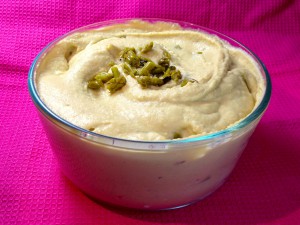 Asparagus Hummus
2013-10-11 16:46:22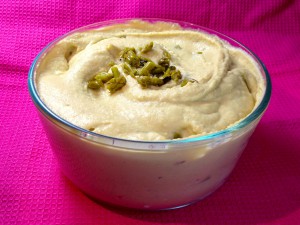 Ingredients
2 15oz cans of chickpeas, 1 drained, 1 with liquid OR 3 cups of cooked chickpeas and ¾ cup of the liquid they were cooked in
4 ½ ounces of grilled and marinated asparagus spears (in brine, not oil)
¼ cup sesame seeds
¼ cup lemon juice
2 cloves of garlic
1 tsp cumin
Instructions
Place all ingredients, except 1½ ounces of asparagus into blender or food processor and blend or process until smooth.
Cut up into small pieces the remaining asparagus spears and mix them into the hummus.
Vegan Sweet and Simple http://vegansweetandsimple.com/