There's nothing more Australian than meat pies! When I was growing up and we were lucky enough to order lunch from the tuck shop, I would always ask for either a meat pie or a cottage pie (with mashed potatoes on top!). Meat pies served with mashed potatoes and peas were a favorite family meal. And parties were never parties without miniature party pies!
I was planning to make potpies for my partner to eat while I was travelling, but I forgot that I had run out of Butler Soy Curls, which I usually use to add some protein to the dish. So, I decided to take the opportunity to try something new and what better than a childhood favorite? Vegan, gluten-free "meat" pies!
Australian pies differ from American pot pies in a number of ways. First, individual pies are meant to be eaten with your hands, so they always have pastry on top and bottom and usually a bit less gravy in the filling. Traditionally, Australian pies have a shortbread crust on the bottom and are topped with flaky puff pastry. "Meat" pies with ground beef are the most common and well-known, but any bakery or café that that sells pies will usually offer a variety: steak and kidney pies, mushroom pies (with ground beef), cottage pies, vegetable pies (usually vegetarian, not even close to being vegan), and apple pies topped with whipped cream and icing/powdered sugar are typical.
I decided to make a vegan version of the good-old "meat pie" and used rehydrated textured soy protein as a substitute for the ground beef. Gluten-free and vegan shortbread crusts are pretty easy to make; gluten-free and vegan puff pastry is a different story altogether though and I had neither the time nor skill, so I decided to use a shortbread crust for both top and bottom. Because shortbread is pretty calorific, I decided to make smaller pies that would still be substantial enough to be filling, but not overly so, and would make a perfect meal accompanied by a salad.
As a starting point, I really liked the shortbread crust recipe that Allyson Kramer developed for her Jamaican Jackfruit Patties in Great Gluten-Free and Vegan Eats from Around the World, so I decided to use that for the crust and omit the turmeric. It was only later that I remembered that there was also a recipe for Australian Vegetable Pies in that same cookbook (I didn't even think to look at it for the crust recipe and still haven't)! Then I adapted a traditional meat pie recipe.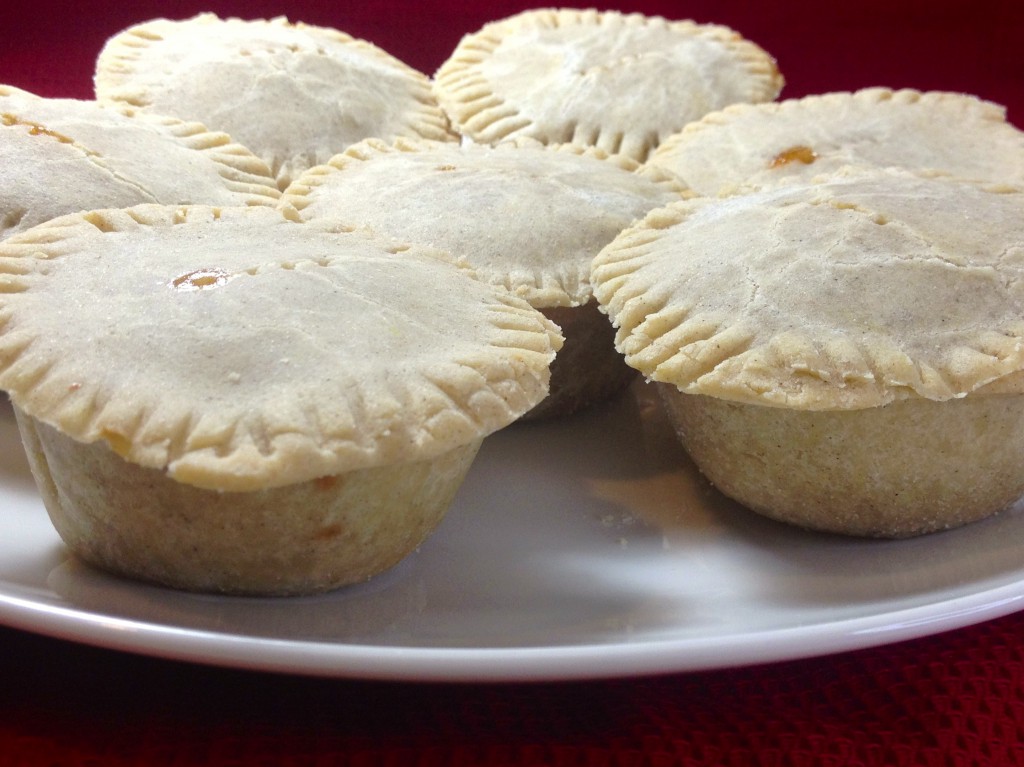 Vegan "Meat" Party Pies
2013-10-03 05:15:27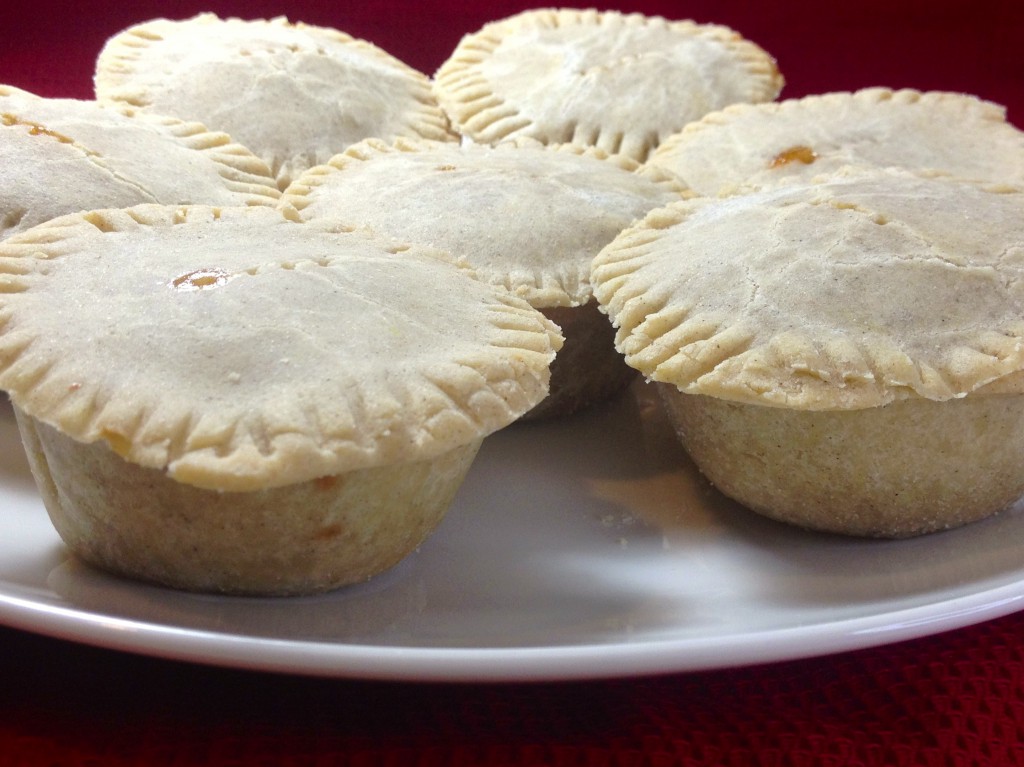 Serves 12
Crust
1 cup superfine brown rice flour
1 cup sorghum flour
½ cup potato starch
¼ cup sweet rice flour
1 tsp xanthan gum
1 tsp salt
½ cup cold, hard vegan butter or margarine (I used 1 earth balance buttery stick).
¾ cup ice water
Filling
1½ cups of dry textured soy protein
Hot water
2 tsps vegetable bouillon paste or powder
1 small brown onion, diced
¼ cup corn flour
1 cup vegetable broth
¼ cup ketchup (tomato sauce in Australia)
1 tbsp BBQ sauce
1 tbsp vegan and gluten-free worcestershire sauce
2 tsps vegemite (of course vegemite is a staple in my fridge! You can now order it on Amazon or instead use another 1 teaspoons of the vegetable bouillon paste or powder or more to taste).
¼ cup peas
Water, as necessary
Crust
In a mixing bowl, mix together the dry ingredients so that they are well combined.
Add the butter a little at a time and mix using a pastry cutter on your stand mixer or by hand using a fork.
Once the butter has been evenly incorporated into the mixture and it appears crumbly, make a well in the middle and add the ice water.
Mix with a fork until you have a nice dough, but don't overwork it!
Pat dough together with your hands and then turn it out onto a sheet of plastic wrap.
Enclose the dough in the wrap and refrigerate for at least 30 minutes.
While the crust is chilling, prepare the filling
Put 1½ cups of dry textured soy protein in a medium bowl and cover with hot water.
Add 2 tsps of bouillon to the soy protein, mix and allow it to absorb the water and flavors until it is soft (10-15 minutes).
Heat a pan with enough oil to lightly coat the bottom for a few minutes on medium-high heat until hot.
Add the onion to the pan and sauté until soft and translucent.
Add the textured soy protein and sauté for 3-5 minutes more until it begins to brown.
Mix together the corn flour and the vegetable broth and set aside.
Add the remaining ingredients to the pan, mix well to incorporate, and allow the gravy to come to a boil and thicken.
Turn the heat down to medium-low and allow it to simmer for about 10 minutes more to allow the flavors to incorporate. You may need to add a few tablespoons of additional water here to prevent it from drying out too much.
Remove from the heat.
Preparing the pies
Turn your oven to 350 degrees Fahrenheit or 180 degrees Celsius.
Grease a 12-cup muffin tin and dust it with rice flour.
Separate the dough into 3 even pieces, roll into balls using your hands and set aside.
Place one piece of chilled dough between two sheets of plastic wrap and using a rolling pin, roll out the dough until it is about ¼ inch thick.
Using a small bowl (about 2½ inches in diameter) or something else of the size that would allow you to fill the bottom of the muffin tin, cut out rounds and gently press them into the muffin cups so that they are completely lined and there is a little bit of overhang. You should be able to cut 12 appropriately-sized rounds out of two of the three pieces of dough. Be prepared to roll out the dough several times to do this.
Fill each of the muffin tins with the filling right to the top of the pie.
Combine the remaining dough and roll out to ¼ inch thick. Using an appropriately-sized glass just big enough to cover the tops of the pies, cut out 12 rounds.
Place the rounds on top of the pies and gently press together the edges of the bottom and top crusts using your fingers first and then a fork.
With a fork, poke some holes in the top of each pie to allow the filling to breath and stop it from bursting out while baking.
If you like, brush some olive oil or butter on the top of each pie.
Place the muffin tin on the top shelf of your oven and bake for 25-30 minutes until the crust starts to lightly brown.
When done, remove from the oven and let the pies cool in the muffin tin for about 5 minutes.
Eat!
Notes
You could add additional veggies to the filling or just leave the veggies out altogether (but keep the onion!)
These pies freeze really well, so if you're not going to eat them all within 3 or so days, just pop them in the freezer.
Vegan Sweet and Simple http://vegansweetandsimple.com/
Look at how they turned out! Don't they look good?
You may have a bit of filling and pastry left over. You could try to make an additional pie, or do what I did and make some pot pies! I just filled two small oven-proof pots with the rest of the filling and topped them with the remaining dough.
The pies were really yummy! Next time, however, I think I would try brown gravy and add more vegetables. Experiment until you are completely happy with how the filling tastes to you!