A couple of months ago while in San Francisco I visited Gracias Madre, a vegan Mexican restaurant for lunch. Everything on the menu looked amazing and choosing just one thing seemed impossibly hard. In the end, I decided to go with the tacos, because then at least I could try three different fillings. I ordered a mushroom taco, a taco with eggplant and a third with sautéed greens. They came topped with cashew cream and were served alongside some of the best black refried beans I have ever had. While I wasn't a huge fan of the eggplant taco, the mushroom and greens were phenomenal.
When I got home I set about trying to recreate them, but decided I would be happier with the mushrooms and greens together. I really loved the result! So much so, they are quickly becoming a staple in my household.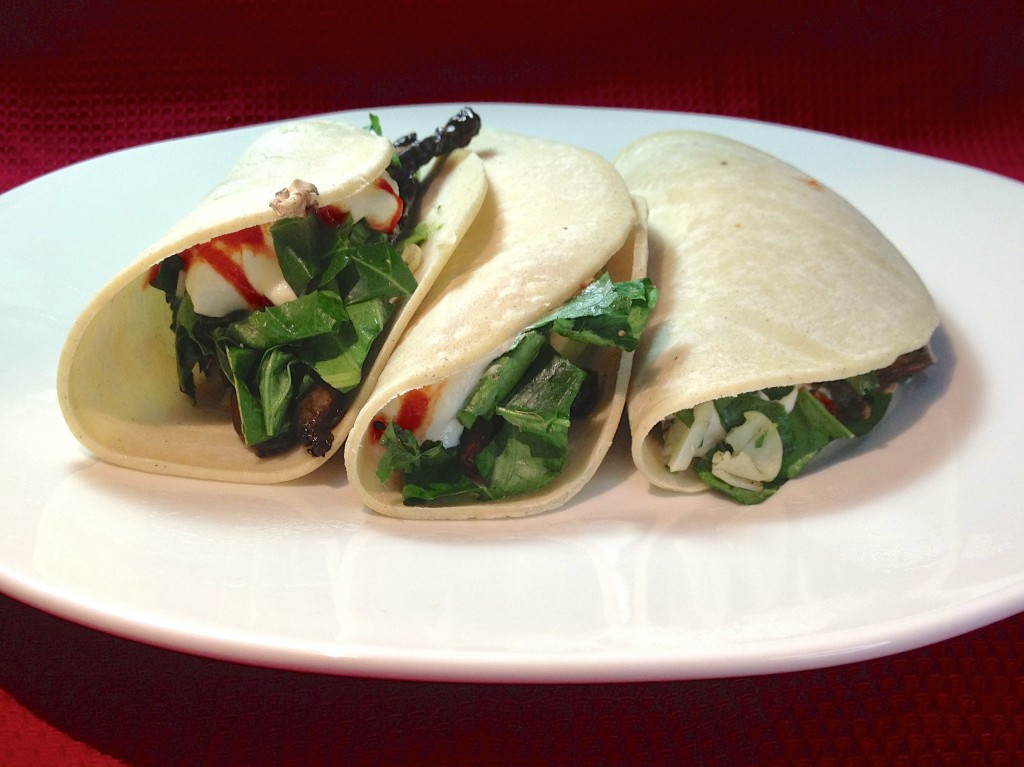 Mushroom and Garlicky Greens Tacos
2013-09-24 14:38:35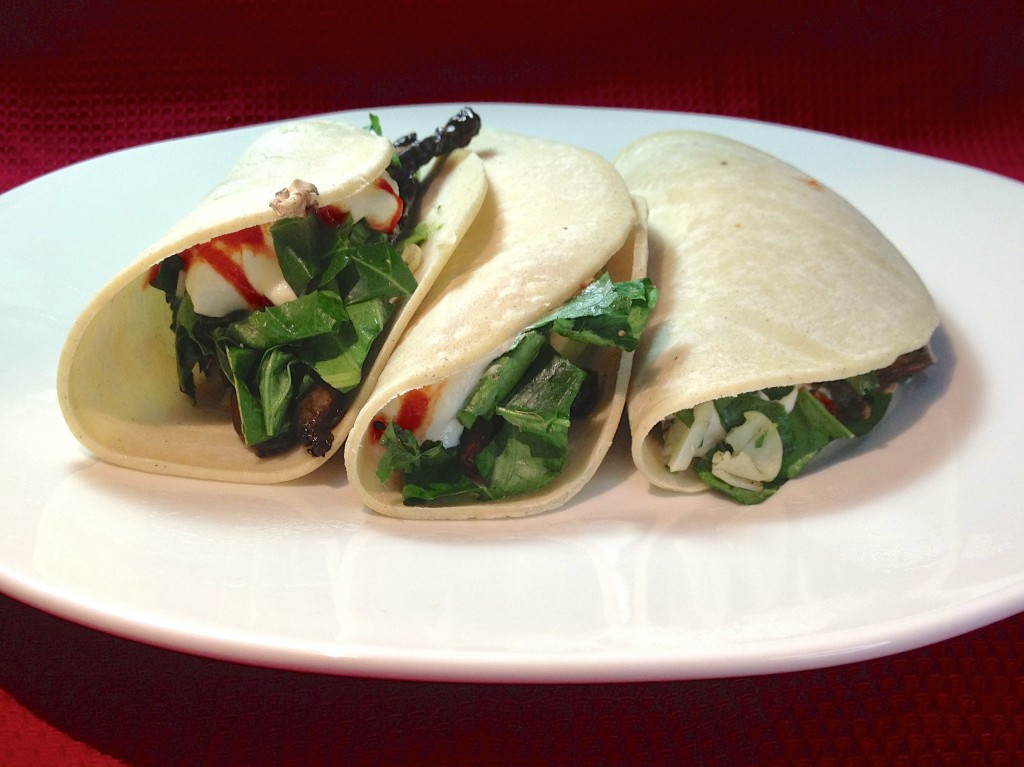 Serves 2
Mushrooms
2 portobello mushrooms
1 tbsp tamari, coconut aminos or braggs liquid aminos
½ tbsp olive oil
Garlicky greens
3 cloves garlic
2 cups tightly packed, roughly chopped collard greens or kale
½ tbsp olive oil
Tacos
4 soft corn tortillas
2 tbsps cashew cream (basic or sour)
½ avocado
Sriracha, to taste
Mushrooms
Thinly slice Portobello mushrooms.
Heat olive oil in a pan on medium-high.
Sauté mushrooms about 5 minutes, until soft and liquid has started to release.
Add tamari or aminos and sauté another 5-10 minutes until liquid has cooked off and mushrooms start to brown.
Greens
Thinly slice garlic cloves.
Heat olive oil in a pan on medium heat.
Add garlic and sauté until fragrant, about 30 seconds.
Add the greens and a splash of water and sauté until they just begin to wilt and then remove them from the heat.
Putting it all together
Heat the soft corn tortillas either in a covered pan on the stove on low heat, in the microwave for 30 seconds on high, or in a 300-degree oven for 5 minutes, until they are warm and have softened.
Slice the avocado and put a couple of slices on each taco.
Layer the mushrooms and greens on top.
Top with cashew cream and a squiggle of sriracha, or other hot sauce, to taste.
Notes
I've made them with kale and collard greens and they are both equally as good!
Vegan Sweet and Simple http://vegansweetandsimple.com/
My recipe for cashew cream, in four variations, is available
here
.
I hope you love them as much as I do!