I had quite the tomato harvest this year: gorgeous little yellow teardrop tomatoes, orange cherry tomatoes, little campari tomatoes and some big red juicy tomatoes. At times we had so many tomatoes I wasn't quite sure what I'd do with them. That's where this recipe came in. So while there are still some gorgeous fresh tomatoes ripening on the vines, I thought I'd share it.
Towards the end of my pregnancy, I was so tired that even the thought of cooking at the end of a long day was unappealing. This, however, was so easy that I made it many times. Unlike traditional risottos that call for continuous tending, this recipe calls for a quick sauté of shallots, garlic, tomatoes and the rice, before it goes in the oven for a little to finish cooking.
Baked Tomato Risotto
2015-10-09 13:31:23
Serves 2
Ingredients
1 tbsp grapeseed oil
1 large shallot, finely diced
1 clove garlic, minced
1/2 cup arborio rice
1 tbsp lemon juice
1 cup tightly packed chopped tomatoes
1/4 cup marinara sauce
1 cup vegetable broth
Salt and pepper to taste
2 tbsps pine nuts
1 tbsp chopped fresh basil
Instructions
Preheat oven to 350 degrees Fahrenheit.
Add grapeseed oil to an oven-proof pan and heat on medium-high.
Add shallot and sauté for 2 minutes or so, until translucent.
Add garlic and sauté for another minute.
Add rice and and lemon juice and sauté for another two minutes.
Add tomatoes, marinara sauce, vegetable broth and a little salt and pepper and stir together.
Carefully transfer the pan to your pre-heated oven and bake for 25-30 minutes, or until the rice has absorbed the broth and is cooked.
Remove from oven, taste and season with salt and pepper as needed.
Fold in fresh basil and pine nuts and serve!
Vegan Sweet and Simple http://vegansweetandsimple.com/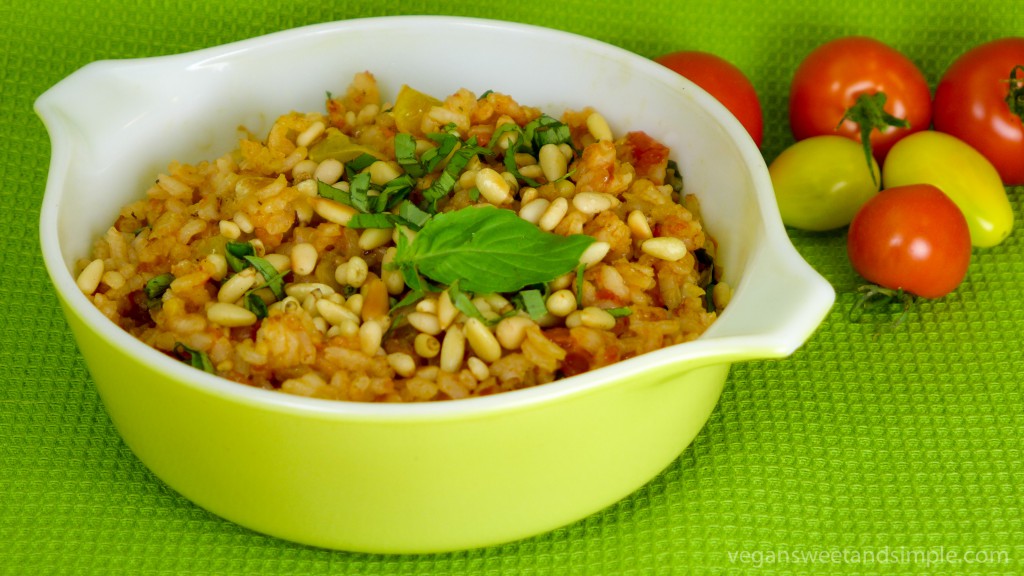 What I love about this risotto is the fresh, bright flavors. It's not at all heavy, but still provides a satisfying meal!