Oh I know it has been so so long since I posted here. Sometimes there are periods where I just don't have the head space to do one more thing, and unfortunately blogging, and cooking for that matter, were the two things I had to drop for a while. But, that ultra busy period has ended and I will try to share more here, more frequently. Although there are some big changes that are about to occur in my life that I will share with you in future posts. Today, however I'm sharing a recipe for some lip smacking vegan, gluten-free waffles! Blueberry and banana waffles to be precise.
I have documented extensively my love-hate relationship with making waffles and all of the things I've done to try to make sure my waffles actually work. For my birthday this year my partner bought me an awesome new waffle iron which made making waffles the easiest thing in the world. It even gave me the desire to start experimenting with new recipes, once I was sure my basic waffle recipe would work just fine. And this is the result of one such experiment.
They are so delicious. I mean, who doesn't love bananas and blueberries?
Blueberry Banana Waffles
2015-09-05 19:21:20
Ingredients
1 cup & 2 tbsps all-purpose gluten-free flour (I use bob's red mill)
2 tbsps arrowroot powder
2 tbsps coconut palm sugar
1 tsp baking soda
1 tsp baking powder
small pinch of salt
2/3 cup + 2 tbsps vegan milk
1 tbsp olive oil
1 tbsp lemon juice
1 medium banana, roughly mashed
1/2 cup to 3/4 cup of blueberries
Instructions
Sift together dry ingredients in a mixing bowl.
In another bowl, mix together vegan milk, olive oil, lemon juice and banana.
Add the wet to the dry and stir until well-combined.
Fold in blueberries.
Let batter sit for ten minutes.
Heat waffle iron as directed.
When hot, and immediately before adding batter, spray with olive oil or a non-stick spray, or brush oil on the surface of the iron using a silicon baster.
Add enough waffle batter to fill the iron and close lid.
Follow the directions of your waffle iron's manufacturer for cooking times.
Carefully open iron, remove waffle, and repeat until the batter has been used.
Vegan Sweet and Simple http://vegansweetandsimple.com/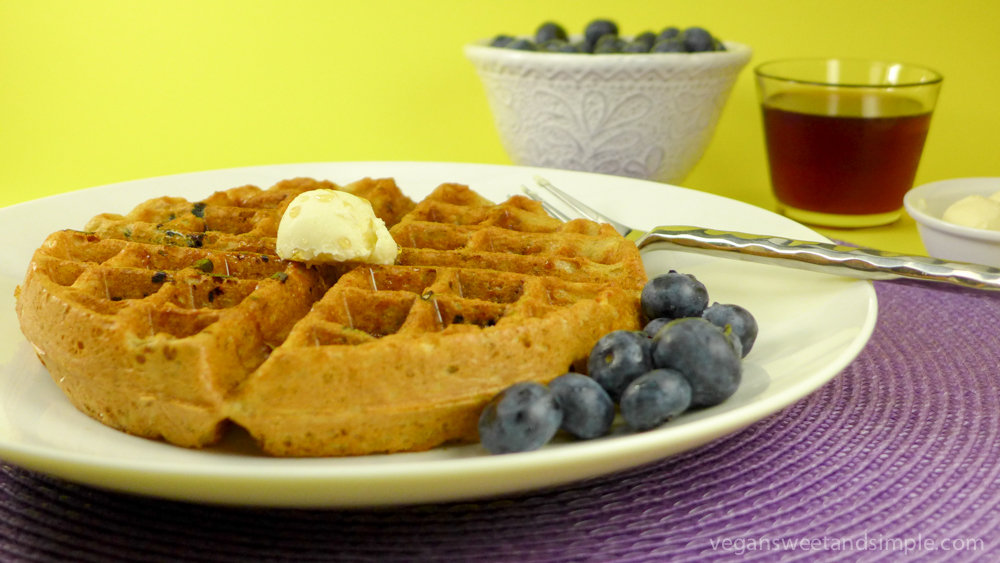 These are just the thing for a lazy Sunday brunch!