I'm starting to build up a backlog of recipes, but this one I wanted to get to you as soon as possible because I'm very excited about it. Plus, it is the perfect recipe for tomorrow's breakfast or lunch!
Last night when my partner asked what was for breakfast, I was at a bit of a loss. I went and thumbed through a few cookbooks and decided I would try my hand at an omelette, then I went to bed. When I got up this morning and looked at the few recipes in the cookbooks, they were all too complicated or had ingredients in them that I didn't have on hand (like coffee creamer), or they were not quite what I was looking for. So, I decided to create my own. I added together some silken tofu, chickpea/garbanzo/besan flour to give it a bit of structure, a bit of olive oil, water, and a couple of teaspoons of "the Vegg" egg-yolk replacer to give it some color and flavor.
It worked better than I even dared hoped!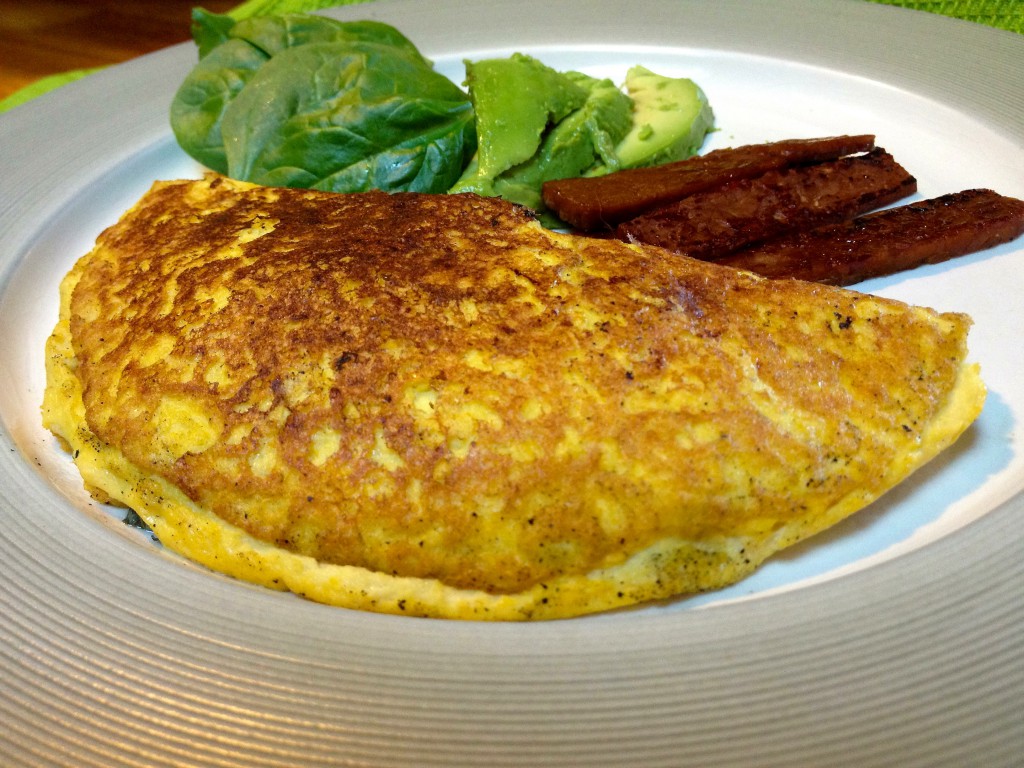 Vegan Omelette
2013-09-07 09:46:20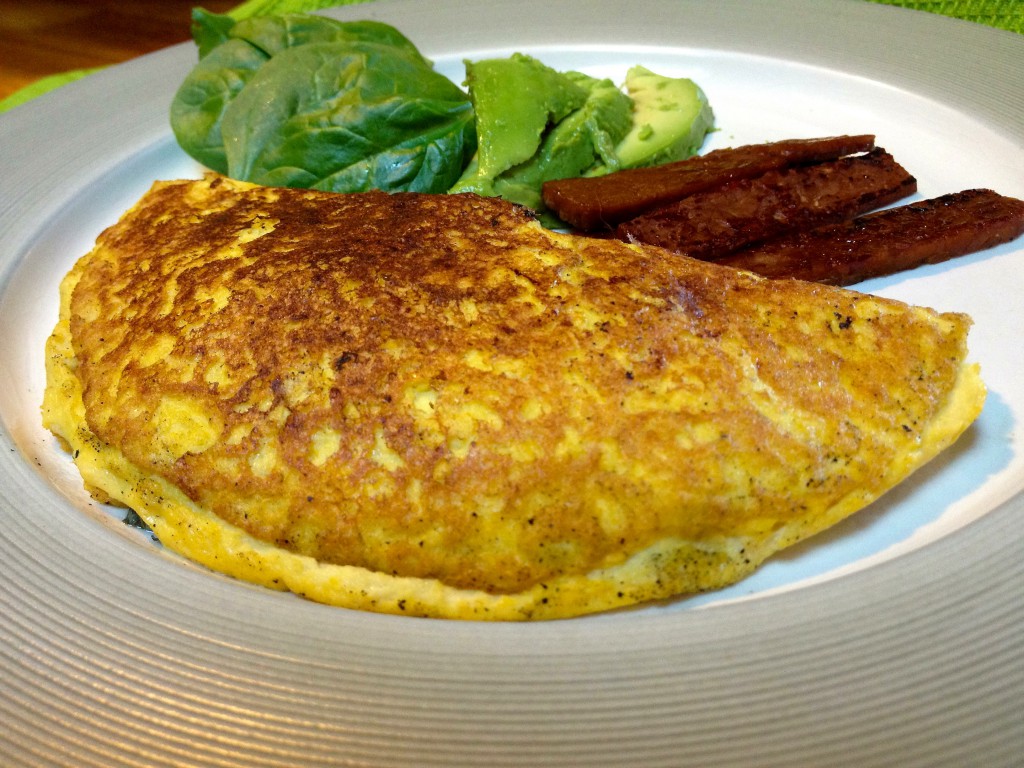 Serves 2
Ingredients
1 cup of firm silken tofu (mori-nu, or other brand in an aseptic pack)
2 tsps The Vegg powder (or you could use 2 tsps of nutritional yeast and ½ tsp of black salt)
2 tbsps garbanzo flour
6 tbsps water
1 tsp olive oil
Omelette fillings of your choice (I used some vegan cheese, spinach, tomato, basil and onions).
Instructions
Combine all ingredients together and blend until well-mixed.
Heat a pan with a drop of olive oil for 3-4 minutes until the pan is evenly hot.
Add 1/3-1/2 of the "egg" mixture and spread out using a heat-resistant spatula.
Turn down the heat to low-medium.
After about a minute add your omelet fillings to one side of the omelet to allow them to start to warm.
Let the omelette cook until the edges are nicely brown and the top of the filling starts to look dry. You want this to be pretty well-cooked, otherwise it will be a bit gooey, so be patient! It takes about 5 minutes.
Very carefully fold the omelet using a spatula. It is pretty delicate so care is needed to prevent it from breaking.
Continue to cook on that side for about a minute more.
Carefully flip the omelet and cook on the other side for another minute or so.
Remove from heat and repeat until all of the "egg" mixture has been used.
Notes
You could put anything in this omelette. I'm sure it would be delicious with vegan bacon, or mushrooms, or anything your heart desires.
Secondly, not sure how that calorie count information was calculated, but when I calculated it, it came to just around 125 calories/omelette (and that includes the tomato, spinach, onion and basil fillings!).
Vegan Sweet and Simple http://vegansweetandsimple.com/
Here it is cooking. I used a small cast-iron pan. A good, well-seasoned, cast-iron pan or two is really all you need.
And here it is ready for my tummy!
Doesn't it look good? I served it with some home-marinated tempeh bacon, avocado and a bit of spinach. It tasted delicious! The texture was a bit more delicate than what I remember a real omelette being (granted, I haven't had one for more than 13 years), but it was nice and crispy on the outside.
If you try it, let me know how it goes!
I'm also submitting this to Ricki Heller's Wellness Weekend Sept. 5-9 link up event.