Okay, so you have heard of black bottomed cupcakes. You know, those delightfully rich and deeply decadent chocolate cupcakes loaded with a sweet cream cheese filling?
These delicious things are even better.
I wish there were words that could convey just how spectacular these cupcakes are. The cake is loaded with pumpkin and warming spices and has a soft, melt in your mouth quality to it. Without the cream cheese filling, the cake is delicious (just ask my partner, who ate more than one of some plain ones I made piping hot and fresh from the oven). But with the cream cheese filling, they are a heavenly treat.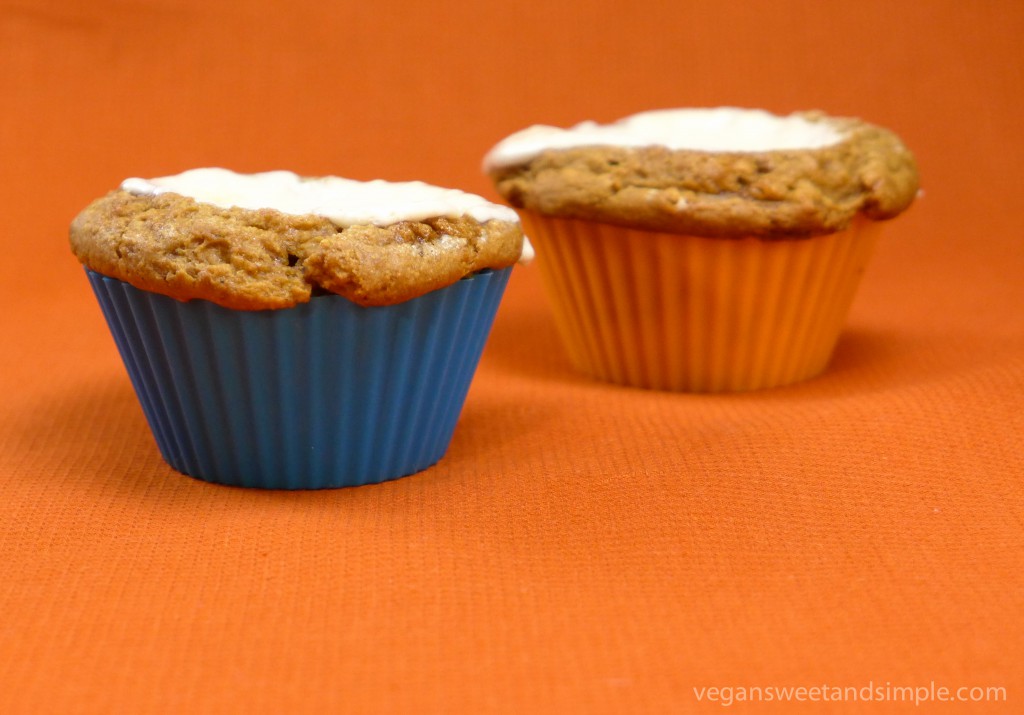 Seriously people. These cupcakes combine two of my favorite things: cheesecake and cupcakes. Okay, three of my favorite things if you add in the pumpkin.
And like everything else on this blog, they are gluten free! So without further ado, here is the recipe…
Pumpkin Bottomed Cupcakes
2014-10-28 04:58:23
Cake
1 cup all-purpose gluten free flour (I use Bob's Red Mill)
1/4 cup arrowroot powder
3/4 tsp xanthan gum
1/4 tsp salt
1 tsp baking powder
1 tsp baking soda
1/8 tsp nutmeg
1/8 tsp allspice
2 tsps cinnamon
1/2 tsp ginger powder
1/4 cup coconut palm sugar
1/2 cup pumpkin purée
1/2 cup vegan milk
2 tbsps walnut oil or olive oil
1/2 cup maple syrup
1 tsp vanilla extract
1 tsp apple cider vinegar
Cream Cheese filling
1 cup vegan cream cheese
6 tbsps powdered sugar
1/2 tsp vanilla extract
Instructions
Preheat oven to 350 degrees Fahrenheit/180 degrees Celsius.
Prepare a cupcake tin by either placing liners in it, or greasing it lightly.
In a medium mixing bowl, sift together the dry ingredients and stir to combine.
Mix together wet ingredients and then pour into dry ingredients and mix with a spatula until well combined.
Fill each cupcake holder until it is 3/4 full.
Prepare the cream cheese filling by mixing the cream cheese, powdered sugar and vanilla together.
Place a tbsp of the cream cheese mixture in the center of each cupcake.
Bake for 20-24 minutes until a toothpick inserted into the cake comes out clean or with just a few large moist crumbs.
Eat right away, or let cool.
Notes
The cream cheese mixture may boil over a little while they are cooking. That's okay. It's supposed to do that!
Vegan Sweet and Simple http://vegansweetandsimple.com/
I had to test this recipe a couple of times to get it right (what torture, right?). And apologies to the
Food Duo
, who suffered through my first not good enough attempt. Let's just say, don't try to make these mini (they don't hold enough cream cheese filling). I was also a bit too creative with the cream cheese filling. I learned that you need the filling to be simple to compliment the flavors of the pumpkin and spices in the cake, not overwhelm them.
The best thing? You can eat these right from the oven and don't need to wait for them to cool before you dig in! If you do, they are a pure gooey delight.
And if you don't, the cream cheese firms up when it cools and they are even better! Yum!