We venture into the Caribbean today to visit Trinidad and Tobago.
I am lucky that I have been to so many beautiful places on this earth. And one of the most beautiful just may be Tobago! My friend Tanya's family owns a gorgeous guest house in Tobago, perched on rolling hills. I arrived in Port of Spain in Trinidad on a Friday evening, she met me at the airport and we took a $20 and 20 minute flight to Tobago to spend a little bit of time enjoying the pure and utter beauty of that island. It's hard to describe the majesty of it. It is so incredibly lush and green, with tall mountains looming over the deep blue ocean.
It was in Tobago that I first saw a cacao tree replete with gorgeous pink pods on our walk to a lovely waterfall and swimming hole, where we spent a lazy afternoon.
After our far too short sojourn, we took an overnight ferry back to Port of Spain and arrived not so well-rested and a little bleary eyed, but with a lingering sense of contentment.
The week we spent in Port of Spain was pretty intense, but we made sure we carved out a little time for fun too. Let me just say, Trinis know how to party! One evening we went out dancing with some friends we had made during our meetings that week. Now, I am a punk rock girl. At that time, dancing to me involved jumping up and down, kicking my feet up, and a good deal of silliness. I have to admit that I was a touch shocked by the intimacy and sensuality of my friends' dancing in Port of Spain; not what I was used to at all!
The food in Trinidad and Tobago was really great, with lots of vegan friendly curries, greens, eggplant dishes, and amazing breads. And perhaps the best thing ever is doubles: two pieces of flat, fried bread sandwiching curried chickpeas with pepper sauce and chutney! Oh my!
But I decided I'm not going to share a doubles recipe today (it's already vegan, so no challenge there)! I'm going to share a recipe for another traditional Trini meal: "saltfish" and coconut bake.
Bakes in Trinidad refer to any bread that does not use yeast. And one thing I knew for sure is that I wanted to create a gluten-free recipe for coconut bake. This bread is delicious! It has a subtle, but distinct coconutty flavor and is best served fresh out of the oven.
The thing that is most commonly made with coconut bake is a sandwich piled high with flaked saltfish in a spicy tomato sauce. I decided I wasn't going to even try to approximate that. And I actually started cooking up some garlicky, spicy eggplant to go with my bake. But then I spied a can of green jackfruit out of the corner of my eye and a flash of inspiration hit me!
I'm so glad I decided to try this! The jackfruit makes a sandwich that is just plain yummy. Really, really yummy! I added some dulse flakes to give it an umami oceany flavor, but you could just as well make it without and it would be great too.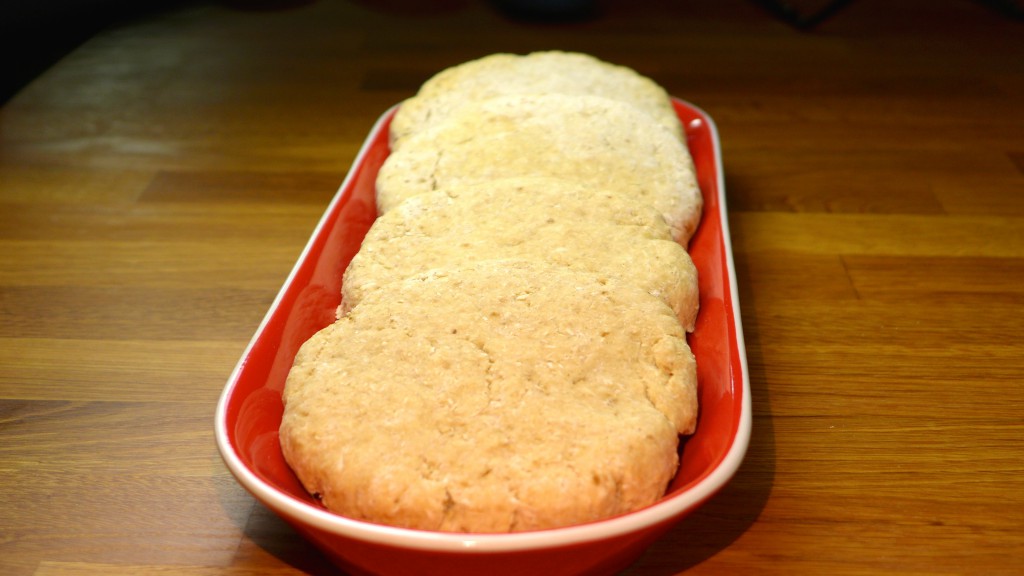 Coconut Bake
2014-09-25 21:47:13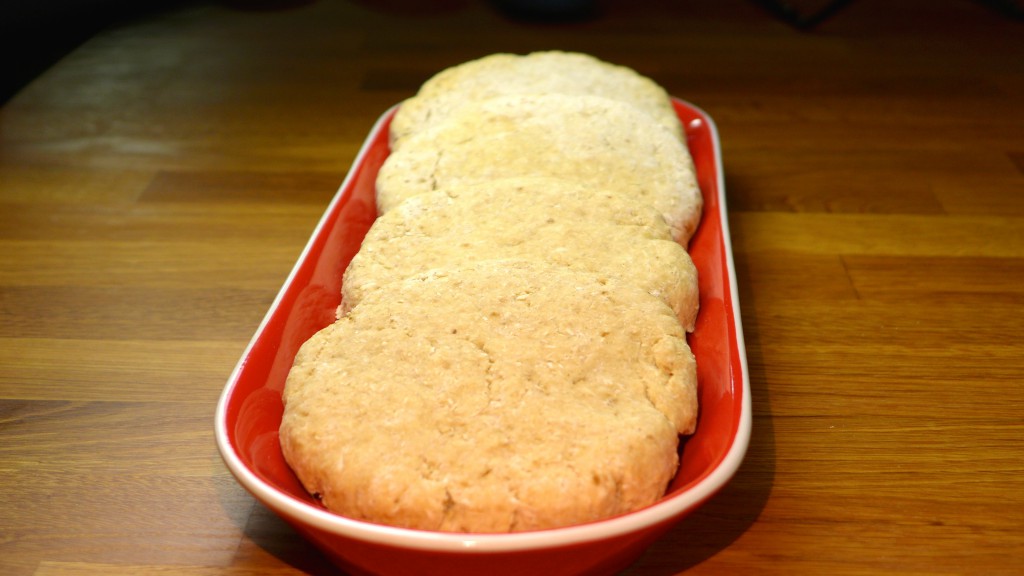 Coconut Bake
2 cups gluten-free flour mix*
1 tsp salt
2 tsps baking powder
2 tbsps coconut oil
¾ cup coconut flakes
2/3 cup water
1 tsp apple cider vinegar
Instructions
Preheat oven to 350 degrees Fahrenheit.
Using your paddle on your stand mixer, mix together flour, salt and baking powder.
Add coconut oil and mix until the flour becomes a little crumbly.
Add coconut flakes and mix again to combine.
Add apple cider vinegar and water and mix again until you get a firm dough.
Remove the dough from the bowl and separate into four equal pieces.
Roll each piece into a ball and then use a rolling pin to flatten to about ½ - ¾ inch.
Place on a parchment-paper lined baking tray and bake for 15-20 minutes until golden brown.
Notes
* I use a gluten-free flour mix that is made of 2 cups of Bob's Red Mill all-purpose gluten-free flour, 1/2 cup of arrowroot powder and 11/2 tsps xanthan gum. You could use any all-purpose gluten-free flour mix you like, but be sure to add 1tsp of xanthan gum if it doesn't already have it!
Vegan Sweet and Simple http://vegansweetandsimple.com/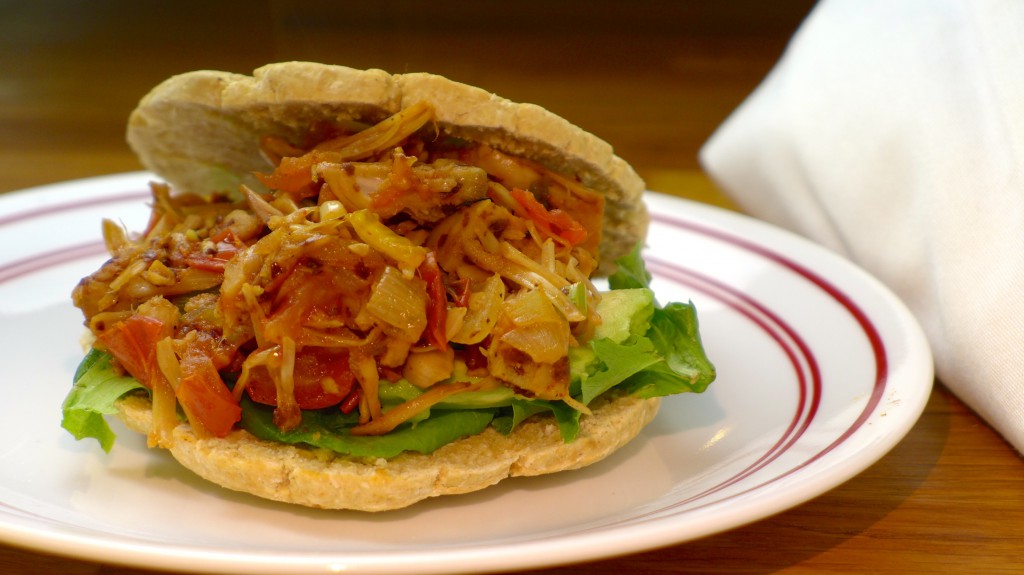 "Saltfish"
2014-09-25 21:48:44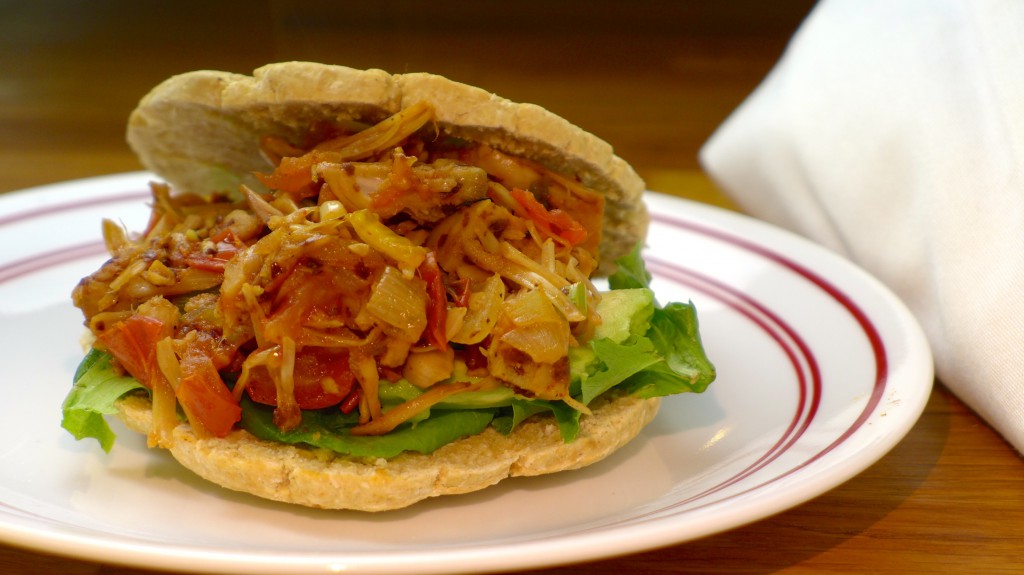 Serves 4
Ingredients
½ onion, sliced
¼ scotch bonnet, or more to taste, chopped
1 can of green jackfruit in brine, drained and rinsed
2 medium tomatoes, chopped
2 cloves garlic, chopped
2 scallions, chopped
1 tbsp tamari
1½ tsps. dulse flakes (or to taste)
Salt and pepper to taste
Oil for sautéing
Instructions
Add a little oil to a large pan and heat on medium.
When hot, add onion and scotch bonnet and sauté until onion softens, about 5 minutes.
Add jackfruit and cook for 15-20 minutes until it softens and shreds (you may need to help it shred).
Meanwhile in another pan add a little oil.
When hot add tomatoes and cook for about 5 minutes.
Add garlic and scallions and simmer until the jackfruit is ready.
Add a tbsp. of tamari to jackfruit and stir to combine.
Add tomato sauce mixture and stir again.
Turn off heat and add dulse flakes.
Add salt and pepper as needed.
Vegan Sweet and Simple http://vegansweetandsimple.com/
To assemble the sandwiches I put a layer of baby greens, some slices of avocado and then piled the "saltfish" on top.
Saltfish and coconut bake is served traditionally for breakfast in Trinidad, but this also makes a fine lunch or dinner!