Today I have a real treat for you on our VeganMoFo world tour as we head south and east to Georgia! Now before I start gushing about how awesome this country is for vegans, let me first say that I don't fall in love with *every* country I visit. Oh no. On the contrary. There are are some that I'd be happy to never set foot in again. But Georgia is definitely not one of them. Tblisi is a city I'd happily spend more time in and the Georgian countryside is distinct and beautiful.
Now there are a few things that Georgia is famous for in the region. The first is their wine (not a fan). The second is Borjomi, a natural sparkling mineral water that comes from a volcanic spring in the Borjomi Valley (an acquired taste, a little bit salty, but I love it)! And the third, Georgian toasts! Toasting is a time-honored tradition in Georgia and the toasts you will hear are elaborate. They often reflect on the deeper meaning of life, the universe and all that and can be incredibly poetic or funny or a little bit crude. Toasting is a real skill and let me tell you, Georgians have mastered it. Any Georgian meal would not be considered complete without at least one round of toasting by all guests at the table.
If you haven't gathered by now, central to the tradition of toasting is food. Georgians don't dine. They feast. They feast on gorgeously fresh and succulent vegetables: eggplant, tomatoes, squash and peppers are all key and oh so good. They feast on an array of nuts: they have devised 101 ways to use walnuts in everything sweet or savory. They feast on hearty stews made with beans and packed with veggies. They feast on delicious salads, amazing herbs. They feast on mushrooms cooked any which way you like. They feast on fabulous vegan foods by the boat load! (And of course they feast on meat too, but let's not dwell on that). Every time I ate with Georgian friends I'd wonder when the food would stop coming (answer: not until there is more than anyone sitting around that table could possibly eat).
While you do need to be careful about hidden dairy and eggs and therefore steer clear of pretty much anything baked, there is no reason why any vegan couldn't travel to Georgia and not experience pure veganic bliss.
So today, I'm not going to dwell on politics, or history, or human rights in Georgia (and I could talk about all of that for quite some time). I'm not going to tell you about that time I traveled by land from Yerevan, Armenia, to Tblisi and my hairy moments at border control. I'm not going to tell you about the brilliant Shakespeare play (in Georgian) we saw at the gorgeous opera house. Instead, I'm going to let you enjoy the photos of this dynamic and truly unique country (it even has it's own fascinating & distinct script!) and focus on the food.
Today I'm bringing you three Georgian recipes I promise you will love so you can have the makings of your own Georgian feast.
One decidedly non-vegan food that Georgians are famous for is called khachapuri. I don't know how to describe it other than as a covered cheese pizza (without the tomato sauce). It always looked amazing and I pined for a vegan version. The recipe I'm bringing you is not that, but it's close: it's a boiled and fried khachapuri that has all of the *vegan* cheesiness, but is super quick and easy to make. Served with a bit of sour cream, they are truly a delight. Let me say that again: DELIGHT! They are best served piping hot.
You'll need cashew sour cream, or another vegan sour cream, to make this recipe and serve with the Khachapuri. My recipe is here.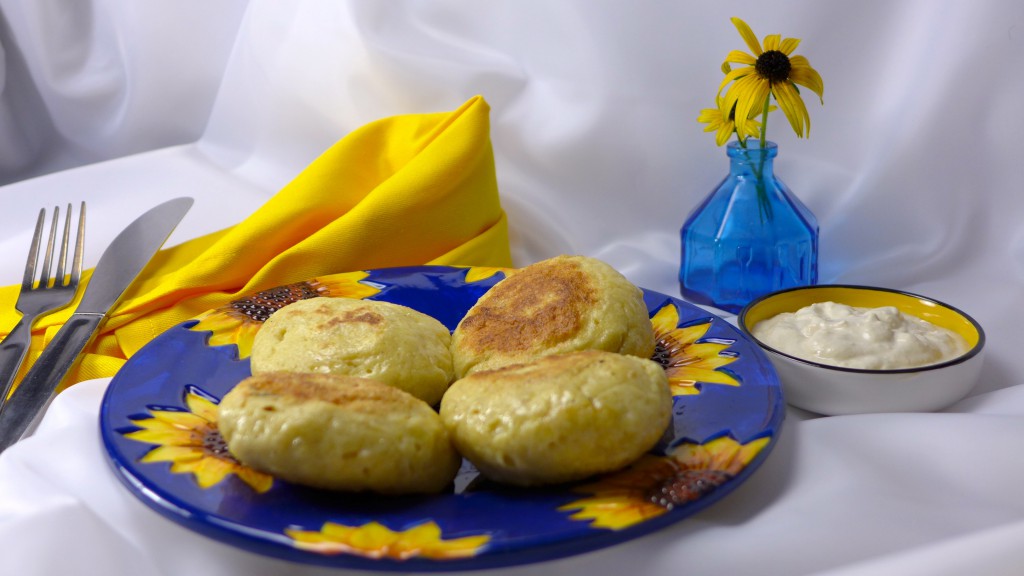 Boiled and Fried Khachapuri
2014-09-19 12:18:59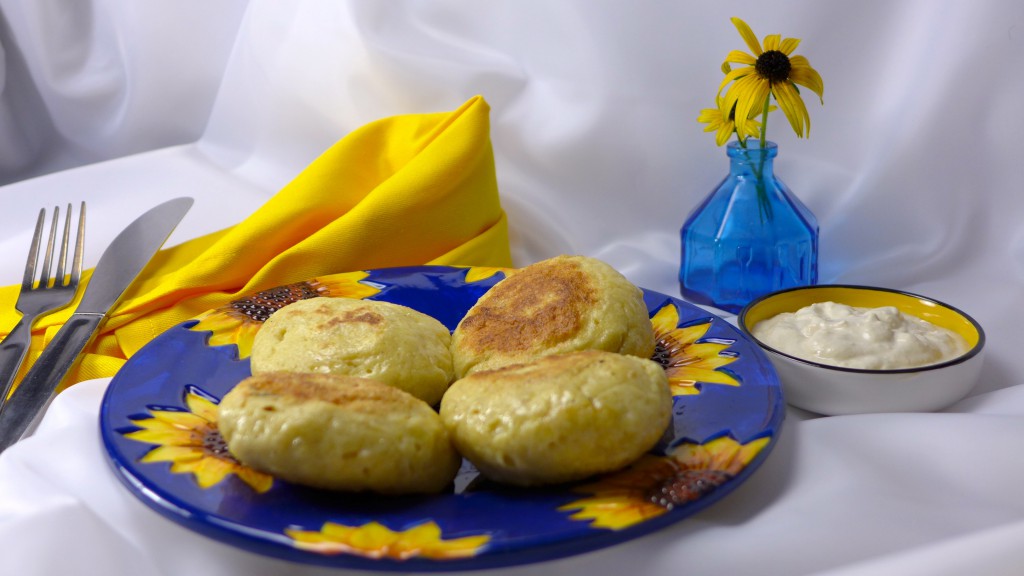 Ingredients
½ cup vegan ricotta (I used tofutti ricotta)
Equivalent of 1 egg (I used 1 tsp of the vegg with 2 tbsps of water, or ener-g egg replacer would work well)
½ cup gluten-free flour mix*
salt, to taste
1 scant tbsp. cashew sour cream and additional for
1/3 cup vegan mozarrella shreds
3-4 tbsps additional gluten-free flour
Instructions
Mix together vegan ricotta and "egg"
Add flour and salt and mix again until everything is well combined.
Stir in cashew sour cream and mozzarella shreds.
Add more flour a little at a time, as necessary, to get a soft dough. It should not be sticky, but only flour until it gets to the point that it is just past stickiness.
Divide into four even portions, roll into balls with lightly floured hands, and flatten a little.
Bring 2 quarts of water to a boil.
Add the balls to the water and boil for 5-6 minutes. Try to be careful to make sure they don't stick to each other, or the pan.
Transfer the khachapuri to a paper towel and blot off moisture. You can eat them at this point or fry them.
If frying, add a little earth balance to a pan and fry on each side until golden brown.
Top with a little extra cashew sour cream and serve hot.
Notes
* I use a gluten-free flour mix that is made up of 2 cups of Bob's Red Mill all-purpose gluten-free flour, 1/2 cup of arrowroot starch and 11/2 tsps of xanthan gum and I find that works nicely for just about everything! Alternatively you could use any gluten-free all purpose flour mix you like, just make sure to add a tsp of xanthan gum too if it is not already included!
Vegan Sweet and Simple http://vegansweetandsimple.com/
The second is Lobiani, which is like Khachapuri, only with a red bean filling.
Oh my! Beans with Georgian spices in a yummy gluten-free crusty bread. Yes please! The most common type has dough top and bottom, but I'm bringing you an version from a region of Georgia called Adjara that is easier to make, but is as every bit as good. It may not look too pretty, but let me tell you, you will be craving more once you've finished with it.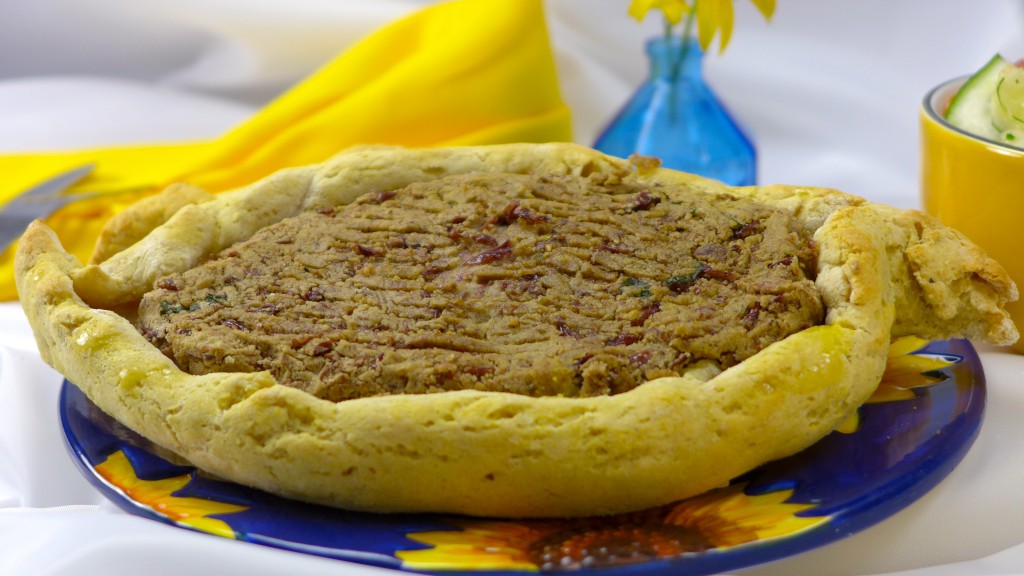 Ajarian Lobiani
2014-09-19 12:30:20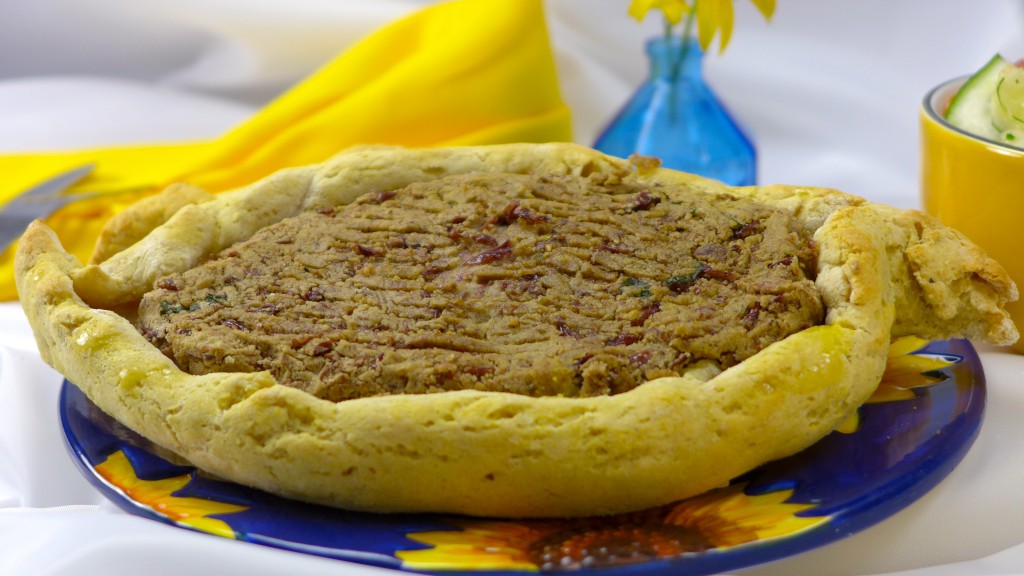 Dough
1 ½ cups gluten free flour mix*
1 ½ tsp yeast
½ tsp sugar
½ cup warm water
¼ tsp salt
1 tbsp vegan butter, melted or olive oil
Bean filling
1 can red kidney beans
½ cup water
½ tsp dried marjoram
½ tsp dried dill
½ tsp dried savory
½ tsp dried parsley
½ tsp coriander seeds
¼ tsp fenugreek seeds
½ bay leaf, crushed
¼ tsp dried mint
1 tbsp vegan butter
Salt and pepper to taste
Vegg wash
½ tsp the vegg
1 tbsp water
1 tbsp vegan milk
½ tsp olive oil
Dough
Mix together water, yeast and sugar in a cup or bowl and set aside until yeast becomes activated and fluffy.
Mix together flour mix and salt in a medium bowl.
Add yeast mixture and melted butter and stir to combine.
The dough should be soft, but not sticky. If needed add additional flour a little at a time until it feels right.
Knead into a ball, cover and set aside for an hour or so, for the dough to rise to about double.
Beans
Place all spices in a spice grinder (I use a coffee grinder) and grind until the seeds and bay leaf are crushed. Alternatively, you can grind them using a pestle and mortar.
Drain and rinse the kidney beans.
Add the kidney beans, spices and water to a pot and bring to a boil. Simmer until the water has largely evaporated.
Remove from stove, add butter, salt and pepper and mash together.
Taste and adjust seasonings as necessary.
"Vegg" wash
Mix together all ingredients until well-combined.
Putting it together
Preheat oven to 450 degrees Fahrenheit.
Halve the dough and using your hands shape each piece into an oval.
On a flour-dusted surface, use a rolling pin to roll the dough out until it is about a quarter inch thick and shape into a batard.
Place half of the bean mixture in the center, and spread to about 1 1/2 - 2 inches from the edge of the dough.
Roll the edges of the dough up to surround the bean mixture and pinch the tips of the dough together at each end.
Paint the dough with the vegg wash.
Bake for 15-20 minutes until the dough is cooked and lightly browned.
Notes
*I use a gluten-free flour mix that combines 2 cups Bob's Red Mill All Purpose gluten free flour, ½ cup arrowroot, 1 ½ tsps xanthan gum. Or you could use any all-purpose gluten-free flour mix and add a tsp of xanthan gum.
Vegan Sweet and Simple http://vegansweetandsimple.com/
And because that seemed like an awful lot of carbs, to round out your feast, I bring you a very simple and traditional Georgian salad.
Georgian Salad
2014-09-19 12:32:16
Serves 2
Ingredients
1 cucumber, chopped
4 small tomatoes, chopped
½ medium onion, diced
1 tbsp red wine vinegar
A small handful of fresh herbs (I used dill, flat-leaf parsley and cilantro)
Salt and pepper to taste
Instructions
In a medium bowl mix all ingredients together.
Season to taste.
Vegan Sweet and Simple http://vegansweetandsimple.com/
Yes, this is a feast we heartily enjoyed from start to finish!