Today we're visiting Ukraine, the country of half of my people, on our VeganMoFo world tour.
Oh Ukrainia! I really loved this country. And not just because it was the homeland of my grandparents or because I look like I fit in when I travel there. I loved it because of my friends and colleagues there and the sense that bigger and better things were in store for it. I loved it because it was stunningly beautiful. Kyiv maintained a sense of character and its beauty despite its Russian occupation for so long and only a few imposing Soviet structures lined its streets. I loved it because of its peoples' fierce commitment to independence and because their struggles for justice continued in the face of daunting challenges. I still love it, but now I'm heartbroken.
In truth, Ukraine has always been some tension between the Russian-leaning east, where Russian is mostly spoken, and the country's west, where Ukrainian is mostly spoken. But I never thought that it would be so ruthlessly divided or that Russia would be so aggressive in trying to take it back. In the aftermath of the cold war when it gained its independence, Ukraine agreed to surrender its nuclear weapons with the written agreement that Russia would not try to retake it and if it did it would have the support of the UK and US. So much for that…
The causes of the current conflict, and the historic protests that preceded them, were many and complex. The media narrative largely is that they started because in the face of economic stress, instead of looking to the European Union and the West, the country's Russian-supporting President at the time looked east to Russia. The reality is, it was about much more than that. It was about holding the government accountable to the people; it was about addressing the blatant corruption that undermined the country's economy and peoples' livelihoods; and it was about justice. Many of my friends and colleagues were on Maidan Square; luckily, none of them died there.
The consequences of Russia's annexation of Crimea and advance in the western part of the country are pretty devastating. The best way I know how to illustrate it is by sharing stories of how it has impacted one community I know well and worked with closely in the country: people who use drugs. Ukraine, like many countries of the region, has pretty high rates of substance use and with it high rates of HIV infection driven by injecting drug use. To address both, non-governmental organizations, with the support of the government and international donors, were implementing some of the most innovative harm reduction programs in the region, the most important of which was opiate substitution therapy programs. Methadone and buprenorphine can have a transformative impact on the lives of people addicted to heroin, help them regain control of their lives, find jobs and care for their family. In Simferopol, Crimea, at one center I visited, people on methadone and their parents and friends told us of the life-changing impact it had. Mothers told us of how it gave them back their children. They were so genuinely grateful for this program.
Instead of addressing HIV and injecting drug use with programs that actually work, Russia has adopted an approach that can be described as ignoring them at best, and exacerbating them through harmful policies at worst. When Russia annexed Crimea all of the harm reduction programs stopped, immediately. At least fifty people have died as a result. The organization I used to work for helped get thirty people on substitution therapy out of Crimea, but in the long run that's not a sustainable solution.
My grandparents are from western Ukraine, near Lviv, and an area that changed hands quite a bit with its neighbors, Poland and Austria. The Germans were pretty ruthless when they invaded western Ukraine during the second world war, not only targeting Jews, but ethnic Ukrainians as well. My grandparents were rounded up and shipped to a German work camp, where they met.
There is so much more I could say about Ukraine. It is a genuinely beautiful country with a difficult past and present. But I hope, fervently hope, that its future is much brighter.
But on to the food. Surprisingly, I found it pretty easy to eat in Ukraine, especially around Lent when orthodox Ukrainians fast and abstain from meat and dairy (although they still eat fish). I would eat hearty meals during that period: cabbage varenyky, great salads, amazing potato dishes, delicious soups, because there were pretty extensive and largely vegan Lenten menus at pretty much every restaurant. Yum! And even when it wasn't Lent, I still usually had plenty of options. For some reason Ukrainians love sushi and so just about everywhere, I could usually find an avocado roll, miso soup and some sort of tofu dish! And the pickles and sauerkraut… oh my! It was there that I realized why my dad could eat sauerkraut as an evening snack (and why now I make my own and do the same!)
Today I'm sharing raw and vegan versions of two dishes that are much, much loved in Ukraine (and of which there are variations throughout the region): cheese varenyky and vinegret.
Varenyky are dumplings. They can be sweet or savory. They can contain just cheese, cheese and potatoes, sauerkraut on the savory side, or berries, cherries and other fruits on the sweet side. This raw version is really yummy and uses a really easy to make cashew cheese and mild-tasting marinated celeriac, with of course, the definitive herb of the region: dill.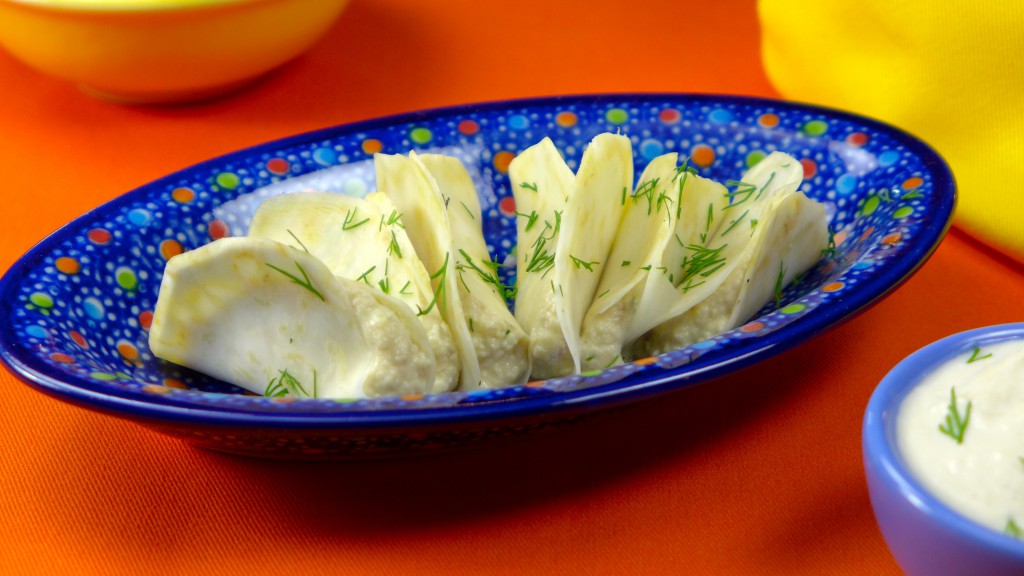 Raw Cheese Varenyky
2014-09-18 10:10:27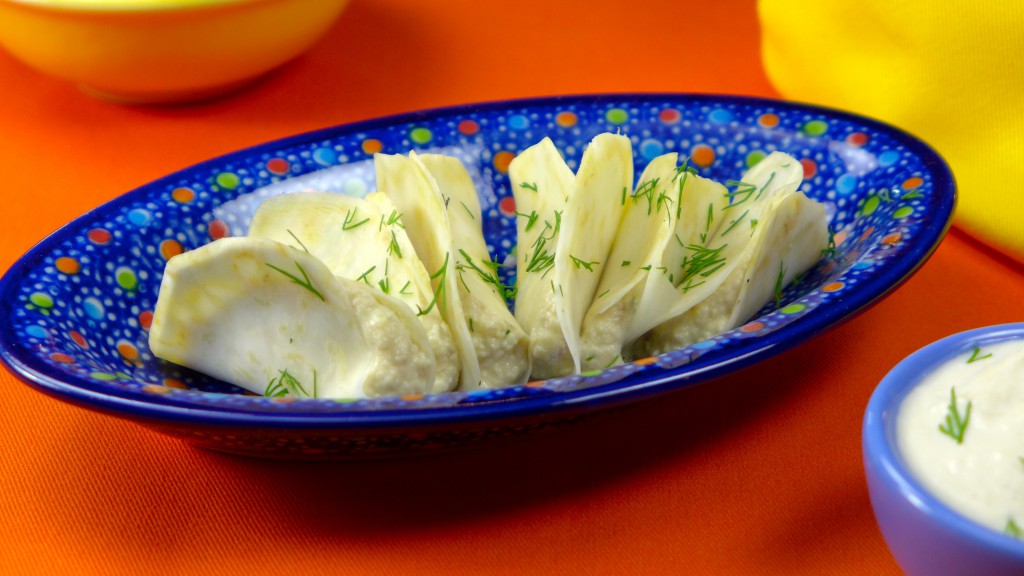 Serves 2
Cashew Cheese
1 cup cashews, soaked for 4-6 hours
1 tbsp miso
¼ tsp garlic powder
2 tbsps lemon juice
Water, as needed to blend
Varenyky
½ shallot, finely diced
1 tsp dill, chopped
Pepper to taste
1 small celeriac bulb
¼ tsp salt
2 tsps apple cider vinegar
Cashew Cheese
In a blender, combine soaked cashews, miso, garlic powder and lemon juice and blend until the cashew cream is of a cottage cheese consistency.
You may need to add a little water, a tablespoon at a time, until you get the right consistency.
Pour into a jar, cover with cheesecloth, and set in a warm place to ferment for 6-12 hours.
When fermented, there should be some big air bubbles in the cheese and some separation between the curds and the whey.
When the cheese is ready, putting your cheese in a nut bag or in cheesecloth and then squeezing it firmly to remove whey.
Varenyky
In a small bowl, place cheese, dill and shallot and mix to combine.
The cheese should already be quite salty because of the miso, but taste the seasonings and adjust to your liking.
Peel the celeriac bulb and using a knife shape it until it is nice and round.
Using a mandolin, or a knife, thinly slice the celeriac into thin sheets about an eighth of an inch thick.
Place in a medium bowl with the salt and apple cider vinegar and let marinate for at least 20 minutes, but preferably an hour, until celeriac is soft and folds easily.
Place a teaspoon or so of cheese in the center of a slice of the celeriac and fold over.
Repeat until all of the cheese has been used.
Sprinkle with a little additional dill and serve with cashew sour cream.
Vegan Sweet and Simple http://vegansweetandsimple.com/
Do not confuse vinegret with vinaigrette; in Eastern Europe it refers to a much-loved beet salad. It's usually cooked and contains potatoes. But in my humble opinion, this tasty raw version is much, much better. In different parts of the region, different ingredients are used. In Central Asia, for example, they often add beans. But here I'm providing a version that is close to what you'd find in the typical home in Ukraine.
Vinegret
2014-09-18 10:20:31
Serves 2
Ingredients
3 medium beets, cut into small cubes
1 small carrot, cut into small cubes
¼ cup freshly shelled peas
1 green onion, thinly sliced
½ shallot, diced
1-2 dill pickles, chopped (in brine)
½ tsp salt
2 tsps apple cider vinegar
1½ tsps. coconut palm sugar
½ tsp umeboshi plum vinegar
1 tsp olive oil
Dill, chopped, to taste (I used 1 tsp)
Parsley, chopped, to taste (I used about 10 parsley leaves)
Salt and pepper, to taste
Instructions
Place beets, carrots, peas, ½ tsp of salt, sugar and apple cider vinegar in a bowl and stir to make sure the vegetables are well-coated.
Place another bowl with something heavy inside on top, to press the vegetables. This will help them soften and release some fluid and bitterness.
Set them aside for at least 20 minutes.
When soft, add green onion, shallot, dill pickle, olive oil and umeboshi plum vinegar, along with dill and parsley.
Taste and add additional salt and pepper to your liking.
Vegan Sweet and Simple http://vegansweetandsimple.com/
You'll want to serve these with a vegan sour cream! My recipe for cashew sour cream is
here
.
My partner is not hugely into cheese and so he was a bit wary of this dinner. But when he tasted them he loved them and ate them with abandon! The varenyky really are incredibly flavorful.
I hope you like them just as much!