Today on our Vegan MoFo culinary world tour we move to Zambia. Zambia is a landlocked country in the middle of southern Africa, bordered by Angola, the Democratic Republic of the Congo, Tanzania, Malawi, Mozambique, Zimbabwe and Botswana.
I've traveled to Lusaka several times to work with organizations that work on women's human rights and with people living with HIV, sex workers and the LGBT community.
Over the years I travelled to Lusaka the city changed enormously. The rapid construction of shopping malls and shiny new buildings was perhaps indicative of the change in Zambia's status from a low income to lower-middle income country. The economic growth was driven largely by Zambia's copper mining industry. And with it came a growing educated and skilled middle class.
But the benefits of development are illusive for many and deep and grinding experiences of poverty mark the daily lives of much of the population.
On my first visit there I met some amazing women living with HIV who were working to ensure that others living with HIV in their very poor community had support mechanisms, were taking their medicines (even if it meant that they had to walk an hour to get them), and that their kids got some basic education and at least one good meal a day.
Despite the challenges, many good things are happening in the country and for me one of the most exciting is the government's prioritization of girls and their rights. Zambia is one country that is really leading the charge in ending child marriage and other harmful practices and making sure that girls are in school and have access to health services. They recognize that without educated and empowered girls and women, the progress they have seen will come to a grinding halt. And it's so much needed. Although there are an increasing number of women in leadership positions, discrimination against girls is still rampant, and sexual violence is all too common (which, as we know, is not unique to Zambia). One of my most abiding memories of Lusaka is spending time with girls who had experienced sexual violence, usually at the hands of family members, in a safe house run by the YWCA. The girls were there only temporarily while they waited for their perpetrators to be prosecuted, so they could return home. They were the lucky ones; the girls who had managed to escape.
Unlike many countries in the region, there was never really a struggle for independence in Zambia, which has both its benefits and its drawbacks. On the positive side, it has resulted in a fairly stable democracy. But it has also meant a relatively weak civil society and mechanisms for government accountability, because the need to fight for basic rights and fundamental freedoms never really was part of their experience.
Now to the food! For vegans, eating well in Zambia is surprisingly easy. Some of their staple and most-loved dishes are vegan, delicious and incredibly wholesome, like the ones I'm sharing with you today. There is also an increasingly good dining scene, with some surprisingly great fresh, organic food restaurants, as well as great Indian and Italian places, all with pretty good vegan options.
I've modified the recipes I'm sharing today very little from their traditional roots, because they really don't need it. Nshima, or pap as it is known in South Africa, is essentially a very thick polenta made with white cornmeal, water and perhaps a little salt. It's commonly served with stews and gravies, many of which are already vegan. Onions, tomatoes and garlic are really the stars of Zambian food and are the three basic ingredients for many a dish. And because the fruit and vegetables in Lusaka are mostly grown locally, they are incredibly delicious.
For me, Zambian food has all of the hallmarks of comfort food! Ifisashi is often made with pumpkin leaves or other hardy greens. I use Tuscan kale, which worked beautifully. The key ingredient is peanuts, but since I've learned I am allergic to them, I use brazil nuts. This gives this meal a rich, distinctive and somewhat different flavor.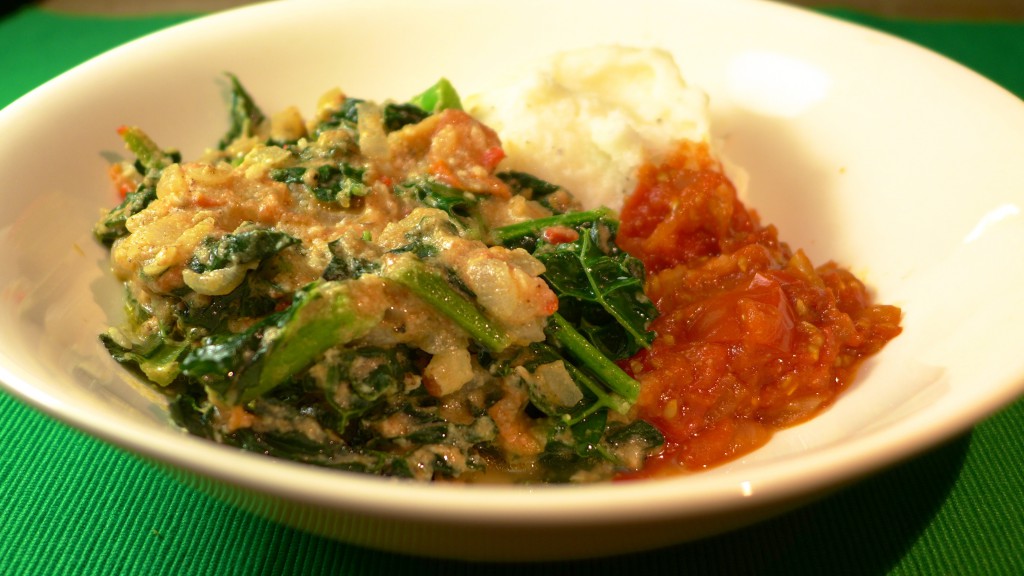 Ifisashi
2014-09-10 08:14:34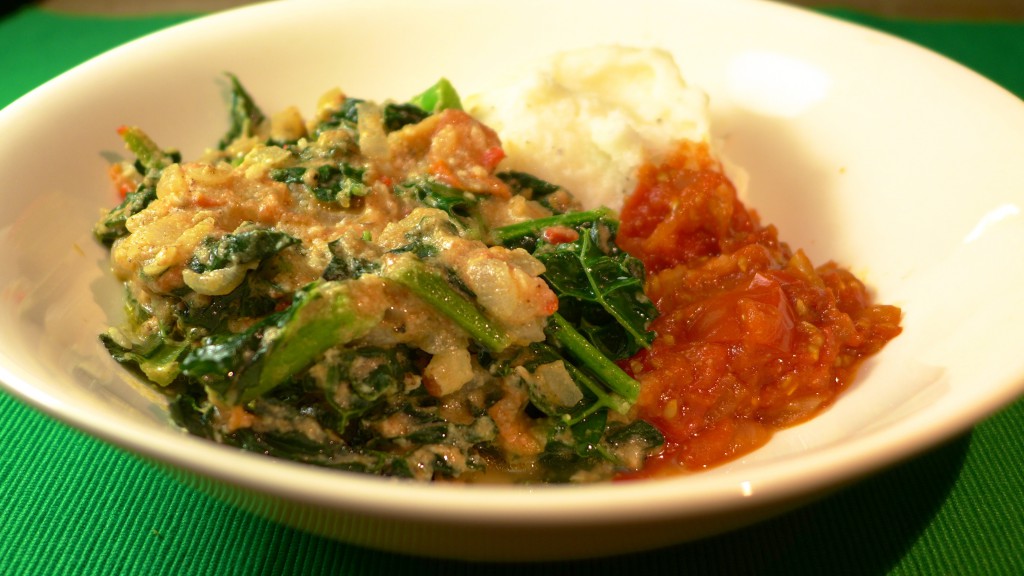 Serves 2
Ingredients
1 onion, diced
1 medium or 2 small tomatoes, diced
2 cloves of garlic, minced
½ cup brazil nuts
3 cups Tuscan kale or other hardy greens, chopped
1-2 cups of water
Salt and pepper to taste
Instructions
Add 1½ cups of water to a pot and bring to a boil.
Grind brazil nuts in a food processor or coffee grinder until they form a fine powder.
Add onion, tomatoes and garlic to the water and let boil until soft.
Add ground brazil nuts and let the sauce thicken a little.
Season with salt and pepper, to taste.
Add kale and additional water if needed.
Cook until kale has softened and serve.
Vegan Sweet and Simple http://vegansweetandsimple.com/
I couldn't go without sharing a recipe for tomato gravy. At the very least, if there was nothing else I could eat, there was almost always this. The process of grating the tomatoes into a pulp results in an incredibly bright flavor. More chopped tomatoes are added to give it texture, along with onion and garlic. It's simple, but it is insanely good.
Tomato Gravy
2014-09-10 08:20:43
Serves 2
Ingredients
7 small or 3 large tomatoes
½ onion
2 cloves garlic, minced
salt and pepper
1 tsp unscented coconut oil
Instructions
Using a large grater, grate 5 of the 7 tomatoes into a fine pulp.
Add coconut oil to a pan and heat on medium heat.
Add onion and sauté until soft.
Add garlic and sauté for another 30 seconds or so, until fragrant.
Add tomato pulp and let mixture come to a boil.
Meanwhile roughly chop remaining tomato and add to the dish.
Let simmer until the skin of the chopped tomato softens and the tomato begins to break down.
Season with salt and pepper to taste.
Vegan Sweet and Simple http://vegansweetandsimple.com/
And finally nshima. I've developed a huge fondness for nshima and I hope you will too. On its own it is not too exciting, but its the perfect complement to ifisashi and tomato gravy.
Nshima
2014-09-10 08:22:25
Serves 2
Ingredients
1¼ cups of water
½ cup white corn meal (I used masa)
Salt and pepper to taste
Instructions
Add 1¼ cups of water to a pot along with the corn meal and heat on medium heat.
Stirring constantly with a wooden spoon, bring to a boil and then turn down the heat and continue to stir until the mixture is very thick.
Season with salt and pepper to taste.
Serve immediately.
Vegan Sweet and Simple http://vegansweetandsimple.com/
It may not look too pretty, but it is really, really good! I hope you give it a try.