Today on our VeganMoFo world tour we head north west to Mozambique.
I'm not sure why, but I could only find a couple of not so good pictures from my first trip to Mozambique, even though I'm sure I took more then and the last time I visited. Either it's all in my head, which is a possibility, because the images in my mind of Maputo are so vivid, or I've somehow lost them. And for some reason I have no pictures of its stunningly beautiful coastline, which I spent a huge amount of time looking at. Either way, this makes for a much less inspired and inspiring post.
Maputo is one of those African capitals that feels anything but. It still has not fully recovered from its 17 year long civil war and the poverty is extreme. Unlike some places where it felt like I was in a different city every time I visited because of the rapid development and construction, Maputo always seemed exactly the same. Life continues apace, steadily and slowly.
Maputo is endowed with palm-lined beaches with crystal clear waters. The fresh smell of the ocean envelopes much of the city. Its streets are lined with acacia trees and it really is lovely.
But the city itself is not very inspiring. Some beautiful old buildings and Maputo's imposing Catedral de Nossa Senhora da Coceica stand out, among mostly functional buildings lining streets named for communists and revolutionaries.
The country is home to some the most beautiful art and crafts in the region: very distinctive woodwork, gorgeous paintings full of bright colors, and intricate silver jewelry. And I made sure I supported the local economy!
The cuisine is very seafood heavy, which I suppose is to be expected. And Mozambique is known for its distinctive peri peri hot sauce, which is delicious. Apart from that I can't say that I have vivid memories of anything I ate. Except the fruit. The fruit is insanely good. The intense flavor of the pineapple, mango, bananas, avocados is unlike anything you would ever have the luxury of tasting in New York… oh my!
Today I'm bringing you a recipe for a simple, but satisfying Mozambican dessert that is usually baked and laden in condensed milk. The original is actually called bananas come leite condensado. The day I decided I was making a vegan version of it, it was insanely hot and there was no way I was turning on the oven. So I decided to put my own mark on it, make it raw and of course, rename it!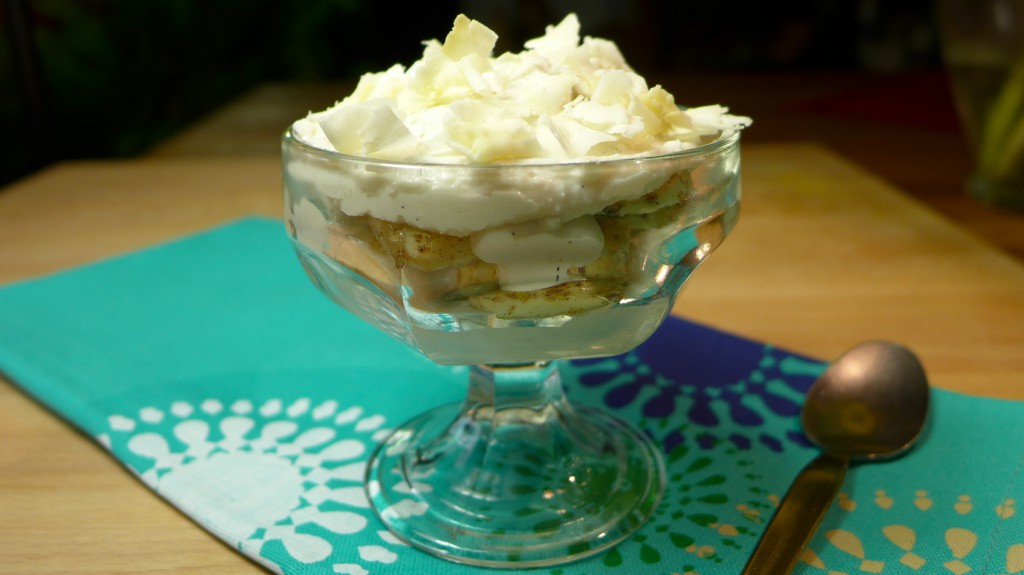 Bananas Com Creme de Coco
2014-09-09 08:43:05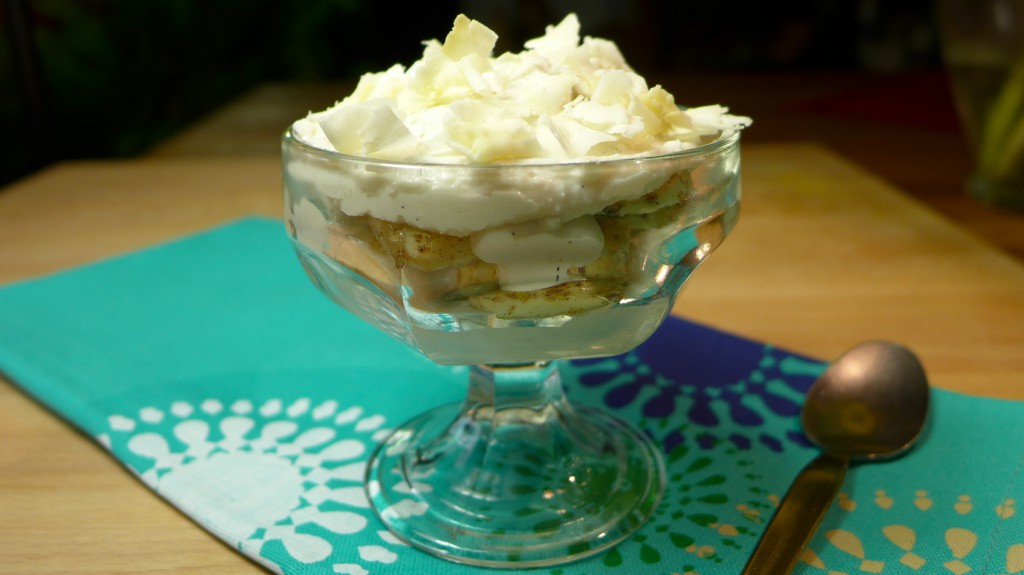 Serves 2
Ingredients
1 cup young coconut meat
1 tbsp maple syrup or coconut palm sugar (you can add more to taste)
1 tsp coconut oil
¼ tsp vanilla extract or ¼ vanilla bean
Tiny pinch salt
1/3 cup of coconut water, or as needed to blend
1 large banana
Zest of 1/2 lemon and 1 tsp lemon juice (or more to taste)
¼ tsp cinnamon
Large coconut flakes
Instructions
Place young coconut meat, sweetener, coconut oil, vanilla and salt in a blender with a couple of tbsps of coconut water.
Blend until smooth, adding more coconut water as needed, to get a very thick cream. Taste and adjust sweetness level to your liking.
Cut banana into ¼ inch discs and place in a small mixing bowl along with cinnamon, lemon zest and lemon juice. Stir to make sure banana is evenly coated in both cinnamon and lemon.
In two sundae cups, put a layer of the coconut cream on the bottom.
Layer the banana on top of the cream.
Top with another layer of coconut cream and sprinkle large-flaked coconut on top.
Vegan Sweet and Simple http://vegansweetandsimple.com/
Now, there are a number of things you could do with this recipe. Instead of making a raw coconut cream from young thai coconuts, you could make a cream from canned coconut milk. Simply place a can of full fat coconut milk in the fridge overnight. Take it out, turn it upside down, open it and you should have a nice thick layer of frosty cream. Carefully scoop the cream out out and add a dash of vanilla, salt and sweetener to your taste and whip it all together and you're done!
You could also bake this, as in the original, and use a nice, thick, sweetened coconut milk. If you do, I recommend you use canned coconut milk, instead of raw coconut cream. Place in a 350 degree Fahrenheit or 180 degree Celsius oven until hot and the coconut on top just begins to brown.
I hope you enjoy it!