The next stop on our Vegan MoFo world tour is Japan.
When I had the chance to go to Tokyo in May, 2008 I jumped on it. Who wouldn't want to go to the country that brought us anime, Miyazaki Studios and other cultural gems?
Oh, and the food! Sushi! Natto! Miso! Oh my!
Tokyo is a city that is at once feels incredibly familiar and incredibly confusing.
Familiar because it is the epitome of modernity and feels much like a more technologically advanced New York, for example.
Confusing because of the language barriers and certain ways of doing things were just so foreign. For example, finding specific locations can be tough because addresses are all relational (no street numbers!). That said, after a day or two, I managed to get myself around Tokyo pretty well! The subway is awesome and easy to use. The city itself is pretty walkable. And English is fairly widely used. And when it comes to eating, Japan is the country that invented plastic renditions of dishes so you can see a mock-up of what you are ordering before you do it (actually, I'm pretty sure I didn't eat in any of the places that showed plastic versions of their food…)
Of course, I hit all the tourist destinations. Harajuku, where all the cool kids hang out, is worth every bit of time getting there and wandering around. Not only can you get your very own baby doll or Lolita goth outfit, you can get awesome t-shirts with badly translated English sayings.
At the end of Harajuku is the gorgeous, tranquil Yoyogi Park with koi ponds, forests and stunning gardens. It's a great place to relax after trekking through Harajuku street has you worn out.
Right next to the park is the Meiji Shrine, which was built in the 1920s and dedicated to Emperor Meiji and Empress celebrexhome.com Shoken.
Asakusa is a little sliver of Tokyo that has been preserved and has the feel of what it may have been like to live in the city a century ago.
The centerpiece of Asakusa is the beautiful Sensoji Temple, finished in 645.
Its gardens are also gorgeous, dotted with statues of Buddha.
While I've never been back to Tokyo (and would jump at the chance!), I often fly through it on my way to Bangkok or other destinations. I know terminal 2 at Narita airport pretty intimately (best lounge: ANA, which has the awesomest vegan eats), and when I do I always pick up toasted green tea and matcha powdered green tea.
Today's recipe combines two of my loves, matcha green tea and chocolate, into a lovely mini tart. These tarts are incredibly rich and creamy and oh so delicious. The flavors are amazing.
The raspberry on top just puts it over the edge! While this dessert is anything but traditional, matcha has a special place in Japanese culture and there is much ritual attached to the perfect cup of matcha green tea. It's made using the tenderist tips of young tea leaves and is fabled for a reason.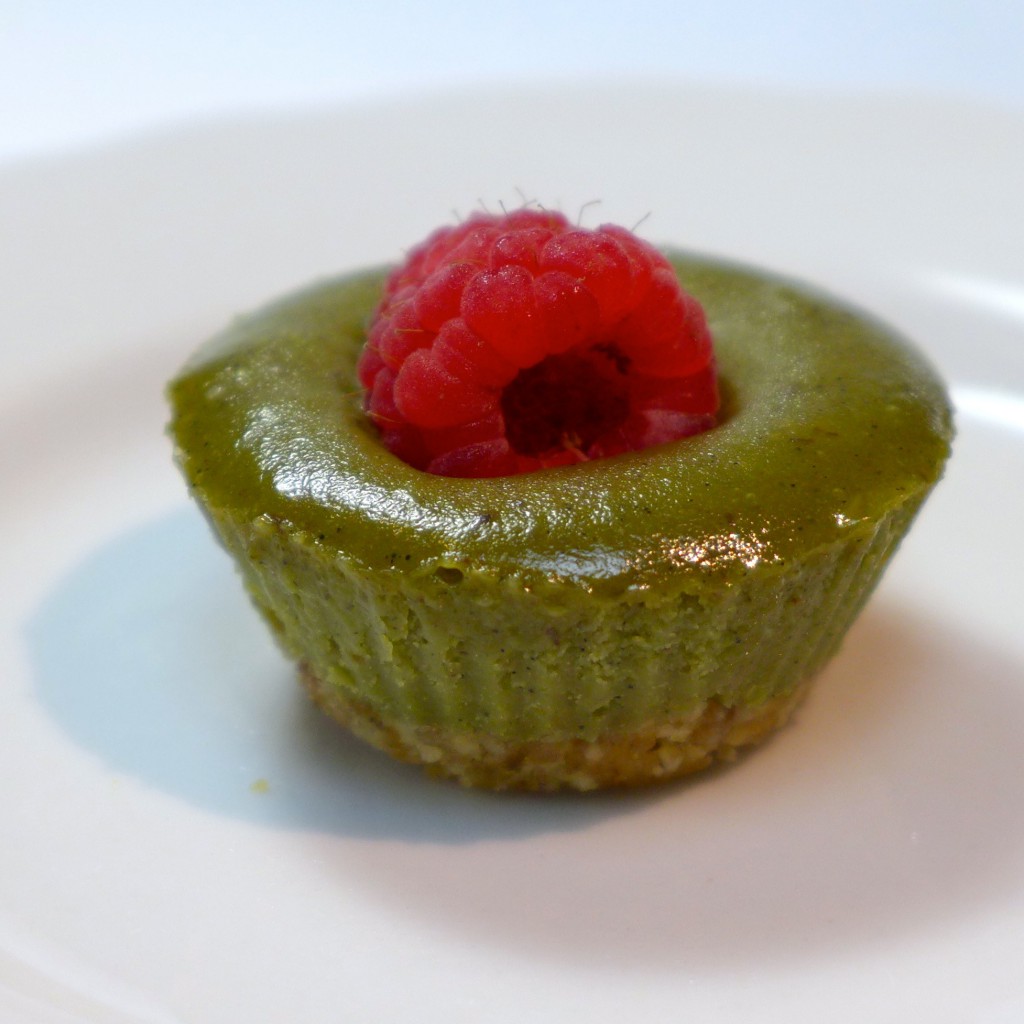 Matcha Green Tea & White Chocolate Mini Tarts
2014-09-05 08:28:12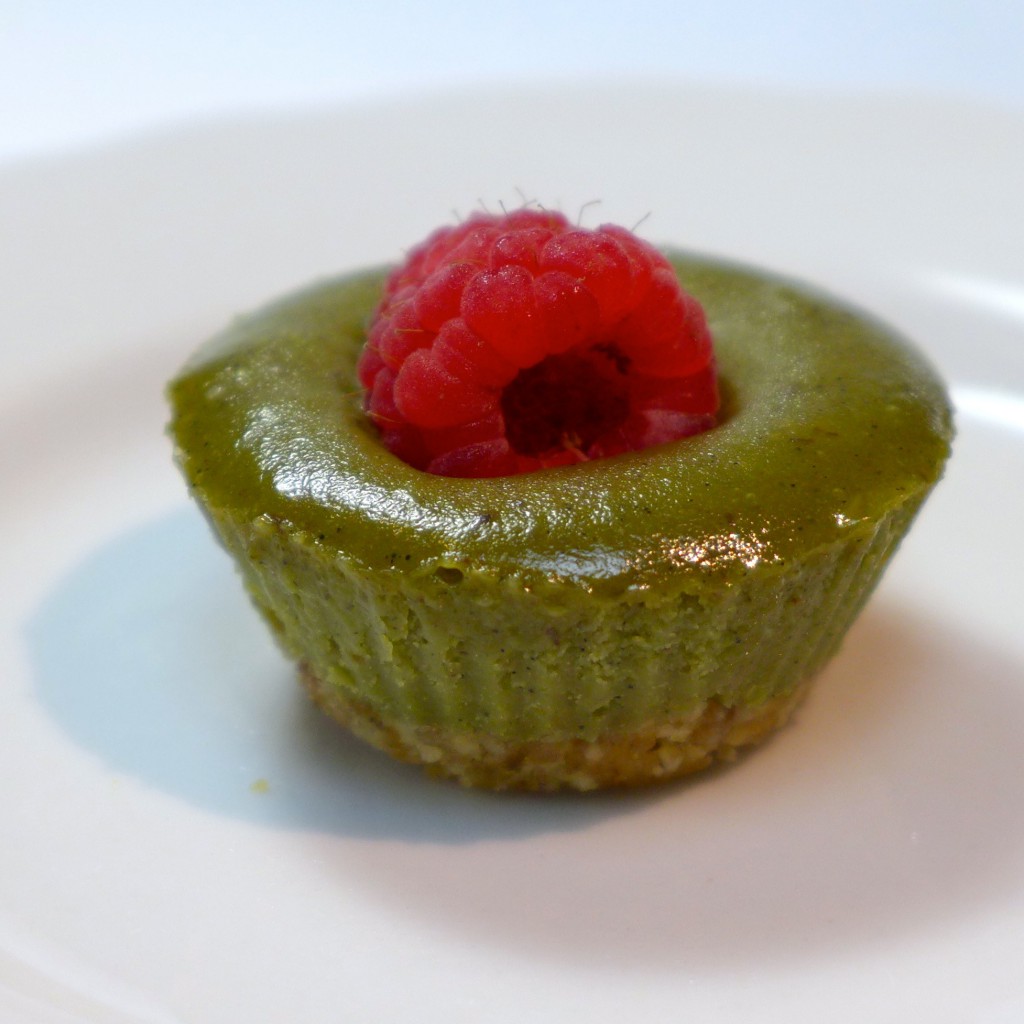 Crust
¼ cup cashews
¼ cup oats
5 dates
pinch salt
½ tsp vanilla extract
½ tbsp. coconut oil
water, as needed
Filling
½ cup cashews, soaked for at least four hours
2 tbsps melted cacao butter
2 tbsps aroma free or refined coconut oil
2 tsps matcha green tea powder
¼ cup maple syrup
1 vanilla bean pod
1/8 tsp salt
12 raspberries
Crust
Add oats, cashews, dates, vanilla and salt to a food processor and process until you get a fine meal.
Add coconut oil and pulse a few times to incorporate.
Check the crust – if it holds together well between your fingers it is ready. If not add water a teaspoon at a time until it does.
In mini cupcake cups add a tsp of the filling to each of 12 cupcake cups.
Filling
Place all ingredients except raspberries in a blender and blend on high until smooth. If you have a high-speed blender, you can use the entire vanilla bean pod, just cut off the tough tips and give it a few chops first. If you don't, then open the bean pod and scoop out the seeds using a spoon or the back of a knife and add them to the blender.
Pour equal amounts of the mixture into each of 12 cups. I used an icing bag so I could control the amounts.
Top each mini tart with a raspberry.
Refrigerate until the tart feels firm to the touch.
Vegan Sweet and Simple http://vegansweetandsimple.com/
The cacao butter gives it a distinct chocolatey taste. If you don't want to buy cacao butter you can use more coconut oil, although they will be much softer. Because coconut oil melts at room temperature, you'll want to keep these in the fridge until just before you eat them. They can also be stored in the freezer.
Be sure to use refined coconut oil or aroma-free coconut oil otherwise the distinct coconut flavor of virgin coconut oil will throw the other flavors off, and that is certainly not what you want!
I promise you, you won't be able to eat just one!