Indonesia is our next stop on our VeganMofo culinary world tour. I've only seen a sliver of this incredibly diverse country, but if there is a paradise on earth, I think Bali may just be it. Pristine beaches. Lush jungle. Gorgeous mountains. Green rice fields. Oh the beauty! I'm itching to get back to visit more of the country and try more of the cuisine.
The beaches in Bali are spectacular. Gentle waves, water so clear and incredibly warm. Whenever I could take a break from my busy schedule while there, I would head right to the beach, dip my feet into the water, feel the sun on my face, breathe in the ocean air and just savor the moment. Of course, I managed to get in some time for a swim too!
Bali is home to amazing art and crafts. I indulged my silver earring obsession while there, but also brought home with me stunning textiles, plates and bowls, and a gorgeous painting that sits above my bed, among other things.
Intricate sculptures, detailed stonework and wonderful wooden carvings are just about everywhere you turn.
Often, the art and nature combine to breathtaking effect…
Seriously, the sheer beauty of this country cannot be overstated…
Indonesia is also a vegan heaven. After all, we are talking about the country that invented tempeh, which is definitely one of the foods of the gods. Tempeh and tofu are staple foods and feature in many traditional dishes, although I have to admit, I sometimes struggled to find vegan options on menus. That said, if you know where to look you can find vegan nirvana. There is a growing raw food scene: in Ubud I stumbled across wonderful places serving raw treats and dreamy smoothies. And Bumbu Bali is one of all-time my favorite restaurants. Oh, and vanilla! On each of my trips I loaded up on the freshest, softest vanilla beans to bring home with me.
The dish I'm sharing today is inspired by a tempeh dish I ate at Bumbu Bali the last time I visited. It was unlike anything I had before. The tempeh was crisp and nutty and coated in a sweet, thick soy sauce.
It was thoroughly delicious! Ever since, I have dreamed of recreating it, but wasn't quite sure how to get the same texture. I knew frying alone didn't do it. And then of course it hit me: they dry it.
I used a dehydrator to dry the tempeh, but you can dry it in the oven as well.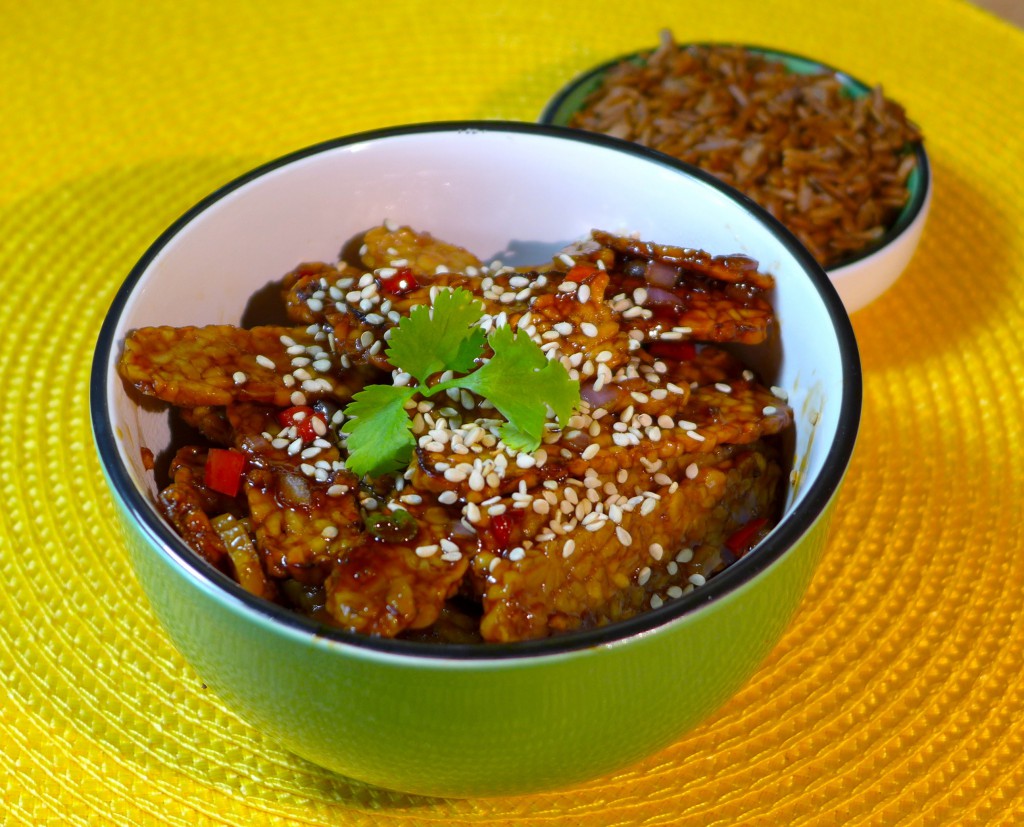 Crispy Tempeh in Sweet Soy Sauce
2014-09-04 07:01:54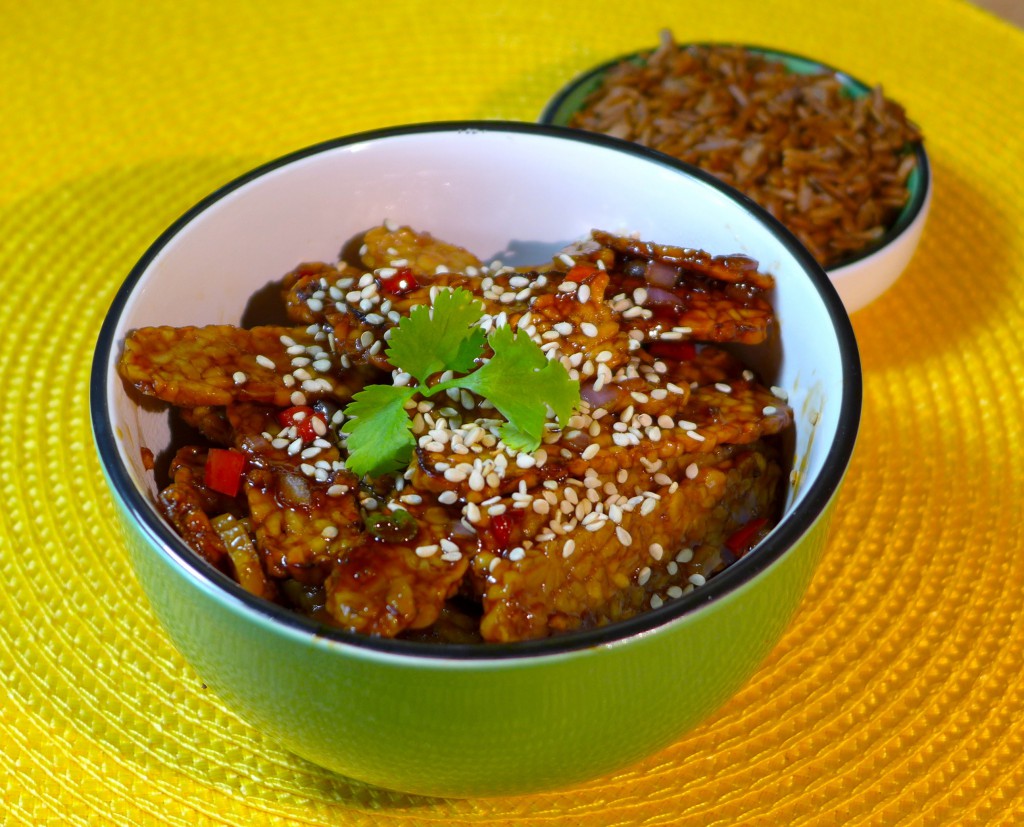 Serves 4
Ingredients
1 package of tempeh
3 tbsps tamari
2 tbsps coconut palm sugar
1 clove of garlic, minced
¼-inch piece of ginger, minced
1 tbsp apple cider vinegar
½ tsp arrowroot powder (or corn starch)
¼ cup finely diced onion
1 hot chili pepper
1 scallion, thinly sliced
Aroma-free coconut oil, or other vegetable oil, for frying
Sesame seeds and cilantro for garnishing (optional)
Instructions
Thinly slice tempeh.
Place in a single layer on a dehydrator sheet or parchment-lined baking pan.
Dehydrate at around 120 degrees for about an hour or bake on your oven's lowest setting for about 30 minutes until the tempeh is dry and crisp, but not browned.
Make the sweet soy sauce by combining tamari, coconut palm sugar, garlic, ginger and apple cider vinegar and whisk until sugar has dissolved.
Add the arrowroot powder to the mixture and stir again until well combined.
Add a small amount of coconut oil to a pan and heat on medium-high.
When hot, add tempeh in a single layer and brown on each side.
Remove tempeh from the pan and set aside.
Add a little more coconut oil, if needed, and sauté the onion, chili and scallion until soft.
Return the tempeh to the pan.
Add the sauce and turn off the heat. It should come to a boil and form a glaze almost immediately.
Move to serving dish and garnish with fresh cilantro and sesame seeds.
Notes
This may not seem like a lot of tempeh once it has been dehydrated, but it is. I kept the serving size pretty small, because you'll get a hefty amount of protein in just a quarter of this recipe!
Vegan Sweet and Simple http://vegansweetandsimple.com/
Now, because I must have greens with every meal, I also had to make a salad. Gado gado is a traditional Indonesian layered salad with rice on the bottom, fresh greens, fresh vegetables, and usually tofu and egg, smothered in a creamy peanut sauce. For many vegans visiting Indonesia, gado gado minus the egg is a staple.
I just recently found out that I am allergic to peanuts (sob!), and so need to avoid them in my diet. So I decided to make a version that is nut-free, subbing peanuts for sunflower seeds. I adapted this recipe from a raw version created by Renée Loux. And, it actually tastes amazing.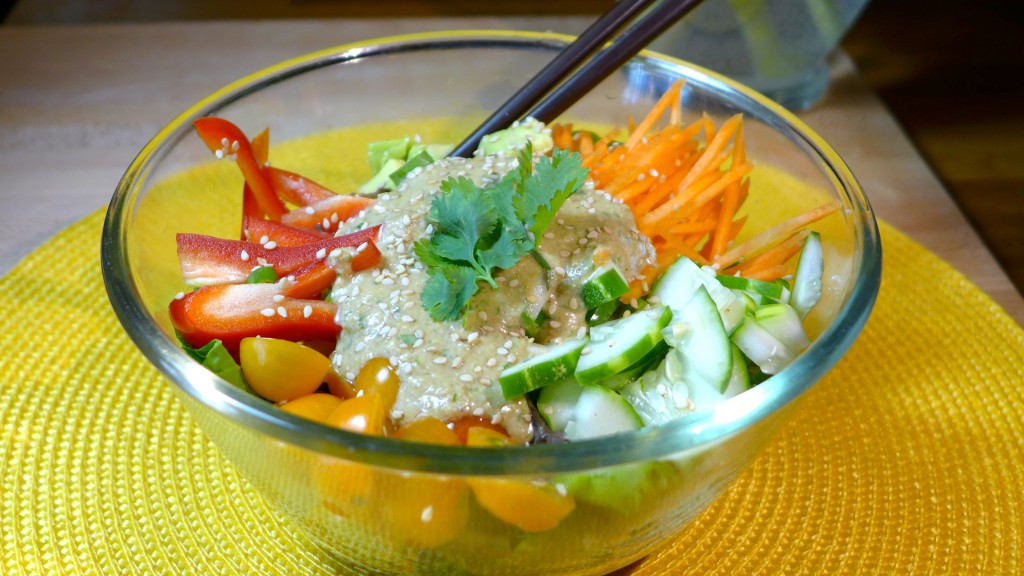 Nut-free Gado Gado
2014-09-04 08:10:54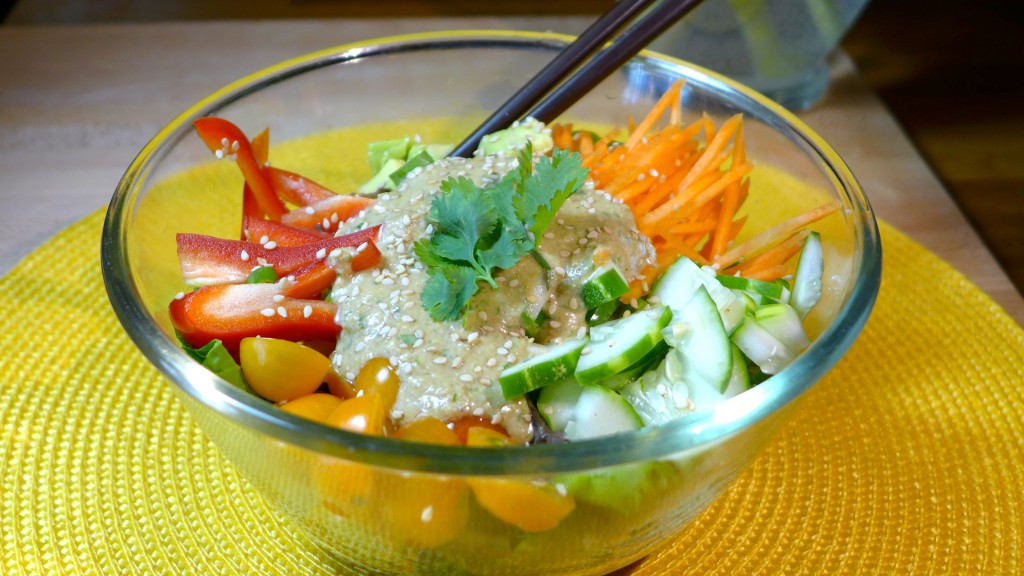 Serves 2
Dressing
½ cup sunflower seeds
½ cup coconut milk (not light, canned)
1-inch piece of ginger
2 scallions, chopped
1 clove garlic
2 tbsps brown rice vinegar
2 tbsps umeboshi plum vinegar
2 tbsps coconut palm sugar
2 tbsps tamari
1 small birds-eye chili
Black pepper, to taste
1/4 - 1/2 cup chopped cilantro (or more to taste)
Salad
1/3 - 1/2 cup cooked rice (I used red rice)
3 cups of greens of your choice
½ avocado
10 cherry tomatoes, halved
½ red pepper, sliced
1 carrot, grated or julienned
1 scallion, thinly sliced
1 tsp sesame seeds
Cilantro
Dressing
Place all ingredients except cilantro in a blender and blend until smooth. Add cilantro and pulse a few times to incorporate.
Salad
Add rice to bottom of your salad bowl and layer greens on top.
Place your other vegetables, apart from scallions, on top of the greens in wedges.
Sprinkle chopped scallions over the salad.
Top with dressing (you will only need about half of it for a salad this size)
Sprinkle sesame seeds and fresh cilantro on top.
Before serving, mix all ingredients together.
Notes
If the dressing is too thick, you can add some water a tablespoon at a time. However, this dressing is meant to be thick!
Vegan Sweet and Simple http://vegansweetandsimple.com/
In all, it's a delicious meal!
And the leftover tempeh from your dinner makes an awesome sandwich the next day! Just add some avocado, lettuce, tomato, sriracha and cashew cream.
I also used the left over gado gado dressing on a wrap the day after with some tofu and veggies and it was pretty amazing too. So try this! I guarantee you'll love it!