Last night I dined at Thamna Hometaurant on Samsen Road in Bangkok with a group of friends and colleagues. It's a fairly basic restaurant in a renovated house with high ceilings serving vegetarian and vegan Thai and western food. It's open daily for lunch (11am – 3pm) and dinner (5pm – 9pm). And wow – it was good! Really, really good. I was blown away by the intensity of flavors. My omni friends left completely satisfied and enjoyed everything as much as I did (if not more). We ordered a few dishes to share and this time I remembered to take photos!
We started with a beautiful green papaya salad served with mushroom maki and crispy onions. The salad was amazing, with fresh, shredded green papaya, crispy carrots, green beans and spring onions, dressed with lime juice, garlic, basil, and chilies. Yum. I'm so looking forward to learning how to make this tonight! Combining the salad with mushroom maki was an interesting but welcome twist. We ordered some crispy fried wild mushrooms with tamarind sauce – the mushrooms had an almost meaty texture and rich flavor, which was complemented perfectly by the sweet tamarind.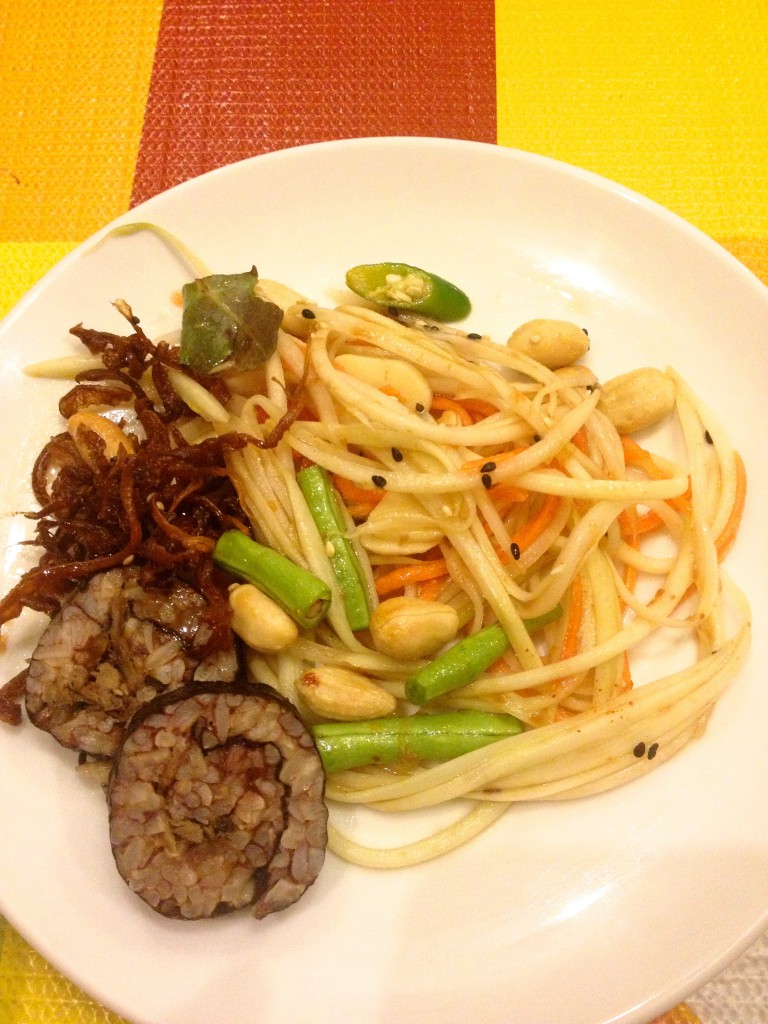 For the main event we ordered a vegetable ball soup and a mushroom curry. The vegetable ball soup was overflowing with fresh cauliflower, broccoli, snap peas, and cabbage in a coconut milk broth flavored with kaffir lime, lemongrass and spicy red chilies. Oh my. I'm running out of adjectives to describe how good it was, but it was amazing.
The combination of chewy and intensely flavorful wild mushrooms, tomatoes, basil and kaffir lime leaves, coconut milk and red curry was marvelous. It was, like most Thai dishes, a beautiful mix of sweet and spicy that left me wanting more and more and more. It was served along side nutty brown rice and some more shredded mushrooms sautéed in sesame oil.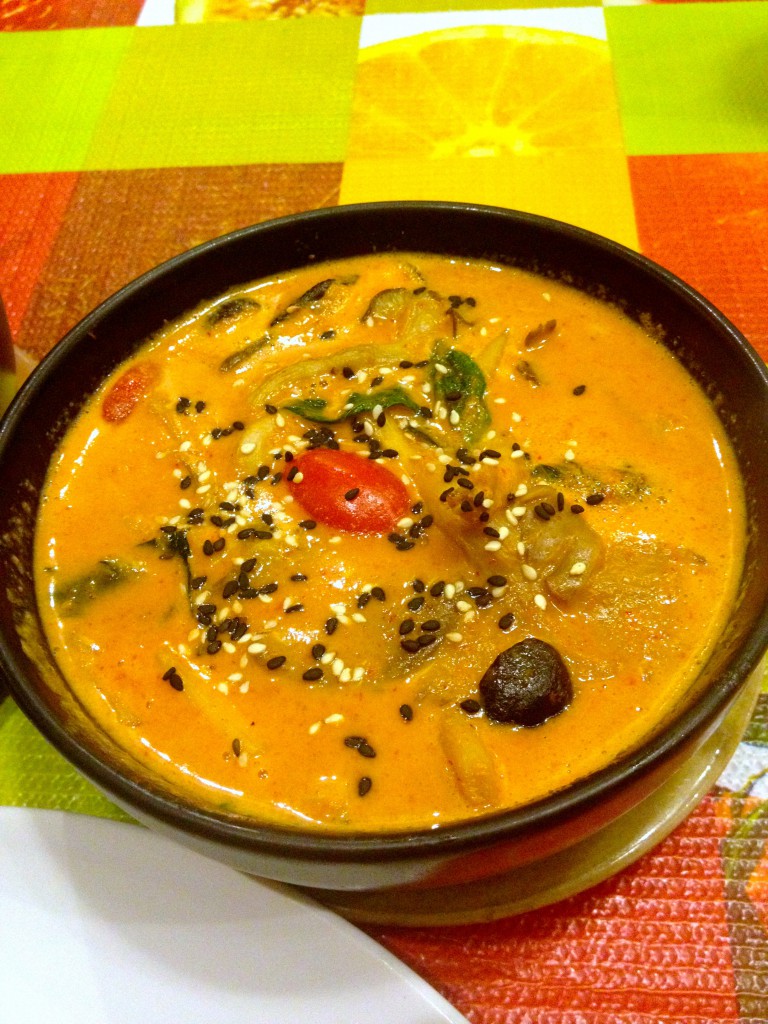 I ordered a dragonfruit smoothie to drink (I can't get enough of the fruit smoothies here). The color of this smoothie was a vivid, hot pink that looked almost unreal. Until that moment, I didn't realize that there were two varieties of dragon fruit. I was familiar with and love the white-flesh dragon fruit, but hadn't seen the pink-fleshed dragon fruit before (although later that evening, I saw it everywhere). Like everything else we ate, it was delicious. I'll definitely be coming back to Thamna next time I'm in Bangkok.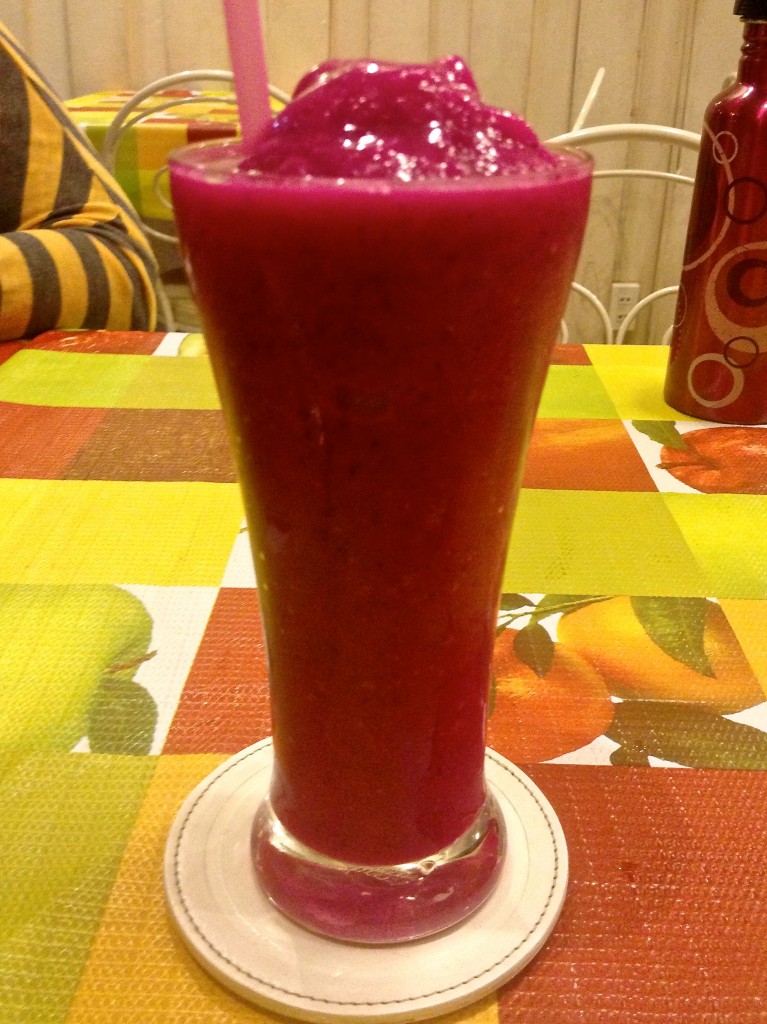 This morning I woke up early, did some yoga and then wanted a good and substantial vegan breakfast before yet another day of meetings. So I headed back to Ethos for their muesli, which is made in house, served atop of fresh fruit and coconut cream. I think I'm going to be craving this for months to come!
I also had a banana and ginger smoothie (so, so good) and a piping hot cup of fresh green tea.
Tonight I am lucky enough to cap this trip with a five-hour vegan cooking class by May Kaidee. I'm so looking forward to learning how to recreate some of this amazing food at home!