Oh, dear blog, how I have neglected you! I know it has been quite some time since I posted a recipe. No excuse really, because I have a backlog the length of my arm. Work and life have been a bit intense and I just needed a bit of a mental break. But I haven't stopped cooking and I have many exciting recipes that I'm ready to share.
Over the past month or so, I've been making an effort to incorporate more raw foods into my diet and cut down the amount of added sugar in my foods. So I have been experimenting quite a bit, creating some delightful raw treats. You can expect some delicious wrap, cracker and other raw recipes soon! My dehydrator has been getting a real workout.
Until then, I am sharing a super quick and easy kelp noodle salad recipe. It is inspired by a rice noodle salad I picked up from Two Tablespoons, which is currently serving delicious summer rolls and rice noodle salads at the Broadway Bites pop-up market in Greeley Square, Manhattan until August 1. But of course, I've added a few ingredients and my own twist.
This salad is light, refreshing and perfect for these hot summer days. And as a bonus, it's packed with protein and plenty of delicious green vegetables. If you want a bit of heat, a little added sriracha also tastes great. I know this is a recipe that is going to be featuring frequently in our summer meal line up!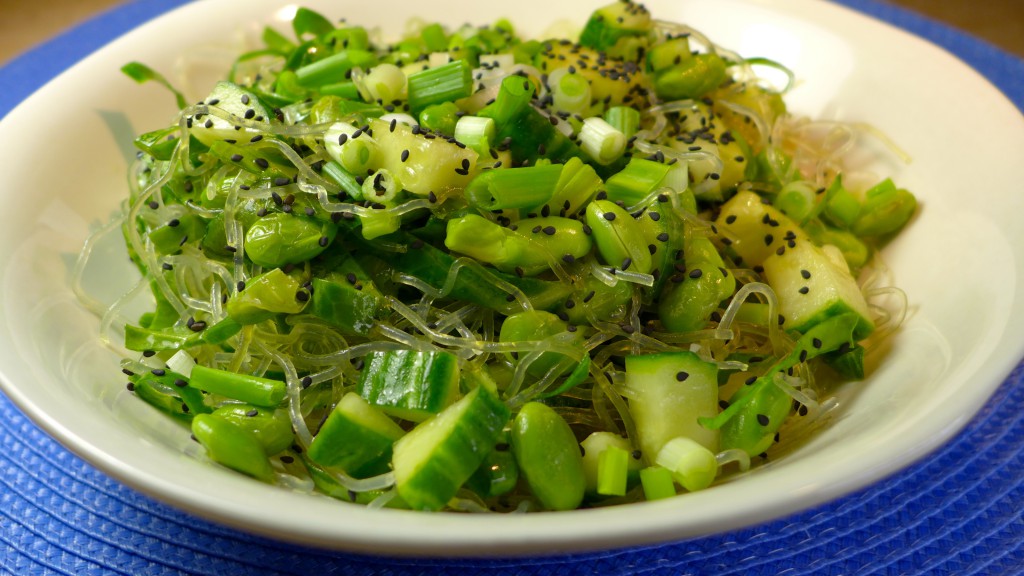 Edamame, Cucumber & Kelp Noodle Salad
2014-06-19 20:41:03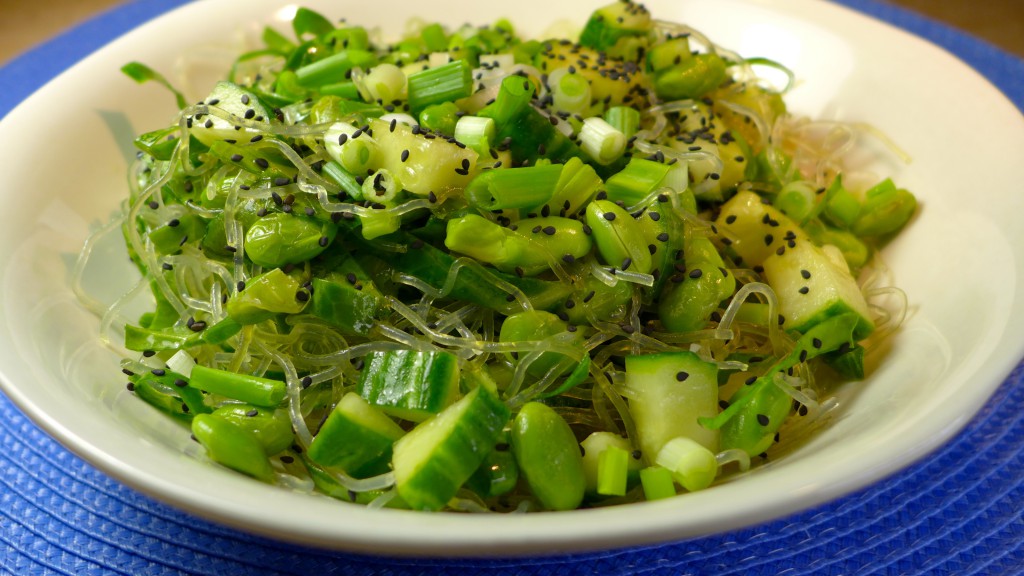 Serves 2
Ingredients
1 package kelp noodles
1 cup edamame, shelled and cooked
1 cup of diced cucumber
1-2 collard leaves, rolled up and chopped into ribbons
1 tbsp roasted sesame oil
1-2 tsps tamari (to taste)
2 spring onions, chopped
1 tsp sesame seeds
Instructions
Rinse kelp noodles well, drain and place in a large bowl. You may want to chop them up a little.
Add edamame, cucumber, collards, sesame oil, and tamari and mix until the salad is well combined.
Dish into two bowls and top with spring onions and sesame seeds.
Vegan Sweet and Simple http://vegansweetandsimple.com/
I hope you enjoy it!