I love risotto, but I'm not a huge fan of standing over the stove, even if it is only for 20 minutes or so. So when I learned that it can also be cooked in the oven, I had to try it. I first tried this amazing baked tomato risotto by Vegangela. It was not only super easy, it tasted just as great as risotto cooked the traditional way. So last night with a pound of crimini mushrooms in the fridge that I needed to use, I decided to try my hand at a baked mushroom risotto. It turned out even better than I had hoped!
This recipe is absolutely loaded with mushrooms. I used a whole pound, but if you're not as big a mushroom lover as I am, you could cut it down by half and it would still be great. And, like all risotto should be, it is beautifully creamy.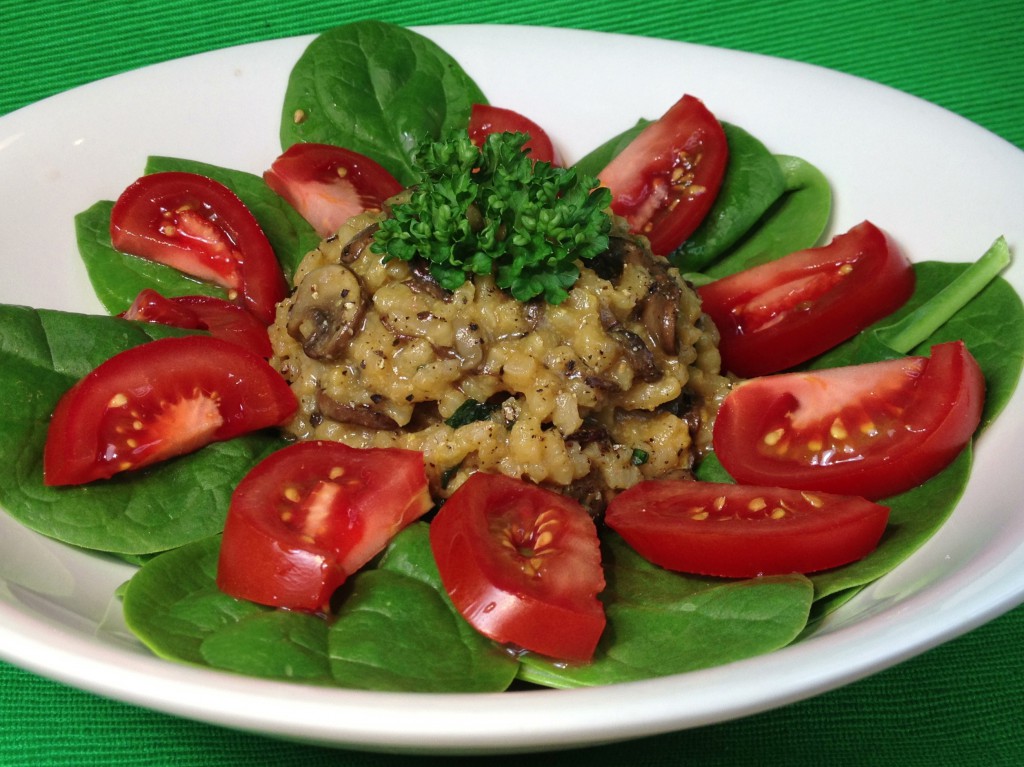 Baked Mushroom Risotto
2014-04-16 22:52:18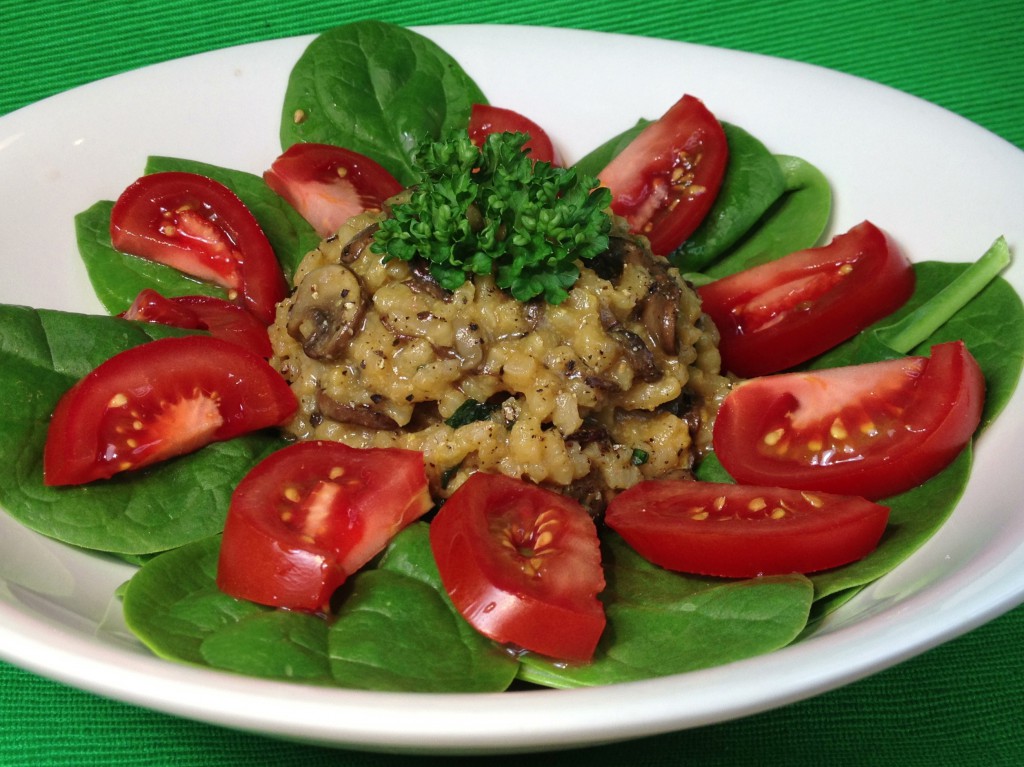 Serves 5
Ingredients
1 16oz package of crimini mushrooms, sliced
2 shallots, finely sliced
3 cloves of garlic, finely sliced
3/4 cup arborio rice
2 tbsps lemon juice
3 cups vegetable broth
1/4 cup nutritional yeast
1/4 cup chopped parsley
Salt and pepper to taste
1 1/2 tbsps olive oil, for sautéing
Instructions
Preheat your oven to 350 degrees Fahrenheit.
In a frying pan, heat olive oil over medium-high heat on your stovetop.
When hot, add shallots and sauté for 2-3 minutes until soft.
Add garlic and sauté for another 30 seconds or so, until it releases a lovely aroma.
Add mushrooms and sauté for another 3-5 minutes or so, until they release their liquid and begin to brown.
Add arborio rice to the pan and sauté for another two or so minutes until it is lightly toasted.
Add lemon juice and use a spatula to deglaze the pan.
Pour in the vegetable broth and bring to a boil.
If your frying pan is oven-proof, cover it with a tight-fitting lid or aluminum foil, and place it carefully in the oven. If it is not, very carefully transfer the risotto it to an oven-proof dish and cover.
Bake for 30 minutes, until liquid is largely absorbed and rice is soft.
Remove from oven and fold in nutritional yeast and parsley.
Taste for seasoning and add a generous amount of pepper and salt, as needed (depending on how salty your broth is you may need just a little or a lot).
Serve!
Notes
This makes about 5 nice half-cup servings.
Vegan Sweet and Simple http://vegansweetandsimple.com/
This is the kind of meal you could easily make at the end of a busy day, with little effort and fantastic results!
The best thing about it, is that when you pop it in the oven you can do other things, like prep a salad, or dessert, or go for a quick run. And what's not to love about that?