As the name of this blog implies, I like my cooking to be sweet and simple. But sometimes, just sometimes, a recipe is worth slaving over the stove for. This butternut risotto is definitely one of them!
It's as all risotto should be: creamy, delicious and just a little bit decadent. This risotto also has some nice bright flavors from the lemon juice, tarragon and dill that will make your taste buds dance!
The trick to perfect risotto is allowing the broth to be fully absorbed by the rice before adding more. To speed up the process, however, keep your vegetable broth hot and simmering away on a stove next to you, so you don't have to bring it to a boil each and every time.
For this recipe, you will need cashew cream. Or, if you don't have any on hand, you could substitute coconut cream instead.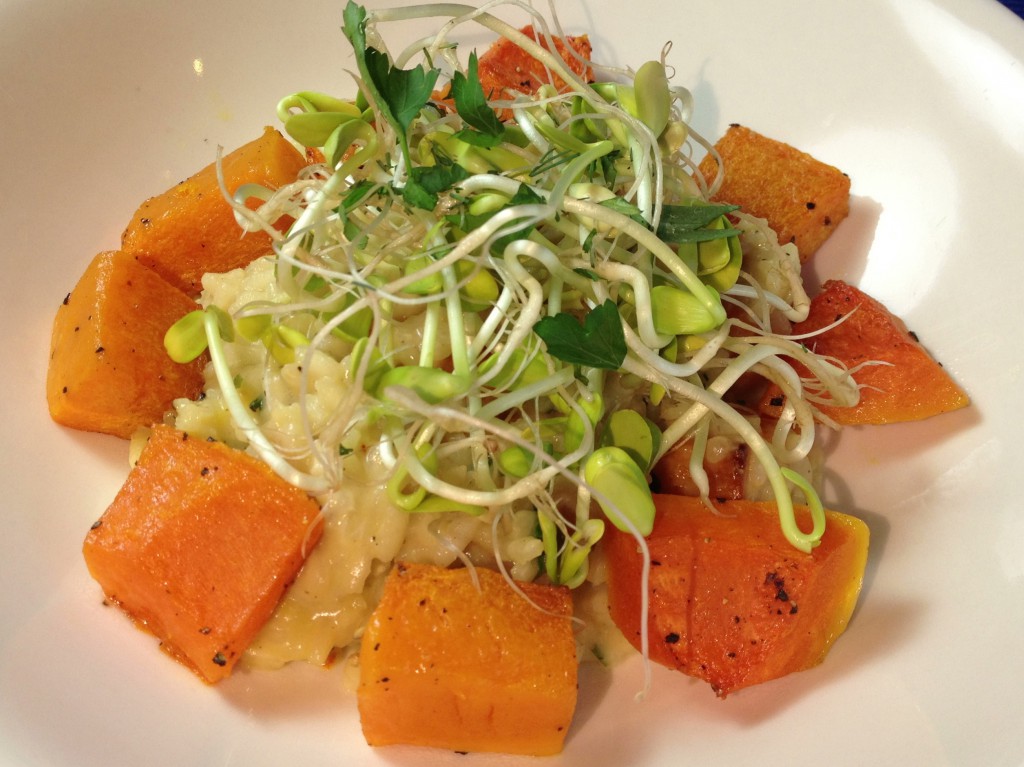 Butternut Risotto
2014-02-17 16:33:35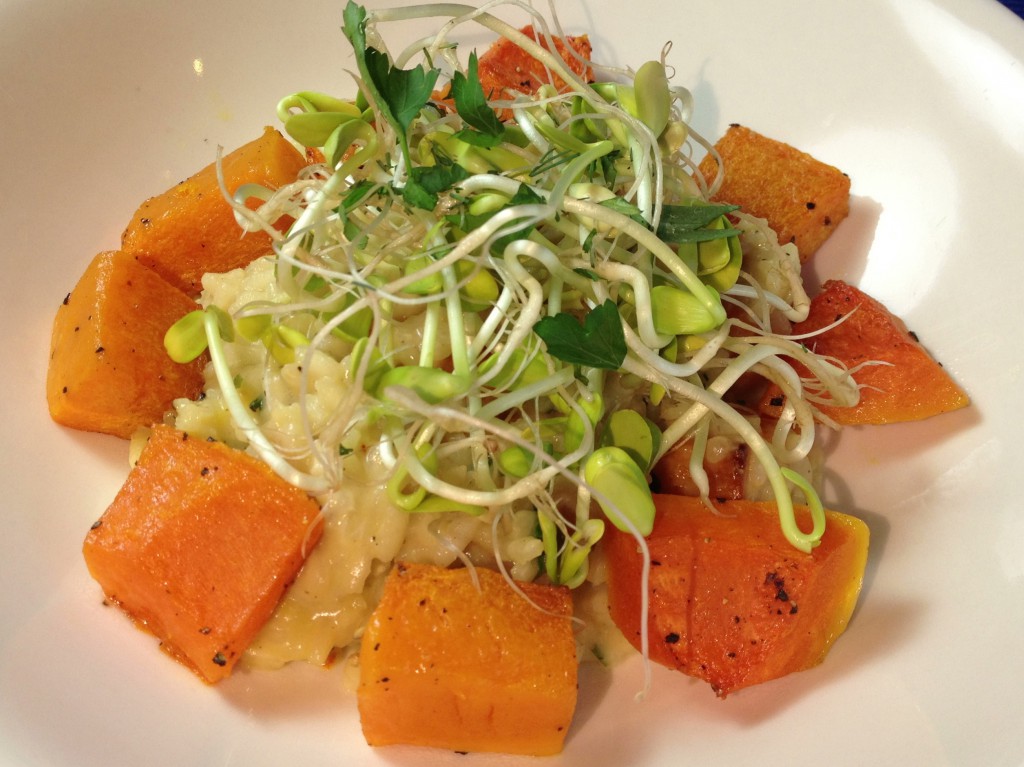 Serves 4
Ingredients
1 cup butternut squash, cut into 1-inch chunks
½ tbsp + ½ tsp olive oil
2 shallots
2 cloves garlic
1 cup arborio rice
2 tbsps lemon juice
4 - 4½ cups vegetable broth
2 tbsps cashew cream
pinch saffron
¼ cup water
2 tsps vegan parmesan (or 2 tbsps of nutritional yeast)
Salt and pepper to taste
2 tbsps fresh parsley, chopped
1½ tbsps fresh tarragon, chopped
1 tsp fresh dill
Baked Butternut
Heat oven to 400 degrees fahrenheit.
Line a baking sheet with parchment paper.
Season butternut squash with salt and pepper and coat with ½ tsp of oil.
Bake for 30 minutes or until soft and then remove from oven and set aside.
Risotto
Put your saffron on to soak in 1/4 cup of water.
Heat your vegetable broth in a saucepan, bring to a boil and then allow it to simmer on low heat.
Finely dice your shallots and thinly slice your garlic.
Heat a large heavy-bottomed pan on medium-high heat. You want the pan to be wide, but not deep, so that the rice cooks evenly.
When hot, add 1/2 tbsp of olive oil and your shallots.
Sauté shallots for 2-3 minutes until they are just softened.
Add garlic and sauté for an additional 30 seconds, or until fragrant.
Add arborio rice and sauté for about 2 minutes.
Add lemon juice to deglaze the pan.
Turn down the heat to medium-low.
Add 1 cup of hot vegetable broth and stir constantly with a spatula until it has been absorbed by the rice.
Continue adding broth about 3/4 a cup at a time, allowing it to almost be fully absorbed before adding more broth. Continue until the rice is nice and soft. This will take about 20-25 minutes.
When the rice is soft and the broth absorbed, add your cashew cream, saffron and soaking water, parmesan or nutritional yeast, and salt and pepper to taste.
Allow to cook until most of the liquid again is absorbed.
Fold in your butternut squash, and just before serving stir through the parsley, tarragon and dill.
Serve and garnish with some more fresh parsley or tarragon.
Vegan Sweet and Simple http://vegansweetandsimple.com/
I served
cheap adderall houston
mine with some sunflower sprouts and extra roasted butternut and it was delicious!
Now, if you have any left over risotto, you must, must, must use it to make an extra special treat: risotto balls!
I used 2 tbsps of gluten free breadcrumbs, 1/2 tsp of salt, 1 tsp dried tarragon, and freshly ground black pepper to make a delicious coating. Then I used a 1 tbsp cookie scoop to make even risotto balls. I flattened each ball in my hands and then pressed each side gently into the bread crumb mixture, until they were evenly coated.
I then fried each side of the risotto balls in grape seed oil in a pan over medium heat until they were nicely browned.
They go perfectly with salad to make a complete and yummy meal.
You can make this with any leftover risotto. I hope you like them!
I'm also posting this on Ricki Heller's Wellness Weekend!