Tomato soup was a household favorite when I was a kid. Usually of the canned variety, sometimes with a bit of hot milk added in. And always with some bread on the side. This recipe takes a childhood favorite and transforms it into something that is very, very grown-up.
The flavors in this soup are just amazing. Roasted tomatoes add some richness and depth. The spicy sun-dried tomato and pistachio pesto is just so umami; when mixed into the soup it just gives it some beautiful complexity as well as some additional heat. It's guaranteed to warm you up on a cold winter day and leave you craving more.
First the pesto recipe. Now, this pesto is great in the soup, but it's also great on any number of things. Add it to sandwiches, wraps, or pasta. Yum, yum, yum.
Sun-dried tomato and Pistachio Pesto
2014-01-20 00:06:28
Serves 4
Ingredients
5 sun-dried tomatoes, diced (the dry packed variety, not in oil)
2 tbsps roasted pistachios
1 tsp roasted chili paste
2 tsp flax seed oil
Salt & pepper
Instructions
Place all ingredients in a mortar and crush with the pestle to break up the pistachios and make a nice thick paste. It does not have to be perfectly smooth!
Alternatively, you could put it all in the food processor and process a few times.
Vegan Sweet and Simple http://vegansweetandsimple.com/
And now for the soup…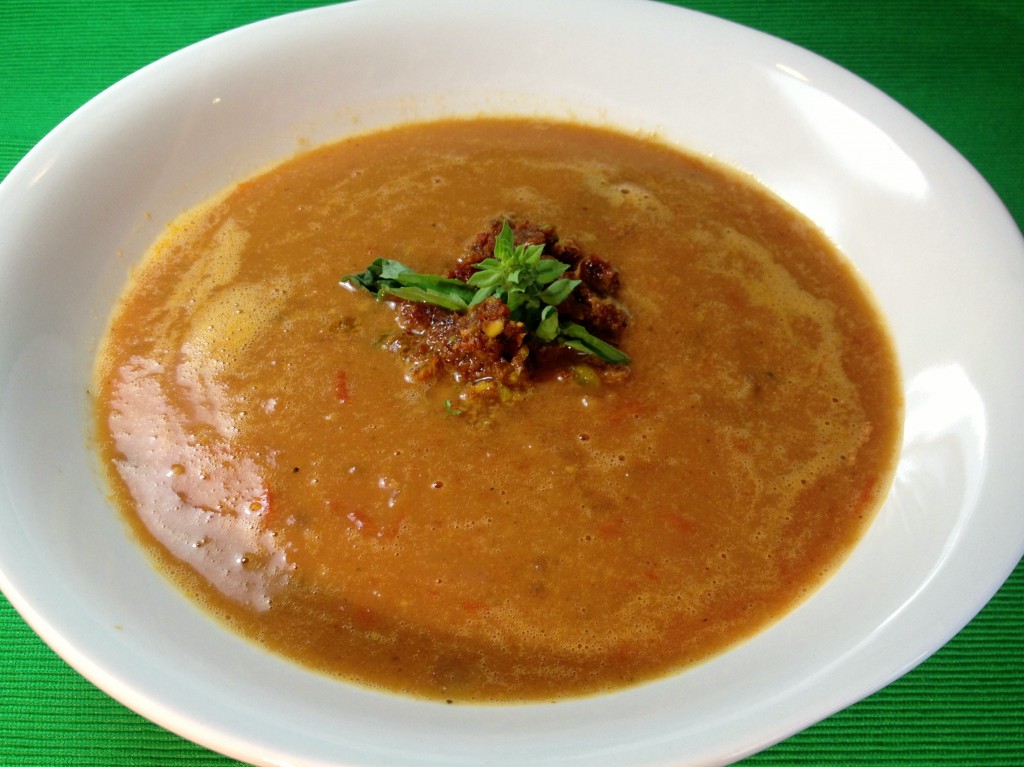 Roasted Tomato Soup
2014-01-20 00:21:01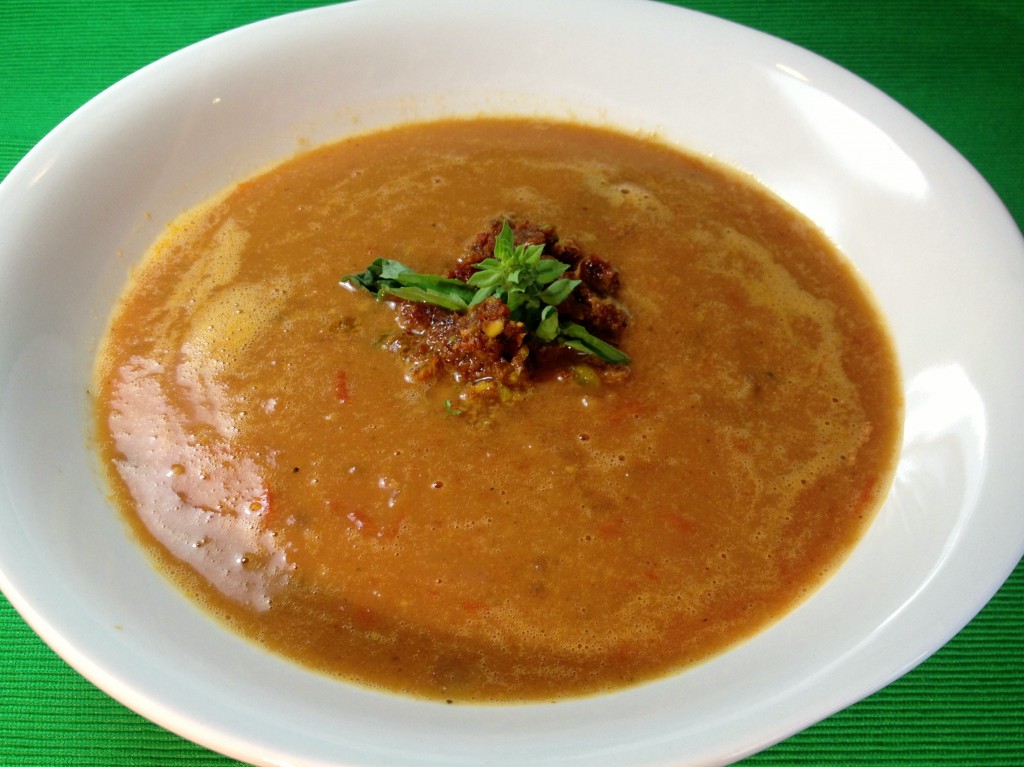 Serves 2
Ingredients
2 tsps olive oil
1 red onion, diced
3 cloves garlic
1/4 - 1/2 tsp cayenne pepper
12 small campari tomatoes, chopped
20 cherry tomatoes, halved
1 tbsp coconut palm sugar
2 cups vegetable broth
1 tbsp tomato paste
1/2 cup almond milk
2 tbsps sun-dried tomato and pistachio pesto (optional)
Basil for garnish (optional)
Instructions
Preheat oven to 350 degrees fahrenheit/180 degrees celsius.
Heat a large oven-proof pan on medium-high heat. Cast iron works perfectly here, or use a dutch oven.
When hot, add olive oil, onions, and garlic. It should sizzle nicely when you add the onions.
Let the onions cook for about five minutes until they start to brown.
Add the cayenne pepper by sprinkling a thin layer over the pan.
Add some salt and pepper.
Add coconut palm sugar and stir.
Add tomatoes and drizzle on another tsp of olive oil and a touch more salt and pepper.
Place the pan in the note oven and let roast for 30 minutes.
Remove from oven and place back on your stove on medium heat.
Add 2 cups of vegetable broth and 1/2 cup of almond milk and bring to a boil.
Using an immersion hand blender, blend soup to brake up tomatoes and onion. It doesn't have to be perfectly smooth, chunks of tomato and onion give some nice texture to the soup.
Taste, add additional seasoning if needed (but it really shouldn't).
Dish soup into two bowls.
Add a tablespoon of the pesto and basil for garnishing.
Notes
If you don't have an immersion blender, very carefully transfer to a blender and pulse a few times.
Vegan Sweet and Simple http://vegansweetandsimple.com/
I served my soup with some grilled Kite Hill White Alder Cheese on some gluten-free toast with basil. I hope you enjoy it!