So if I had to choose just one type of cuisine to eat the rest of my life, it would be Thai. The gorgeous flavors and the combinations of spicy, sweet, salty and sour; the beautiful fresh vegetables and fruits; the great mix of textures; and the creativity it inspires are all things that I love.
Thai cuisine inspires a lot of my own cooking and the one thing that I've learned from it that I value the most is how to balance different flavors to create something altogether spectacular.
Here I offer a recipe for a spicy cashew sauce that is incredibly diverse. You can use it as a dressing for a salad, a sauce for a stir fry, a condiment for sandwiches or wraps, or a satay sauce.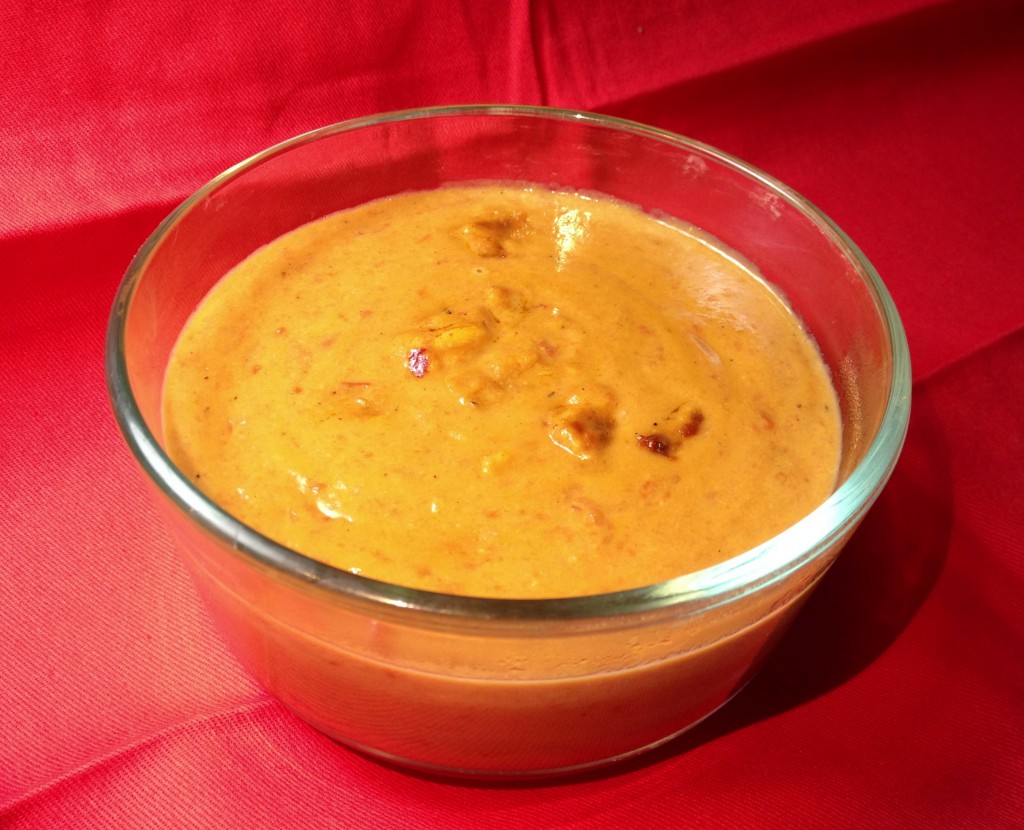 Spicy Cashew Sauce
2014-01-15 09:38:56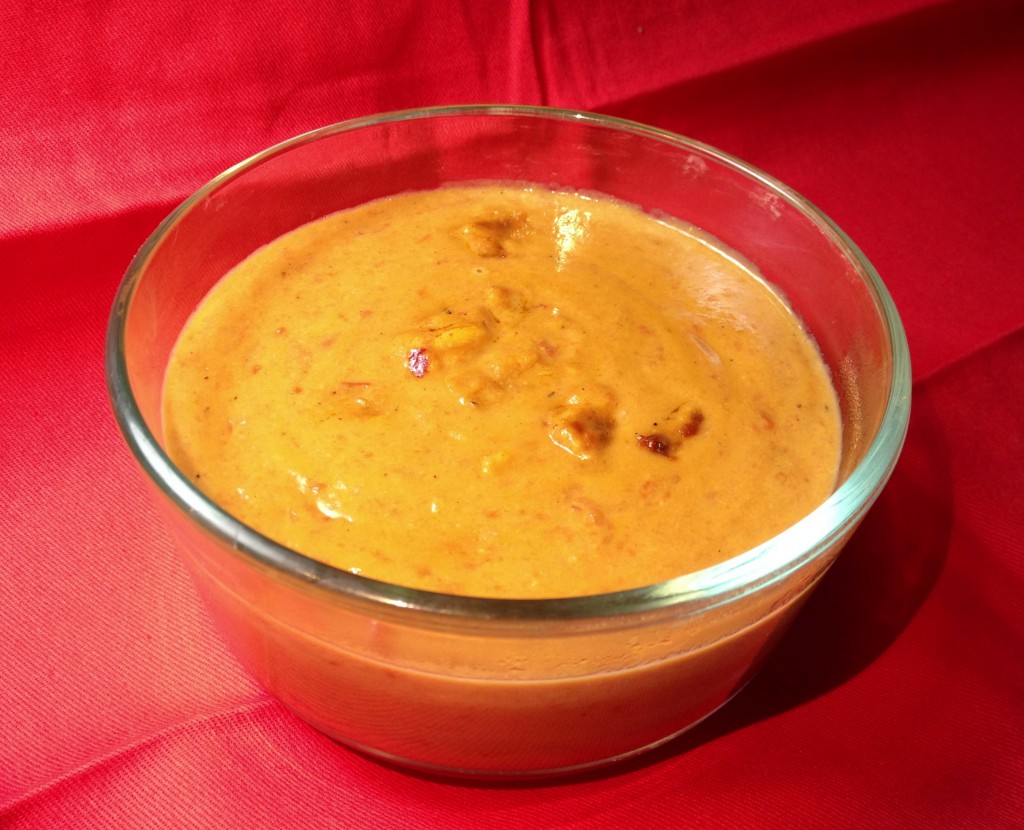 Serves 6
Ingredients
¼ cup raw cashews
4 small tomatoes, roughly chopped
½ small onion, diced
2 cloves garlic, finely chopped
1 tsp sesame oil
2 tbsp of a roasted chili paste (I make my own usually, but something like sambal oelek is good. You can adjust the amount of chili paste to taste, of course)
½ cup of coconut milk
3 tbsps water
1 tbsp tamari
2 tsps lime juice
2 tsps coconut palm sugar
Instructions
Grind cashews using a coffee grinder or food processor until they are powdery (but be careful not to make cashew butter!)
Heat a pan over high heat.
When hot, add sesame oil and turn heat down to high-medium.
Add tomatoes, onion and garlic and sauté until they are very well cooked and begin to break down. You can help them break down further by mashing them your spatula until you get a paste.
Add the ground cashews and let them cook for about 30 seconds.
Add coconut milk to the pot and stir to combine.
If the sauce is too thick, add water a tbsp. at a time to get the right consistency. I needed about 3 tbsps of water.
Add tamari, lime juice and coconut palm sugar and stir.
Taste for seasonings and adjust as needed.
Vegan Sweet and Simple http://vegansweetandsimple.com/
The last time I made it I dressed this gorgeous veggie salad and used it in a stir-fry. You could also try subbing the nuts. Why not? Play!
Rainbow Vegetable Salad
2014-01-15 09:41:38
Serves 3
Ingredients
2 cups sliced red cabbage
1 large zucchini, spiralized or julienned
1 large carrot, spiralized or julienned
1 large red bell pepper, or 4 to 5 mini ones, sliced into long thin strips
4 crimini mushrooms, sliced
4-5 large basil leaves, chopped
15-20 sugar snap peas
4-6 tbsps of spicy cashew sauce
1 tsp of sesame seeds for garnishing (optional)
Instructions
Place all ingredients, except sesame seeds, in a large bowl and mix with your hands to combine.
Dress with spicy cashew sauce as desired and mix to ensure everything is well coated.
Divide into two or three bowls and garnish with sesame seeds, if desired, and a bit of extra basil.
Vegan Sweet and Simple http://vegansweetandsimple.com/
And just in case you were wondering…. the salad was totally delicious! I had two big bowls of it!