Today I'm posting yet another salad and dressing recipe, this one inspired by my favorite salad at Le Pain Quotidien, a gorgeous French (or puy) lentil salad with a basil vinaigrette.
I already know that this is something I'm going to be making again and again. The basil vinaigrette is just bursting with flavor. Don't be afraid to be very generous with the basil. You really won't regret it. Plus the whole thing is ridiculously low in calories, so you can feel guiltless about piling it on.
Basil Vinaigrette
2014-01-09 08:27:43
Serves 2
Ingredients
1 tbsp lemon juice
2 tbsps apple cider vinegar
2 tbsps water
1 tsp coconut palm sugar
5-6 large basil leaves, roughly chopped
1 clove garlic, roughly chopped
Salt and pepper to taste
Instructions
Using a hand blender (ideally, but any blender will do), pulse the dressing a few times to break up the garlic and basil leaves a little more and ensure it is well mixed.
Vegan Sweet and Simple http://vegansweetandsimple.com/
The LPQ salad has arugula and chicory, chickpeas, flax seeds, avocado, and a generous serving of lentils. I didn't have arugula or chicory on hand so used a mix of baby kale, spinach and chard. So good! And I was doing a cleanse when I created this, so omitted the avo and flax seeds, as you can see from the pictures.
But, I highly recommend including the avocado and a sprinkling of ground flax seeds (since we can't digest whole ones) or hemp seeds. Yum!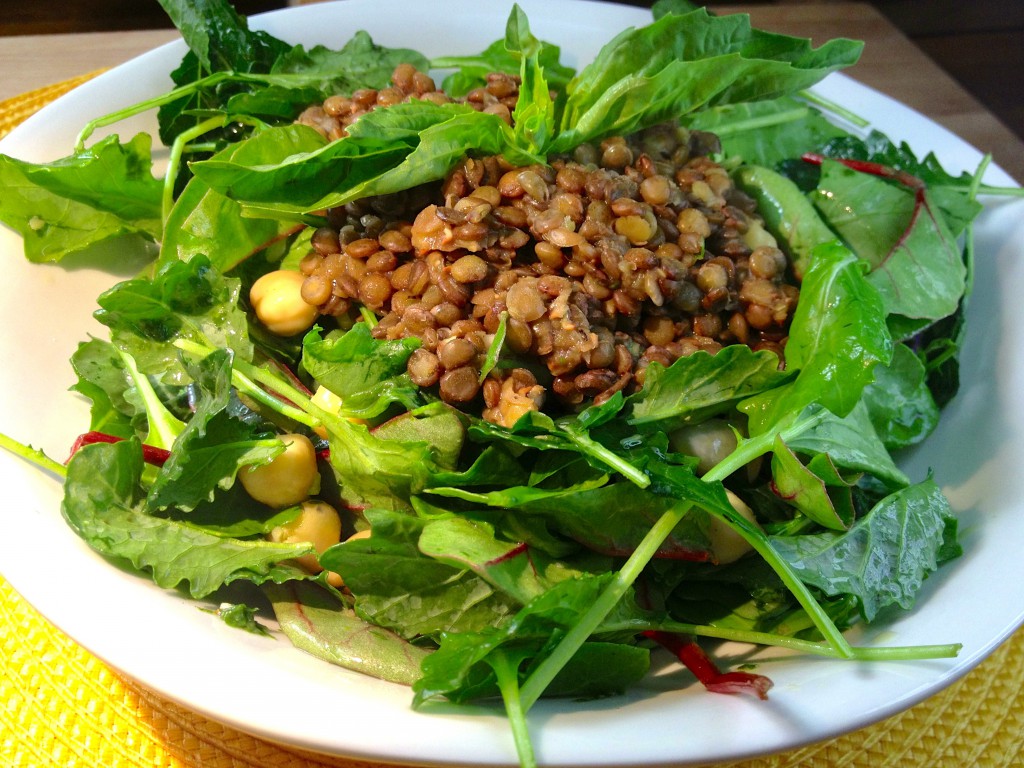 French Lentil Salad
2014-01-09 08:29:52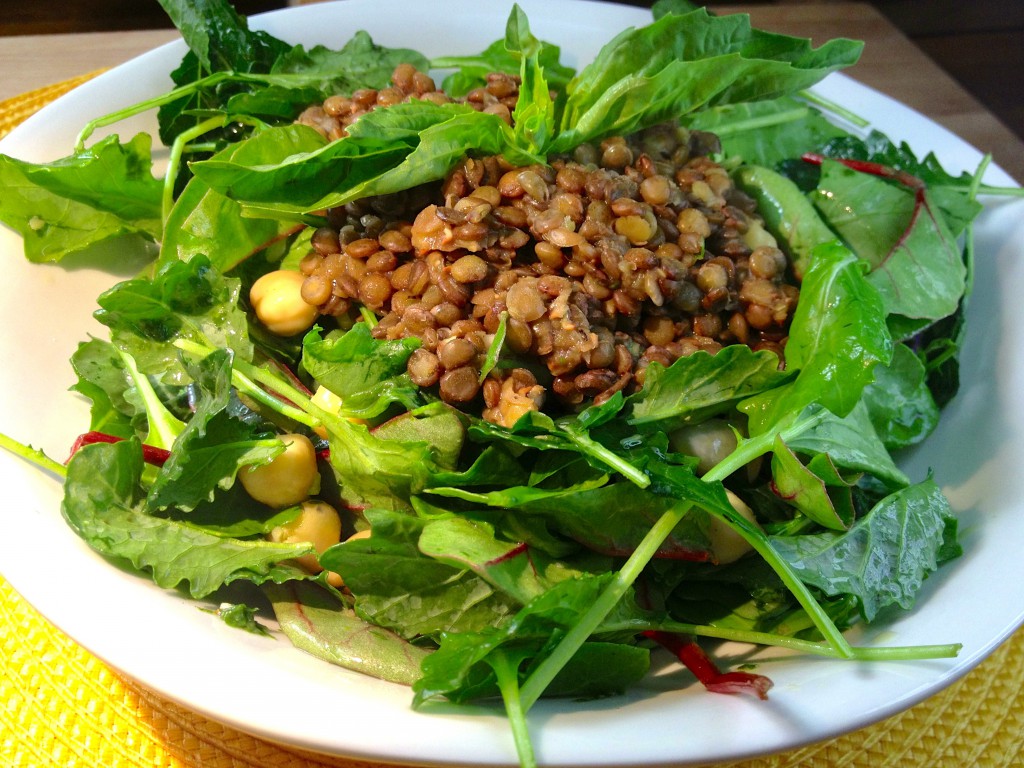 Serves 2
Ingredients
5 cups of salad greens
½ cup chickpeas, cooked
1 cup French lentils, cooked
1 shallot, sliced
1 tbsp ground flax seeds or full hemp seeds (optional)
½ avocado, sliced (optional)
1 recipe basil vinaigrette
Instructions
Place salad greens in a large bowl, add shallot, chickpeas and ½ of basil vinaigrette and mix to coat greens in dressing.
Dish salad greens onto two plates.
In the center of the greens add ½ cup of cooked lentils, and place avocado around the lentils.
Top each salad with remaining vinaigrette and sprinkle with ground flax seeds or hemp seeds.
Garnish with fresh basil.
Vegan Sweet and Simple http://vegansweetandsimple.com/
This is a salad that will fill you up and satisfy you for hours.