I'm posting a delicious salad recipe today in honor of my last day of the Green Smoothie Challenge. Yesterday was by far the hardest day of the challenge: I was sick to death of soup, salads and hummus (but not smoothies… never smoothies). Today however, I started the day off right with a great smoothie and a really good workout and then I had this amazing, spicy, very warming salad for lunch.
The secret to this salad is in the dressing. It has a very spicy kick to it from a bird's eye chili, which is balanced against other sweet, sour and salty ingredients to make a vinaigrette that is mouthwateringly good! The extra special ingredient though is freshly roasted peanuts that are crushed into the vinaigrette with a mortar and pestle.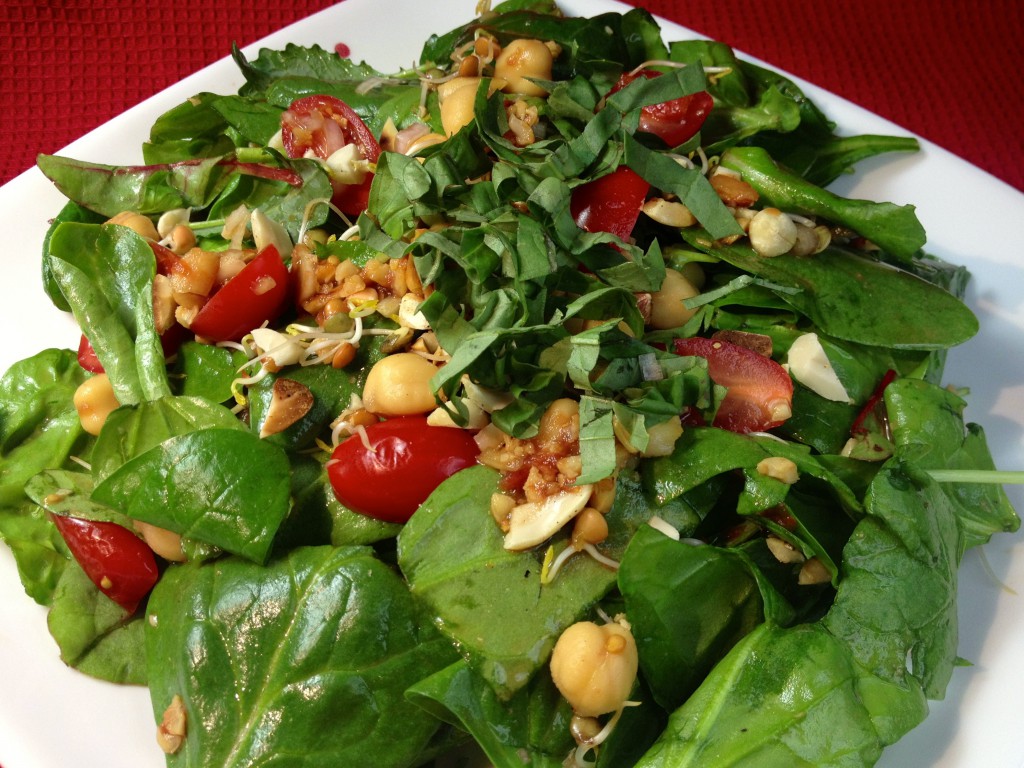 Spicy Peanut Vinaigrette
2014-01-07 17:16:37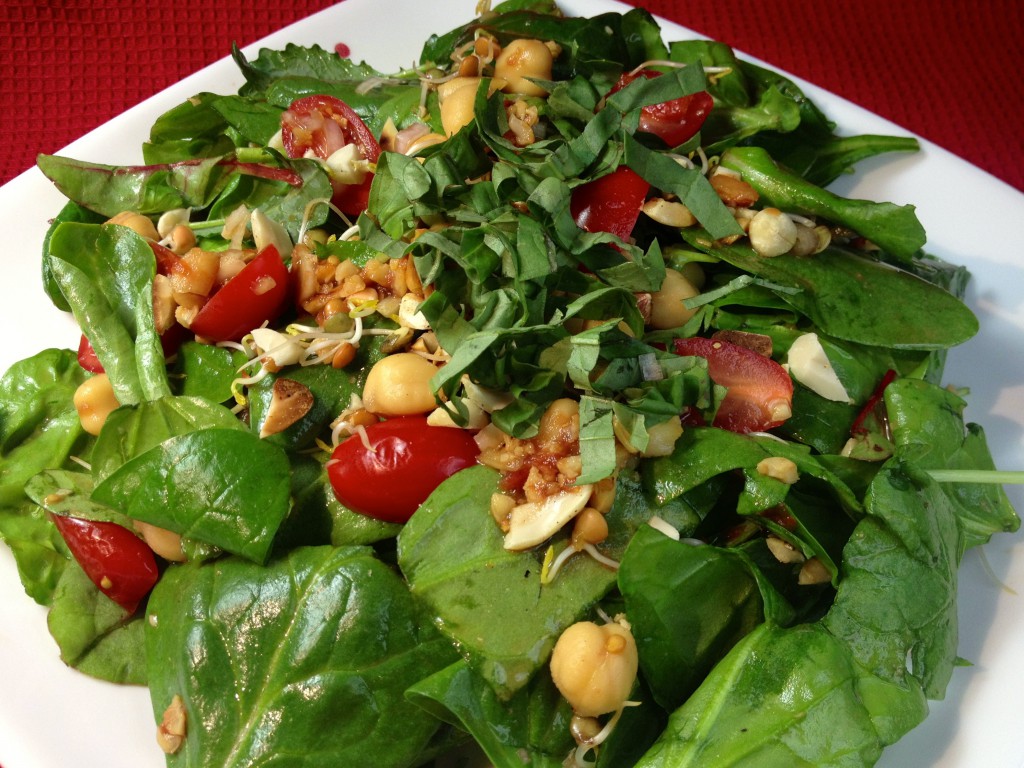 Serves 2
Ingredients
1 bird's eye chili, chopped
1 clove garlic, finely chopped
4 cherry tomatoes, chopped
2 tsps coconut palm sugar
1 tbsp + 1 tsp tamari
2 tbsps apple cider vinegar
1 tbsp lime juice
1 tbsp water
2 tbsps raw peanuts
Instructions
Add all ingredients except peanuts to a mortar and crush together well with a pestle.
Heat a pan on medium-high heat.
When hot add 2 tbsps of raw peanuts and roast until they begin to brown. Toss so that they brown a little on at least two sides and turn off heat. Nuts can move from browned to burnt very, very quickly so watch them carefully!
Add peanuts to the mortar and roughly crush them with the pestle.
Let the dressing sit for at least 10 minutes to develop its flavors. The longer it sits, the hotter it will also get.
Notes
I like my food spicy! But, if spice is not your thing, you may want to go easier on the chili.
Vegan Sweet and Simple http://vegansweetandsimple.com/
Now for the salad…
Spicy Peanut Salad
2014-01-07 17:34:10
Serves 2
Ingredients
4 cups mixed baby kale, spinach & chard
1/2 cup chickpeas, cooked
1/2 cup mixed bean sprouts
10 cherry tomatoes
1 shallot
3 large basil leaves
2 tbsps raw peanuts
4 1/2-inch thick slices of firm tofu, cut into 1-inch chunks (optional)
Salt and pepper, to taste
Spicy Peanut Vinaigrette
Instructions
If using tofu, wrap with a tea towel or paper towels and place something very heavy on top until water has been pressed out. At least 15 minutes, ideally longer.
Place salad greens in a large bowl, along with chickpeas and bean sprouts.
Halve cherry tomatoes and peel and slice the shallot and add to bowl.
Crush a little fresh black pepper and sprinkle a little salt on the salad.
Heat a pan on medium-high heat. When hot, add peanuts and roast until golden brown. Remove from hot pan immediately.
Add drained and pressed tofu to the pan, season with salt and pepper, and dry-fry one one side until golden brown. Turn each piece over and cook on the other side until brown.
While tofu is cooking, roughly chop peanuts with a chef's knife or give them a crush with a rolling pin or another pan. If properly roasted, they should crush easily.
Roll basil leaves into a cylinder and slice.
Add 1/2 spicy peanut vinaigrette to salad bowl and stir to make sure the ingredients are well-coated.
Dish the salad onto two plates.
Add 1/2 of the tofu to each plate.
Top each salad with 1/2 of the basil and 1/2 of the peanuts.
Drizzle remaining vinaigrette on top of each of the salads.
Enjoy!
Notes
The tofu in the salad is completely optional. You can see, I had it without, but my partner had tofu in his and said it was delicious.
I used shallots, because that's what I had on hand. But green onions or scallions would be perfect for this salad.
Similarly, I used a baby kale, spinach and chard mix because that's also what I had. But, any spicy green would be nice in this salad. A bit of watercress would be pretty phenomenal I think.
Vegan Sweet and Simple http://vegansweetandsimple.com/
Doesn't it look great?
It really was so delicious that I was sad to see it end!