I just got back from Montevideo and I'm happy to report that my worries about finding good vegan food there were completely overblown. I lucked out and stayed at a hotel that was pretty close to a couple of vegetarian restaurants and stores (although I learned that the Happy Cow Map App was way off for some of them). I barely even touched my backup food stash! And to top it all off, I even got creative and well thought through catered lunches at the meeting I was attending (polenta and grilled veggies one day; butternut purée and quinoa the next), which rarely happens.
On Thursday I went to Bosque Bambu for lunch, which was just a block from my hotel in Central Montevideo. It serves an all-you-can-eat vegetarian buffet for 300 pesos per person between the hours of 11:30am and 3:00pm You can also take food to go, at a cost of 250 pesos/kilogram. The buffet had an amazing variety of foods, many Chinese inspired, others vegetarian versions of more traditional Uruguayan foods. About half of the dishes were vegan and there was a very helpful English-speaking waitress who was able to point out what I could and could not eat. As you can see I loaded up my plate.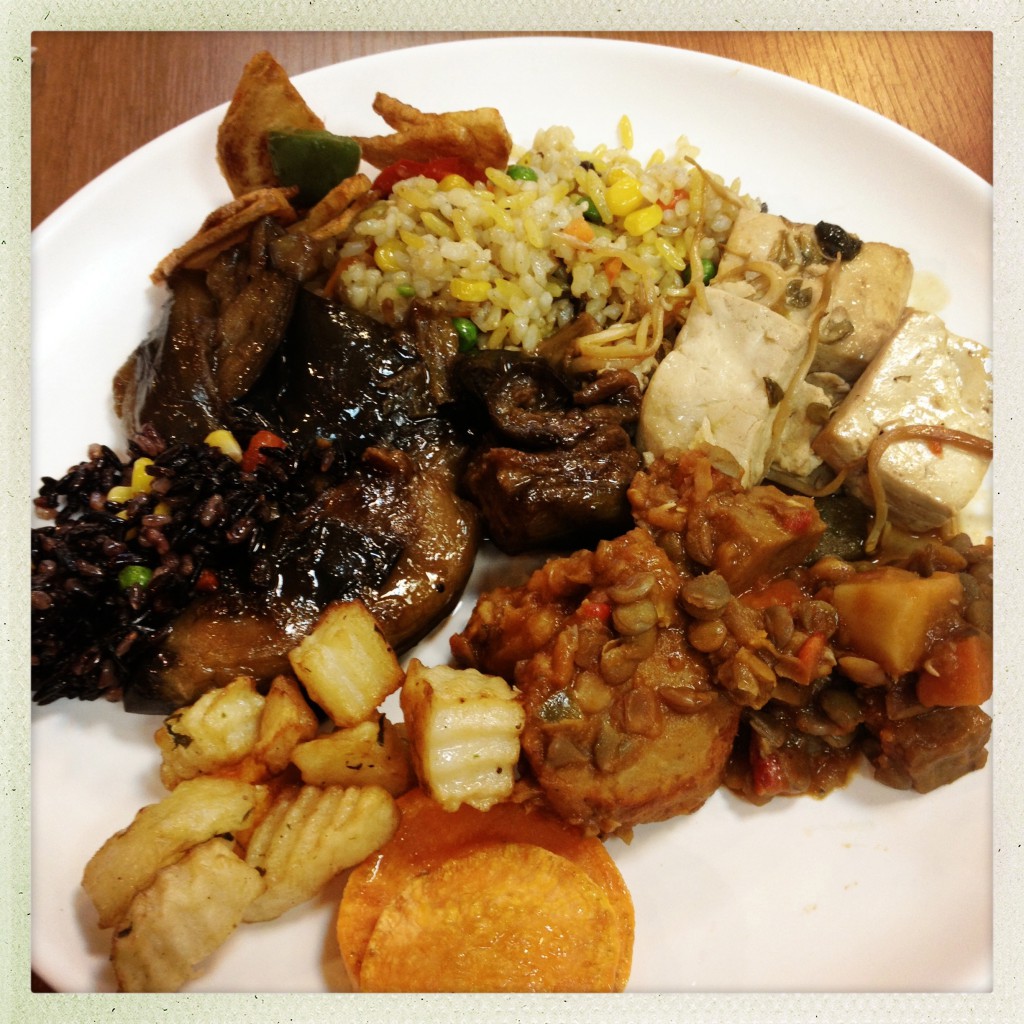 The food was tasty, but had a bit too much oil for my liking. Although that didn't stop me going back for more to take with me to the airport so I could have a quick meal before hopping on the plane last night! The best thing I sampled by far was the eggplant, but there was not one dish that I wish I hadn't tried. Apart from fresh fruit, the desserts were all creamy and definitely not vegan. But after a meal like that dessert was the last thing I needed! Bosque Bambu also has a store selling vegan and vegetarian staples, as well as many Asian food ingredients. I picked up some vegan candy and some nut and seed bars to bring home with me.
That afternoon I also checked out LaGranola Tienda y Rositeria. It's a little health food store selling staples, like organic grains and nuts, as well as almond, oat and rice milk. They also sell a few take-away lunch dishes, such as quiche, and some desserts, but their vegan selection was lacking. The day that I went they had nothing vegan to offer apart from fruit salad. They did, however, sell some amazing vegan, raw and gluten free alfajores from local raw food company Rawy. They only had a handful left and I am not ashamed to say that I bought them all. The dulce de leche filling between coconuty raw cookies was delicious! Yum yum! I think I might have to try to recreate them at some point in the future.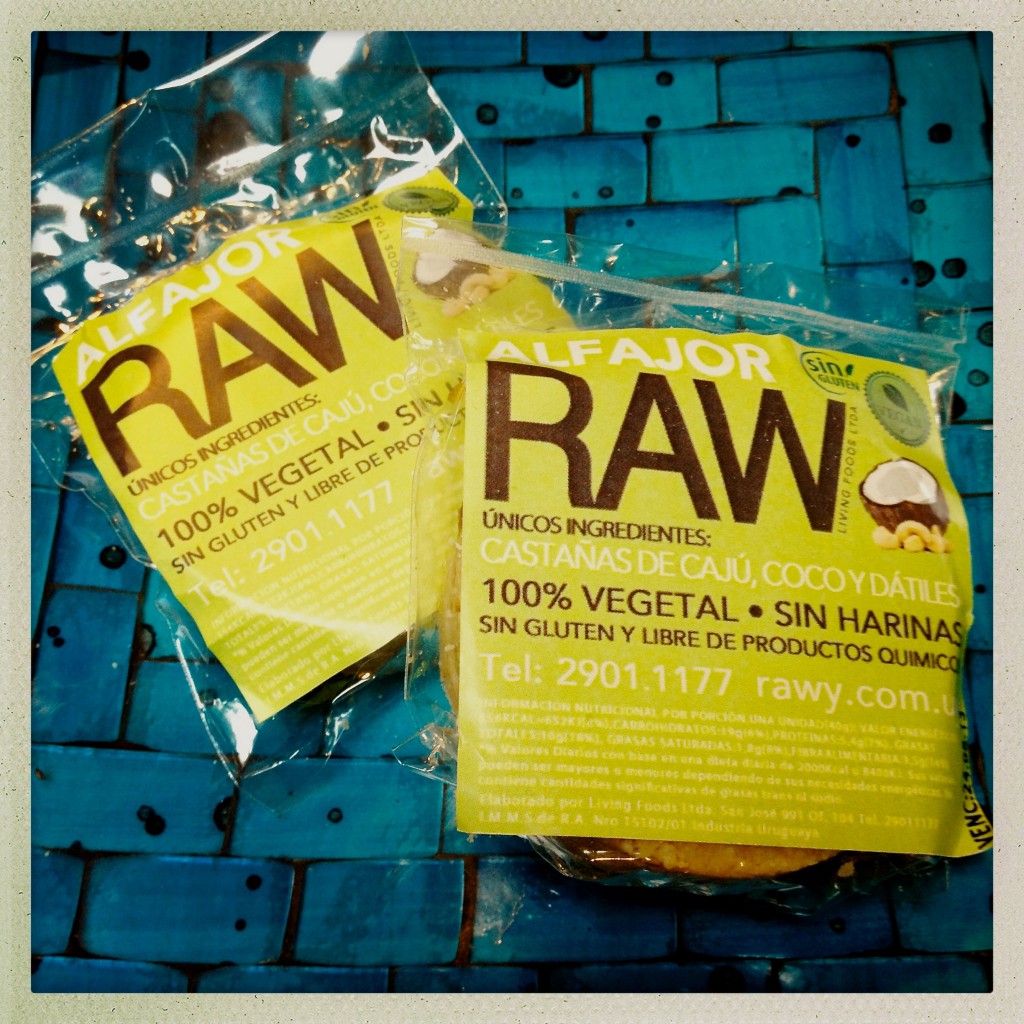 On my walk I also stumbled on a cute store selling jams, liqueurs, and chocolates that are made by a women's collective in Uruguay called Delicias Criollas. I bought a jar of guava jam (which I had on cracklebred the next morning for breakfast) and a jar of a tomato and walnut jam (which I can't wait to try).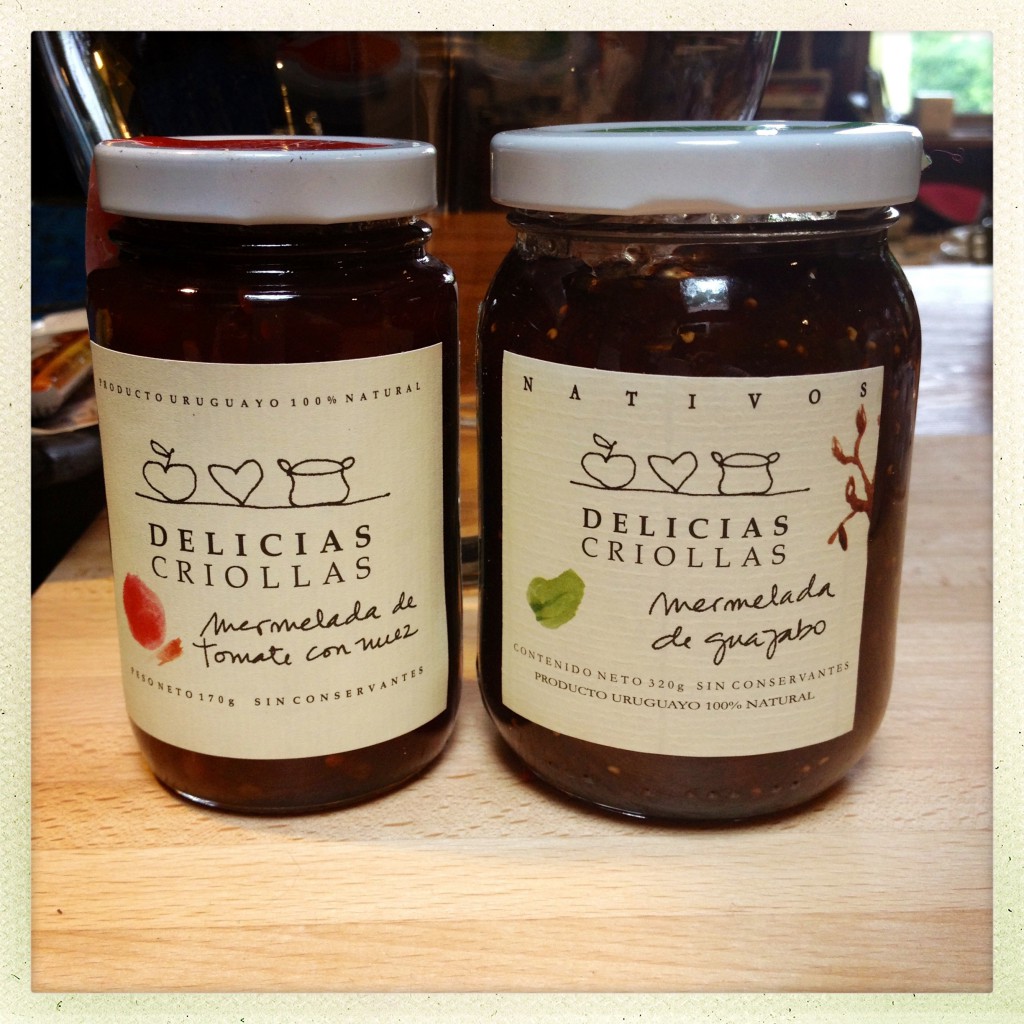 On Thursday night I went out for dinner with a group of friends and fellow feminist activists. They were mostly omni and opted for a traditional Uruguayan BBQ restaurant. The owner was very understanding about my dietary restrictions and cooked me up a delicious plate of eggplant, zucchini, and peppers grilled over hot coals.
On Friday evening I went to Namaste for dinner, which was touted in the reviews I had read as Montevideo's best vegetarian restaurant. It did not disappoint! It is in a beautiful old house, with exceptionally high ceilings and a great ambiance. The menu was mostly vegetarian versions of Uruguayan dishes, such as dobladas and milanesas, but the waitress said that they could make vegan versions of just about everything on offer. I opted for some tofu with butternut squash purée and a salad of tomato, celery, mung bean sprouts and sesame seeds. The tofu was served with a balsamic reduction and everything was perfectly seasoned and incredibly delicious. I wasn't expecting a vegan dessert, but when the waitress said they had a vegan flan I didn't think twice about ordering it. It was oh so sinfully sweet, doused in agave nectar, but oh so so good.
So that's the verdict: meat-loving Montevideo was decidedly friendly to this vegan, gluten-free girl.