I have been fantasizing about the delicious soy shwarma I had in Warsaw at Tel-Aviv and Marrakesh for the past month. It was so tender and so tasty! Perfectly seasoned deliciousness!
This evening as I was heading home on the train, thinking about what to make for dinner, and running through what I had in the fridge, I realized I had all that I needed to try my hand at recreating it.
When I was in Thailand last I picked up some really nice big chunks of textured soy protein that I realized would be perfect for it. I also had some gluten-free millet lavash bread and a beautiful batch of hemp seed hummus in the fridge that would go along with it nicely. I also decided I would try my hand at recreating the beautiful caramelized onions with cinnamon and raisins that I had in Warsaw as well.
As soon as I got home, I set about making the shwarma and onions and piled them onto the lavash, along with spinach, tomatoes and hummus.
I paired the sandwich with some delicious paprika and cinnamon-dusted sautéed sweet potatoes. And yum! What a meal!
So here I present three recipes: the soy shwarma, cinnamon raisin caramelized onions, and the paprika and cinnamon dusted sweet potatoes.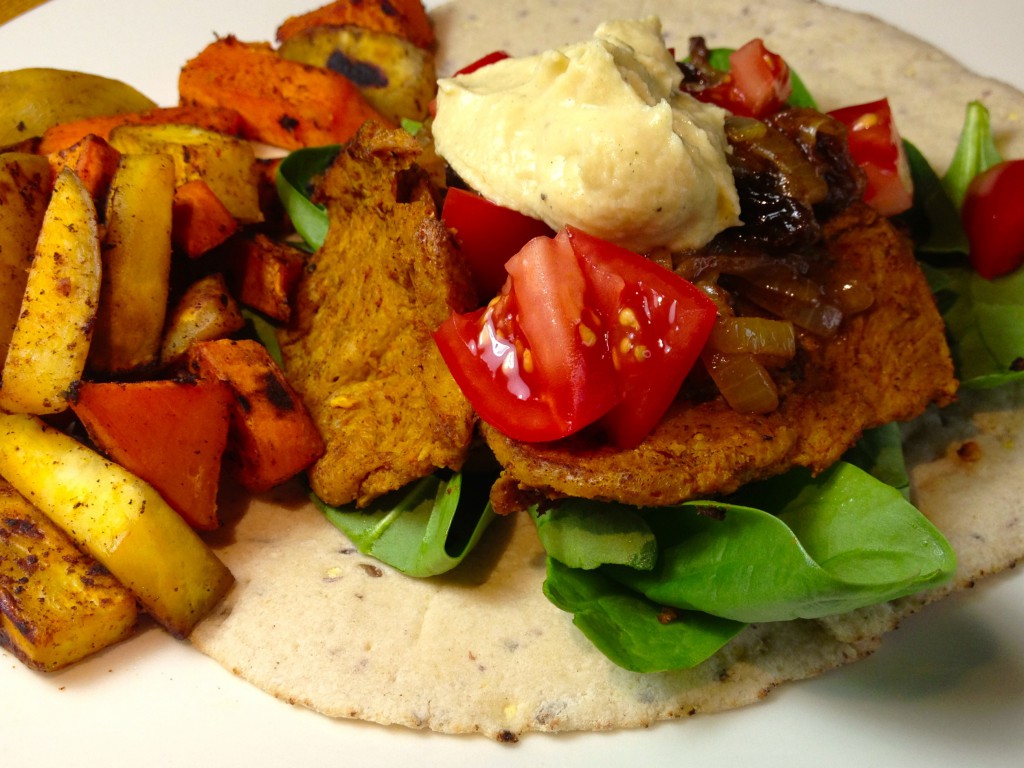 Soy Shwarma
2013-12-06 23:24:27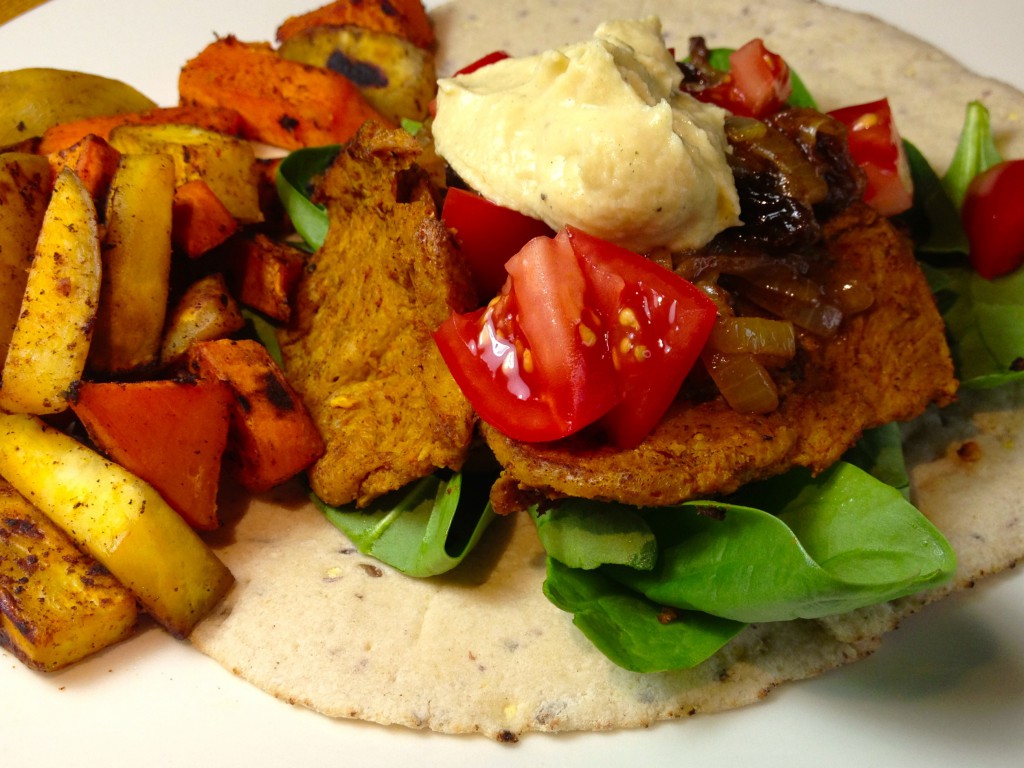 Serves 3
Ingredients
2 cups textured soy protein chunks
3 cups hot vegetable broth (or enough to cover)
1 tsp cumin
1 tsp paprika
½ - 1 tsp salt
½ - 1 tsp crushed red pepper
1/3 tsp turmeric
½ tsp garlic powder
½ tsp allspice
Dash of cinnamon
Dash of cayenne pepper
½ - 1 tbsp of olive oil for sautéing
Instructions
Cover TSP in hot vegetable broth and let stand for about 10 minutes until it is soft and fully rehydrated.
Mix together spices and set aside.
Drain TSP and press it to remove most of the water.
Place in a bowl, add spices and rub the spices into the TSP. Let it sit for about 10 minutes more to absorb the flavors.
Sauté the TSP in olive oil over medium heat until warm and it just, just starts to brown. Be careful not to cook it for too long, or you risk turning it from tender to chewy and dry.
Vegan Sweet and Simple http://vegansweetandsimple.com/
Caramelized Onions with Cinnamon and Raisins
2013-12-06 23:25:47
Serves 2
Ingredients
1 medium yellow onion
½ tbsp of earth balance buttery spread or olive oil
½ tbsp maple syrup
2 tbsps raisins
Dash of cinnamon (to taste)
Water, as needed
Instructions
Peel and slice the onion into half-rounds.
Melt the earth balance or oil in a small saucepan over low heat.
Add the onion and sauté over low heat for 10-15 minutes until it gets nice and soft.
Add a dash of cinnamon, maple syrup and raisins and let cook for another 3-5 minutes so the raisins soften and plump up and the flavors infuse.
Add water a little at a time as needed to prevent sticking to the bottom of the pan.
Vegan Sweet and Simple http://vegansweetandsimple.com/
Paprika & Cinnamon-Dusted Sweet Potatoes
2013-12-06 23:26:45
Serves 2
Ingredients
2 small sweet potatoes
½ tsp cinnamon
½ tsp paprika
Salt, to taste.
1 tbsp Extra Virgin Olive Oil
Instructions
Peel sweet potatoes and chop them into bite-sized chunks.
Heat olive oil over medium heat.
When the oil is hot, add sweet potatoes, cinnamon, paprika and salt and stir to evenly coat the sweet potatoes with the spices.
Turn heat to low and sauté for 15-20 minutes, until the sweet potatoes are nice, soft and brown.
Vegan Sweet and Simple http://vegansweetandsimple.com/
My partner said "mmmm" even before he'd finished eating the first bite of the sandwich, which is a big, big stamp of approval. Hope you love it too!