What's a holiday meal without stuffing? I had bought a loaf of frozen gluten-free bread at my local health food store, but when we defrosted it to use it, it essentially crumbled. Luckily, with Thanksgiving right around the corner, I knew I could use it to make stuffing.
This is a fairly traditional bread and rice stuffing, and I'm happy to report, it turned out delicious! And that's a very good thing, because we have been eating the leftovers ever since.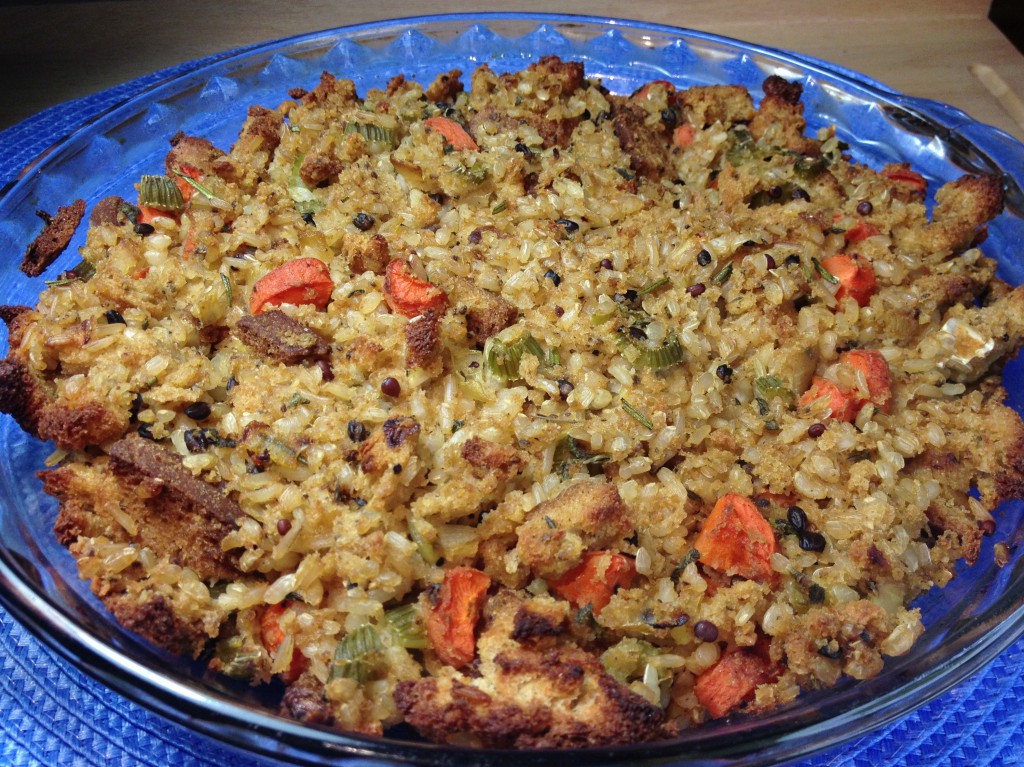 Vegan Gluten-Free Stuffing
2013-12-01 18:01:13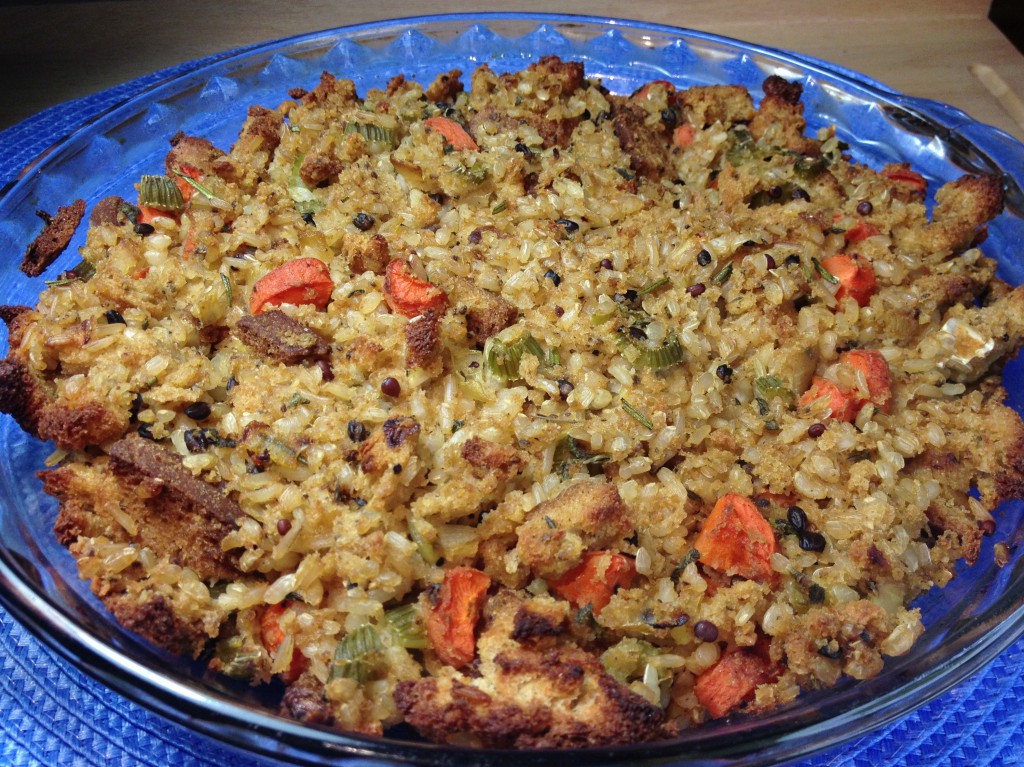 Serves 8
Ingredients
4 cups of vegan, gluten-free bread chunks
1½ cups of cooked rice (I used a brown and wild rice mix, but you could use any rice here)
1 onion, diced
1 medium carrot, roughly chopped
2 stalks celery, chopped
1 cup vegetable broth
3 fresh sage leaves, finely chopped
1 tsp fresh thyme
2 tsps fresh rosemary, chopped
3 cloves garlic, roughly chopped
1 tsp Mrs. Dash seasoning or salt and pepper to taste
Extra virgin olive oil for sautéing
Instructions
Heat oven to 350 degrees Fahrenheit/180 degrees Celsius.
Line a baking sheet with parchment paper, add bread chunks, and toast in hot oven for 15 minutes.
Add a teaspoon (or more) extra virgin olive oil to a pan and heat on medium.
Add diced onion, carrots and celery and sauté over medium heat until soft (about 5 minutes).
Add sage, thyme, rosemary and garlic, and sauté for another minute or so, until fragrant.
Combine bread chunks, cooked rice, cooked vegetables, and vegetable broth in a large bowl and mix thoroughly.
Taste for seasonings and add more Mrs. Dash or salt and pepper until you are pleased with it.
Transfer to a lightly-oiled baking dish, cover it with aluminum foil and bake covered for 30 minutes.
Uncover and cook for another 10-15 minutes, until the stuffing is golden brown.
Vegan Sweet and Simple http://vegansweetandsimple.com/